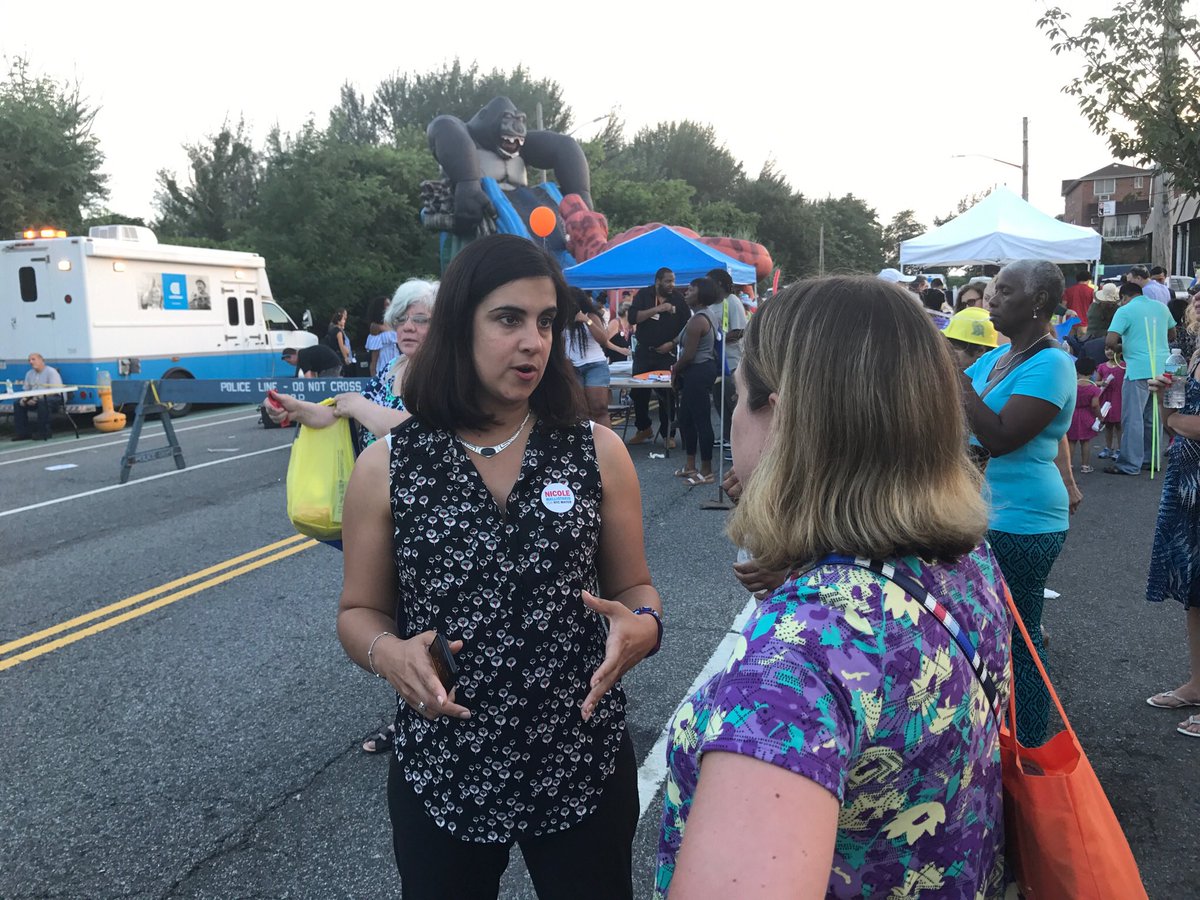 GOP mayoral candidate Nicole Malliotakis (photo: @NMalliotakis)
---
After Michel Faulkner shifted his mayoral campaign to one for comptroller and real estate executive Paul Massey suspended his altogether, State Assemblymember Nicole Malliotakis' campaign began referring to her as "the presumptive Republican nomee in the race for Mayor." Still, the only thing standing between Malliotakis and the GOP nomination was wealthy businessman Rocky De La Fuente, a candidate who recently relocated from California.
That hurdle was removed on Tuesday, when the city's Board of Elections (BOE) ruled against De La Fuente after two Malliotakis supporters, Bryan Jung and James Thomson, filed objections against his ballot petition signatures with the blessing of the Malliotakis campaign. The objectors contended that hundreds of the candidate's signatures were forged, and the board agreed.
While it cleared the field, the move may have created a different kind of hurdle for the presumptive GOP nominee, who expects to face off against the winner of the September 12 Democratic primary, likely incumbent mayor Bill de Blasio.
Though she has previously called it a waste of taxpayer money, Malliotakis is a participant in the city's public matching funds program (she's said she's still against it but must participate if her opponents are). The initiative, run by the Campaign Finance Board (CFB), matches individual donations of up to $175 at a six-to-one ration for candidates that meet certain criteria and agree to restrictions on spending and debate participation. One criteria to receive funds is that a candidate must be in a competitive election; with the exclusion of De La Fuente from the GOP primary, Malliotakis' camp has essentially disqualified itself from receiving any public funds before primary day.
On Thursday, the CFB voted to approve the disbursement of about $2.57 million in matching funds to de Blasio after he somewhat controversially submitted a statement of need arguing that his main Democratic opposition – former City Council Member Sal Albanese and police reform activist Bob Gangi – constituted more than just minimal opposition, based largely on media exposure. Until such a statement is approved, a candidate can receive up to 25% of the maximum allowable payments per race, which for mayoral races is a little over $958,000 of the possible $3,832,950 in funds, as long as they have some competition.
The public funds haul leaves the mayor with over $5 million on hand. After the primary election, he is eligible to receive up to another $3.83 million in public funds if he can likewise prove that the race will be competitive and raise more matchable donations. De Blasio can now reasonably spend a good deal of money in the primary to get his message out.
Malliotakis actually also submitted a similar statement of need to the CFB in which she lists De La Fuente as her opposition, incorrectly arguing that he is a non-participant in the matching funds program and that he intends to self-finance his campaign. In fact, the CFB's records list De La Fuente as being a participant in the program, meaning that he would be held to the same thresholds and standards that Malliotakis would.
A Gotham Gazette analysis found that Malliotakis has raised about $140,000 in funds eligible for public matching – contributions by individuals living in the city of which up to $175 is counted – out of the $250,000 necessary to qualify for the program. This means that even in a contested primary election she would still be ineligible to receive public funds for now.
Matt Sollars, a spokesperson for the CFB, confirmed that even if Malliotakis does manage to raise enough funds to hit the threshold before September 12, the lack of a primary opponent will bar her from receiving the potentially millions of dollars that she would otherwise be entitled to. That fact raises the question of whether it was smart for her allies to move to knock De La Fuente off the ballot, given that Malliotakis would have been a strong favorite to defeat him in the primary. She also forgoes the exposure that one or two primary debates would have brought. It does, however, allow her to focus on raising money to use only for touting her candidacy and attacking de Blasio. And, Malliotakis has been able to garner significant media exposure thus far by identifying a variety of points on which to criticize de Blasio.
While de Blasio has all that extra money to spend, he will be debating Albanese and possibly others at least once, if not twice, both offering him a platform to reach voters and putting him in a high-profile venue for criticism and possible gaffe-making.
Once they have qualified, candidates for mayor are able to receive up to $3,832,950 for both the primary election and the general election; once they have raised the necessary $250,000 in eligible donations from at least 1,000 city residents, they are qualified for both elections as long as they have opposition. They are not required to spend all of their primary election funds in order to receive general election funds, and in fact are barred from spending more than $6,969,000 per election.
As of the mid-July campaign finance filing, Malliotakis had raised a total of $344,421, with $275,324 available to spend after expenses. Her next filing, due mid-August, will shed light on whether she has been able to pick up the fundraising pace and how close she is to qualifying for matching funds. In a statement at the time of the July filing, Malliotakis campaign spokesperson Rob Ryan said, "In a little more than two months the Malliotakis campaign has raised nearly $350,000. We are meeting our projections and expect to qualify for the Campaign Finance Board's matching fund program in the next fundraising period. That means Bill de Blasio will be facing a competitive challenger on Election Day."
In a phone conversation, De La Fuente said that he does not intend to appeal the BOE's finding. Even if there was a ruling in his favor, he would be added to the ballot just before the primary, a situation he likened to running a race where your competitor starts near the finish line. Instead, he said he was in the process of compiling evidence of what he called Malliotakis' "fraud" and would be posting it online as well as sending it to the state attorney general for investigation.
Ryan, the spokesperson for the Malliotakis campaign, told Gotham Gazette, "It didn't make political, financial, or strategic sense to be involved in a primary if one didn't have to."