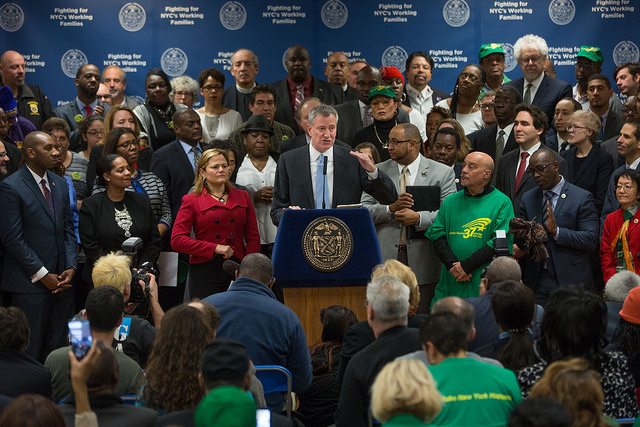 Mayor de Blasio at DC 37's union headquarters (photo: Michael Appleton/Mayor's Office)
---
As numerous labor contracts for thousands of city employees begin to expire, the de Blasio administration is already in the midst of new talks with municipal unions. The process revisits a key element of Mayor Bill de Blasio's early tenure -- when the city faced an unprecedented situation wherein all the city's labor contracts were expired -- and of the incumbent mayor's first-term record: de Blasio regularly boasts of bringing to terms the outstanding workforce uncertainty he inherited.
With negotiations underway with several unions, fiscal watchdogs say the de Blasio administration needs to implement cost cutting and efficiency measures while ensuring contracts are resolved without inordinate delay.
Upon taking office, de Blasio and his team, led by labor relations chief Bob Linn and budget director Dean Fuleihan, moved to quickly settle the city's labor union contracts, all of which had been expired for years under former Mayor Michael Bloomberg. Of the city's 355,286 employees, 337,666 are represented by unions and the city settled contracts with all but 1,350 or 0.4 percent of them. But, even as the administration touts that success, both sides are already back at the table as 30 of the settled contracts have expired, between 2016 and 2017, and 27 more are set to expire in the next few months. Bob Linn and his team are in regular negotiations, according to mayoral spokesperson Freddi Goldstein, and he was not made available for an interview based on that busy schedule.
Fiscal watchdogs generally praise the administration's efforts in settling the expired contracts, particularly the inclusion of healthcare savings for the first time and reasonable wage increases, but recommend improvements that will ensure long-term fiscal stability. Some wanted to see municipal employees required to contribute to their health care, but that did not happen, while others said the administration should not have pushed the cost of retroactive raises as far into future budget obligations.
Among those unions whose contracts have expired are the Patrolmen's Benevolent Association, which represents around 22,200 rank-and-file NYPD officers, and the Uniformed Firefighters Association, which represents more than 8,000 firefighters. De Blasio and the PBA just celebrated coming to terms on a largely retroactive contract in January.
In September, the contract for District Council 37, the union that represents the second-largest group of civilian employees in the city, is due to expire. With more than 84,000 city employees on its rolls, accounting for about 25 percent of unionized city employees, DC 37 is second to only the United Federation of Teachers (UFT), the union whose deal was perhaps most-anticipated and, when reached in 2014, set the "pattern" for the other unions in terms of annual raises.
Unions, including the likes of DC37, UFT, PBA,1199SEIU, 32BJ SEIU and the Hotel Trades Council, also employ significant political clout in the city. DC 37 and its affiliated political action committee, for instance, have made campaign contributions to candidates for mayor (they donated the maximum $4,950 to de Blasio), public advocate, comptroller and City Council. DC 37 endorsed de Blasio for reelection in January. The endorsement came just two days after the mayor released his preliminary budget for fiscal year 2018 that proposed creating 100 new school crossing guard supervisor positions, which were created for DC 37 workers. The mayor later denied that the endorsement was part of the deal, and the positions were eventually included in the adopted budget that passed in June. De Blasio has also been endorsed for reelection by a number of other prominent city unions. The PBA, which has been a thorny opponent of Mayor de Blasio and the progressive-dominated City Council, has decided to focus on swaying City Council races in this year's election cycle. It's unclear if the union will get involved in the mayoral race. De Blasio is seen as an overwhelming favorite in both the primary and the general, in no small part because of his support from labor unions, which help drive voter turnout in what are expected to be very low participation elections.
Union labor issues pose significant challenges to the city's fiscal health, particularly if -- or when -- the city experiences an economic downturn, experts say.
"One of the measures of prudence is what the costs were supposed to be when Mayor de Blasio took office compared to what they actually are," said Nicole Gelinas, senior fellow at the Manhattan Institute, a conservative think tank. The last budget under Mayor Bloomberg predicted that salaries and wages for city employees in fiscal year 2018 would account for $26.4 billion in the city's budget, Gelinas pointed out, but have actually reached nearly $27.3 billion. "That clearly adds strain to the budget," she said.
Part of the increase stems from pay raises that didn't match accompanying savings. "The mayor signed these agreements without really asking for givebacks in return," Gelinas said.
Maria Doulis, vice president of the Citizens Budget Commission, a nonpartisan fiscal watchdog, echoed Gelinas' point. Doulis said the last round of negotiations lacked a needed focus on efficiency in work rules, for instance negotiating staggered shifts for NYCHA workers or the causes of overtime in uniformed departments. "Those are important but weren't done last time because the pressure was to get [agreements] done quickly and responsibly."
But Doulis also said that the city had shown significant progress by working collaboratively with the unions on including health care savings in the negotiations. The de Blasio administration bargained with the Municipal Labor Committee, which collectively represents the city's labor unions, to implement what it pegged as $3.4 billion in health care savings -- from $400 million in fiscal year 2015 to $1.3 billion in fiscal year 2018. There are a variety of measures in those savings plans, including a focus on preventive care so that union members avoid costly emergency room visits. Savings in excess of that projection are meant to provide bonuses to the city workforce. Doulis said the administration should build on that success.
The urgency with which the administration moved in 2014 to put labor agreements in place owed to long-expired contracts. But that also meant the city missed an opportunity to agree upon significant savings, Doulis said. "The savings that can come from productivity enhancements can only be recognized prospectively, not retroactively," she said. "So it's important to get contracts done in a timely way. Letting contracts go too long introduces fiscal risk to the city. And employees need to be able to plan their lives too."
Gelinas reiterated that urgency is costly in labor negotiations. "Expired contracts, de Blasio really used that as an excuse," she said. "It's not good to have them expired for years on end but it's not good to do a bad deal just to say that you did a deal."
Gelinas said the city has fared well so far because of a strong and stable economy, and that a downturn after such an extended period of expansion would put the city in fiscal jeopardy as well as give the mayor less flexibility to cut costs. "Health care costs are increasing less fast than a few years ago," she acknowledged, "but they're still going up. The only reason the city can afford it is the economy is doing so well."
She insisted that any further salary and wage increases should be paid for with cuts in the costs of benefits, namely health care. Although pensions are another part of the equation, and the city's pension obligations have ballooned over the years, the city has a limited role in that respect since pensions are decided by the state Legislature.
In a view shared by other fiscal watchdogs, Gelinas suggested that workers share some of the costs, which currently fall almost entirely on taxpayers because of guaranteed benefits for city employees. She noted that health care benefits currently cost the city $10.1 billion and will grow to $11.7 billion in two years. "Keeping that from growing would be good savings," she said. "Avoid the increase and share costs half and half with workers."
And the onus is on the mayor to devise creative solutions, she said. "Bill de Blasio certainly hasn't wanted to cut labor costs in his first term," she said.
De Blasio, for his part, has recognized health care savings as an avenue where the city can go further. "I think the last agreement was very affirming to me that there's, again, much more where that came from," he said at the annual State Financial Control Board meeting on August 2, referring to health care costs for public employees. "There's a willingness from our labor partners to think creatively. They understand this is about the longer term fiscal health of the city, they understand that if they want government to be effective, we have to keep finding healthcare savings, and I think there's a surprisingly strong atmosphere of partnership compared to, sort of, what the assumptions were previously. I think everyone has become sober together about the fact that we have to do a lot more on that front, and it is available to us."
Asked about the current round of negotiations, de Blasio spokesperson Freddi Goldstein said the process was ongoing. "When this Administration came into office, no city worker was under contract," Goldstein emailed. "Today, over 99 percent of the unions have reached a fair deal. As contracts begin to expire over the next year, we're confident we'll once again be able to reach deals that are both fair to workers and fair to taxpayers."