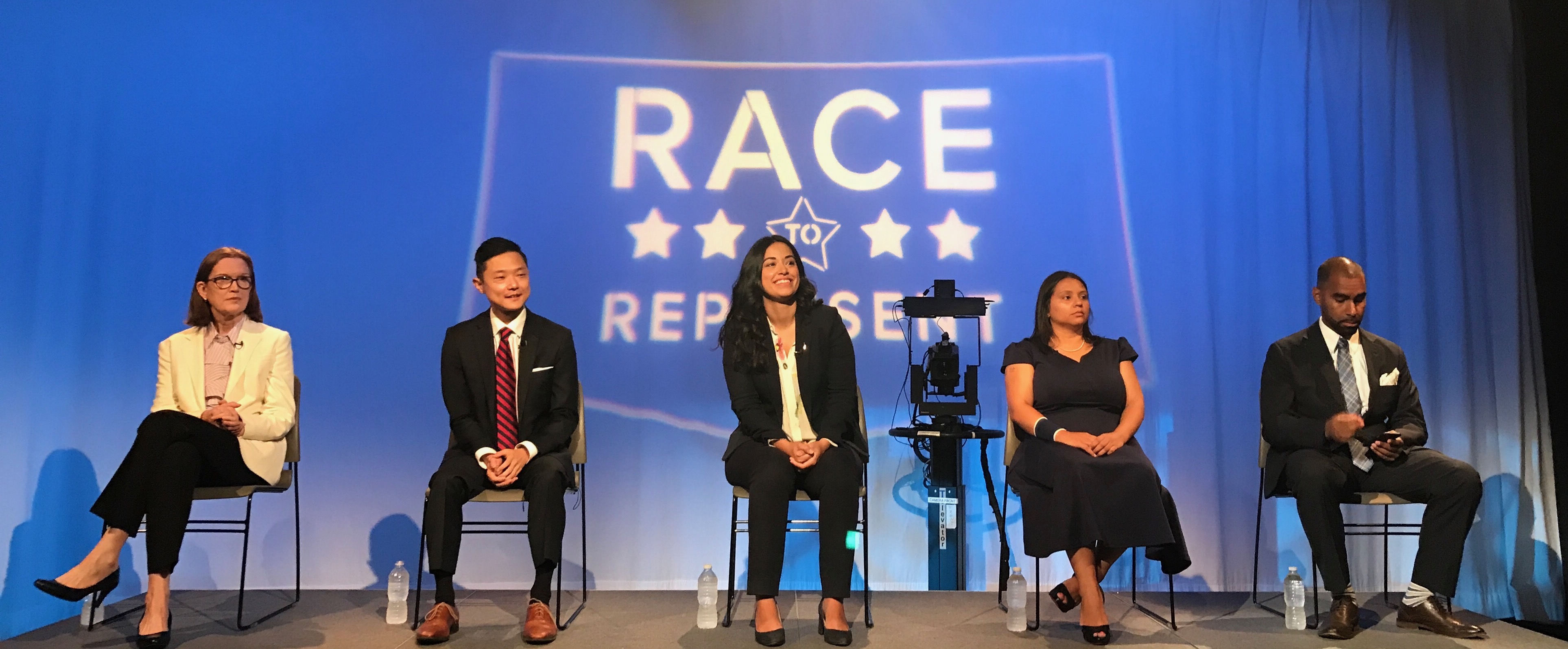 The CD2 Democratic candidates at Manhattan Neighborhood Network
---
There are five candidates vying for the Democratic nomination in the race to replace term-limited Rosie Mendez as the City Council representative for District 2, which includes the Lower East Side of Manhattan. The candidates -- Carlina Rivera, Ronnie Cho, Mary Silver, Jasmin Sanchez, and Jorge Vasquez -- gathered recently at the Manhattan Neighborhood Network (MNN) for a debate to be televised by the station.
The debate, moderated by Gotham Gazette's Ben Max, focused on issues such as affordable housing, small businesses, education, and development within the district, as well as the performance of Mendez, a Democrat, and of Mayor Bill de Blasio, a fellow Democrat seeking a second term this fall.
Along with discussing those topics, and more, the candidates also attempted to explain to viewers and District 2 voters why they are the right person to represent the district moving forward. Each candidate discussed his or her background and qualifications in public service.
Rivera is a former legislative director for Mendez and has the outgoing Council member's support; Cho worked on Barack Obama's 2008 presidential campaign and became his administration's millennial outreach director before moving to New York and working at MTV; Vasquez is a housing attorney; Sanchez is a nonprofit director and former community liaison for State Senator Daniel Squadron; and Silver is a community board member and attorney with a background in education.
The winner of the Democratic primary among the five is all but certain to win in November's general election, when he or she will face Jimmy McMillan, of the Rent is Too Damn High party, who is also running as a Republican, and Libertarian nominee Donald Garrity.
In their opening and closing statements, the candidates made the case for their candidacies and indicated how they are framing their qualifications for the job. Rivera presented herself as having ample government experience given her time as Mendez's legislative director, allowing her to swiftly enter the Council without a learning window and immediately start working for her constituents. She also namechecked Donald Trump more than the other candidates, stating that she would be best prepared to resist the president's agenda on the local level.
Cho presented himself as someone who has seen how government works at its highest levels, and therefore wants to take the lessons he's learned and apply them in the city. He also presented himself as an outsider to city politics, and repeatedly called for a "new generation of leadership."
Silver distinguished herself by her education background, having been a PTA president and a community board member, and stating that working in politics on the "other side of the Council" allows her to know what it's like being a constituent who's been ignored by her elected official.
Vasquez called for unifying the district and ensuring representation of everyone at the table in the Council, and also described himself as uniquely qualified to represent the district due to having worked as a litigator and for a judge on issues relevant to his potential constituents.
Sanchez discussed her roots in the district, at the Baruch Houses, and also stated that her background in the nonprofit sector has given her important experience in constituent services. Sanchez also singled out two important projects for her as a Council member: redeveloping the Baruch Bath Houses, and CHARAS.
Rivera has received the lion's share of endorsements from elected officials, including Congressional Rep. Nydia Velazquez, who represents the Lower East Side, as well as unions and advocacy groups. Because of this and her work for Mendez, which came up several times at the debate, Rivera is seen by many as the "status quo" or establishment choice. This led her opponents, especially Cho, to tie her to the alleged shortcomings of Mendez's tenure and to advocate themselves as a change in leadership style.
Cho has raised the second largest amount of money in the race, behind Rivera, and was particularly critical of the perceived frontrunner. When asked about particular community issues the district needs solved, Cho repeatedly took the opportunity to bring up what he considers Mendez's lack of attention to the community, and at times referenced Rivera in doing so.
For example, Mendez failed to vote for a bill to end on-call scheduling for workers, which was passed through the Council and signed by the mayor. Cho wondered why members of Mendez's staff, particularly her legislative director (Rivera) didn't stress the importance of voting for the bill, and called absenteeism in leadership "the biggest problem we have." When asked by the moderator, Rivera stated that she would have voted for the bill if she was in the Council.
"I think that it's a very important bill," Rivera said. "I think on-call scheduling is a big problem in retail, amongst other industries. And I will say that, you know, Council Member Mendez is her own person, and that I was actually endorsed by the labor organizations that championed that bill, including RWDSU," referencing the Retail, Wholesale, and Department Store Union.
Cho was not convinced, questioning Rivera's faculties as a "legislative director who can't get her member to vote for a piece of legislation."
It was the most pointed moment of a mostly calm, collegial, and forward-looking debate. The candidates mostly answered the moderator's questions and spoke to the audience watching the televised debate, which will also be available online through MNN's website.
Like in most Council districts, the issue that is dominating the race is affordability, particularly in regards to housing, but also regarding local businesses.
All five candidates on the debate dais indicated support for the Small Business Jobs Survival Act (SBJSA), which aims to level the playing field in commercial rent renewals between landlords and small business owners, but has been stalled in the Council for decades, despite majority support and the support of Mayor de Blasio and Public Advocate Tish James during their election campaigns in 2013 and of Speaker Mark-Viverito when she was a rank-and-file Council member.
Cho questioned the continuing inaction on the legislation.
"I'm just tired of hearing people say how much they, ra ra, about small businesses and these community pillars," he said. "But at the end of the day, where's the actual action? Where are we delivering for people?" When asked what he would do as a Council member to ensure the passage of the act, he said "I think we need to hold the mayor accountable, I think we need coalitions of Democrats across the city, and actually ask the mayor, 'why aren't you in support of this? Why won't you sign this bill? And let him explain himself." It was pointed out to Cho that he would have to help get the bill through the Council whether the mayor was supportive or not.
Silver suggested that the reason the act has stalled is because of politicians putting the interests of developers before those of their constituents.
"This has been investigated, researched by attorneys. There was a commission set up for this. There's no legality issues, let's get on with it," Silver said, referring to one of the oft-offered reasons that electeds have balked on the SBJSA, the question of whether a version of commercial rent control is legal. "The truth is, this has to do with real estate developers and this has to do with greedy landlords, and it has to do with the fact that they're the ones who fund campaign committees and elections across the board." Silver further stated that excessive city fees are also hampering small businesses in the district, though these fees have drastically receded under de Blasio.
The candidates were also in agreement on reforming the commercial rent tax, which has widespread support in the Council, but where no action has taken place to move the bill through committee and beyond. The reform would raise the threshold at which the tax, which affects businesses below 96th Street in Manhattan, is levied. The bill, sponsored by Council Member Dan Garodnick, who is also term-limited this year, would raise the amount of rent paid in a year required for the tax to be levied from $250,000 to $500,000. The bill has 41 sponsors in the 51-seat Council.
Rivera, Sanchez, and Vasquez called for small business owners and families affected by the commercial rent tax to testify at the City Council as to the effect of the tax. Sanchez also called for the creation of a Business Improvement District, or BID, on the Lower East Side bound by Avenue A, Avenue D, 14th Street, and Houston Street.
On housing, a plank in the NextGen NYCHA initiative to allow development of market-rate apartments on vacant NYCHA land was sharply rebuked by most of the prospective Council members. Rivera stated that NYCHA must begin to be looked at as a part of the city's infrastructure, akin to the MTA, and called for a reform of the authority's repair system.
The subject of housing was where the most disagreement came to the fore during the debate. Cho signaled a more pro-development stance than his colleagues, saying that to be pro-affordable housing but anti-development doesn't "square up."
Sanchez, meanwhile, staked her position less on new development and rather on preserving the existing housing stock. "In regards to affordable housing, the preservation of it is really important," Sanchez said. "And I think one way of doing so is declaring certain areas historical districts. Therefore, there's no way of building NYCHA towers if it's a historical district, because I am completely against the privatization of public lands." She also discussed the sorry state of affairs regarding repairs in NYCHA, and discussed a lack of accountability regarding people being added to leases in NYCHA, echoing a point made by Vasquez.
"The first thing we need to do is transparency," Vasquez said, regarding his course of action on NYCHA as a Council member. He believes it should be easier for young adult children of NYCHA residents to be added to apartment leases. "There's no documentation of who asks to be put on the lease. How many people who asked to be added onto something, right? We know how many people applied to NYCHA, but we don't know how many people applied to be added onto an existing account. And that's important, because we're throwing away resources, we're throwing away money. We're throwing away the affordability and the fabric of our city, especially within District 2."
Specific new developments or neighborhood rezonings, and related community opposition, can often serve as a cudgel for a local legislative race. This is being seen in Council races this year in District 8, with the East Harlem rezoning; and District 35, with the Bedford Union Armory redevelopment, among others.
The only specific new development that served as a discussion point during the District 2 debate for MNN was the development of a new tech hub in Union Square, slated to be built on city-owned land. The candidates were largely in agreement that the development would be a net positive for the community, bringing in new jobs, particularly in STEM, but that the community must get something in return, such as the ability to use the space rather than it serving as simply a tech hub for what Cho described as white, wealthy men from or in the mold of Silicon Valley.
The five were hesitant to praise Mayor de Blasio. Asked to give a letter grade to his mayoralty and whether they would vote for him in November, Rivera and Vasquez gave him a "B" while Cho and Sanchez each gave a "C"; Silver, a former educator, gave an "incomplete."
Cho and Silver said they would vote for de Blasio this fall over his Republican opponent, Staten Island Assemblymember Nicole Malliotakis; Sanchez said she wouldn't, and Vasquez and Rivera said they are undecided. Universal pre-K was praised as an ameliorative effort to address the "tale of two cities" that de Blasio campaigned on; however, the continuing rise in the cost of living led the candidates to lower their marks for the mayor, some said. Vasquez also criticized the mayor for claiming support of SBJSA but then backtracking upon entering the mayoralty.
Watch the full CD2 MNN debate: