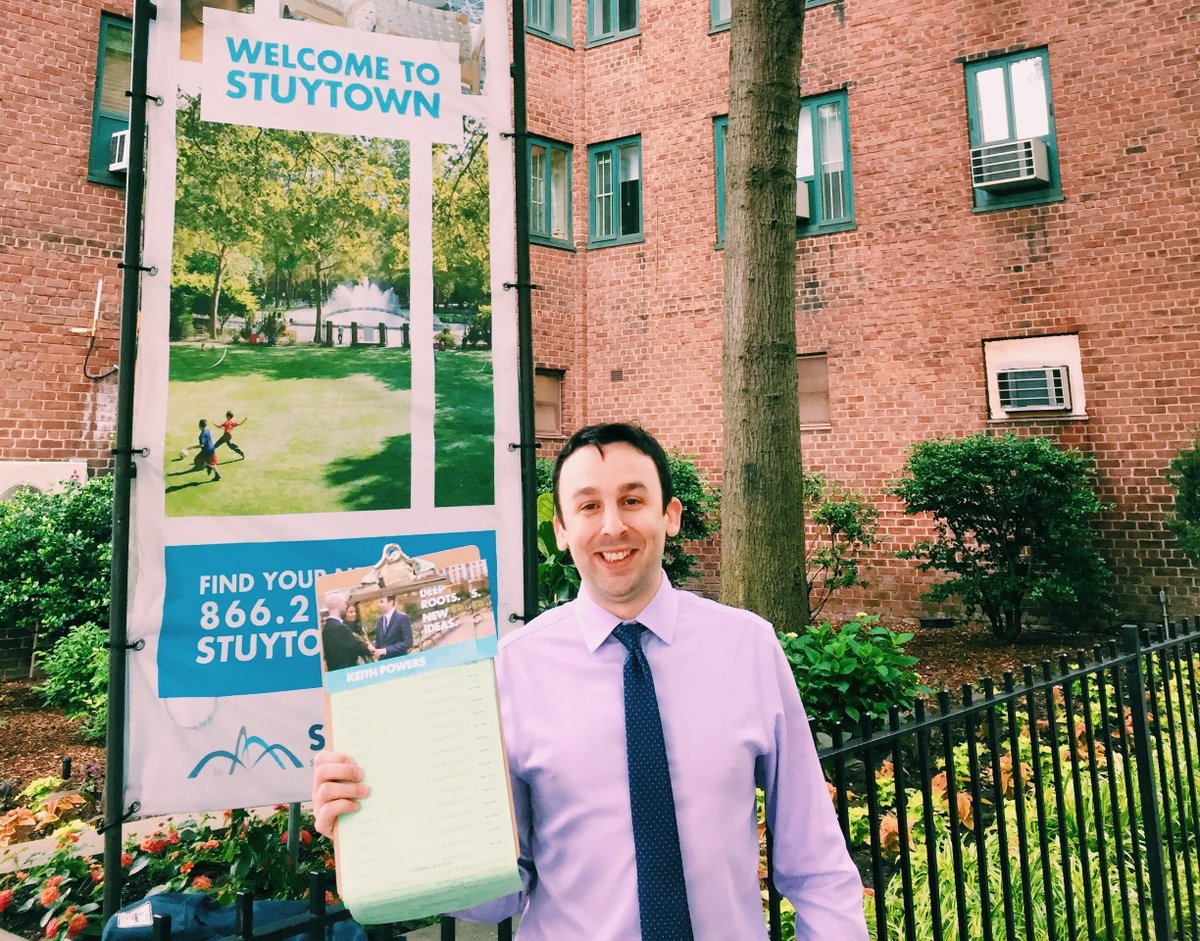 City Council candidate Keith Powers (photo: @KeithPowersNYC)
---
Candidates across the city this year are running for City Council on all sorts of issues, but only one has released a detailed list of government, campaign finance, and voting reform proposals. That agenda, called "Sunlight in the City," has been put forward by Keith Powers, a Democrat competing in the crowded field to replace term-limited City Council Member Dan Garodnick on Manhattan's East Side.
At a time of widespread distrust in government, continued problems with public corruption and unethical conduct, and low voter turnout, especially here in New York, Powers' agenda is especially noteworthy. The 22-point platform on government and electoral reform in New York City is something of an amalgamation of longtime goals for voting reform advocates and good government groups. Some of the measures have actually already been passed or implemented; some have to be approved at the state level.
Powers' reform agenda also comes as he is has been attacked by opponents for his work as a lobbyist -- he was until May a vice president at the firm Constantinople and Vallone. Sunlight in the City includes several planks directly related to lobbying, including more disclosure of lobbying meetings held by City Council members and more detailed lobbyist reporting to indicate, among other things, "who got lobbied, who did the lobbying, and the specific bill or subject matter."
Some of the mainstay priorities of electoral and government reform advocates that appear in Powers' platform include a move to instant runoff voting for all city elections and lowering the number of City Council issue committees to diminish patronage and redundancy in the legislative body. These planks have been proposed in the Council and, in the case of instant runoff voting, at the state level, but have gone nowhere.
Powers also calls for lowering the individual contribution limit to Council candidates campaigns from $2,750 to $1,225, "to make small donors and large donors equal in their donation capacity." Ideally, his agenda says, he wants to see 100% publicly financed elections in the city to replace the city's current matching funds mechanism, starting with a pilot program for special elections. Kallos introduced a bill to increase the matching funds payout for Council races "to a full match with the expenditure limit," which is currently in committee.
A few planks in the platform are already in place, such as the closure of the "doing business loophole" that allows those doing business with the city to circumvent donation limits by giving to political nonprofits. The loophole was closed in a bill passed by the Council and signed by Mayor Bill de Blasio in 2016, after the mayor himself was investigated for issues related to his own political nonprofit, the Campaign for One New York, which was shuttered amid controversy.
"I think it's important we're always sort of constantly evaluating our process by which we do government or help get people elected or otherwise," Powers said in an interview, "we can always do better." He indicated he believes the City Council is, in most cases, a model for transparent government, but that there's still more that can be done.
In part because of his reform agenda, Powers has received the endorsement of City Council Member Ben Kallos, himself an advocate of open and ethical government and the representative of a neighboring Council district to the one Powers hopes to represent. Kallos also chairs the Council's government operations committee, which often hears bills related to government and campaign finance reform.
"In terms of his Sunlight in the City report, it is a list of the 22 items that the City Council is currently working on or should be working on to really clean up government," Kallos told Gotham Gazette. Kallos said that he hasn't seen anything like it from anyone running this year.
While few City Council candidates are talking about government and campaign finance reform, Democratic mayoral hopeful Sal Albanese has made the topic central to his attempt to unseat de Blasio. Albanese has proposed a significant campaign finance reform to completely eliminate private money from the system, something de Blasio has said he favors in theory, but has not advanced legislation on.
Powers acknowledges the difficulties in getting some things on his list passed, but said that shouldn't be a reason to not try.
"I think the City Council reform, I think that is the one where I look at as there being a lot of really achievable ideas in there," said Powers, citing the creation of an independent bill drafting unit as something that many legislators are clamoring for, despite the existence of such a unit. The unit was part of a package of Council reforms passed in 2014, but Powers believes that these reforms can go further; regarding the drafting unit, Powers believes the current iteration is an improvement, but that it should be even more autonomous in instances such as the number of bills that can be introduced at a given time.
Another Council reform Powers sees as achievable deals with bill aging. Currently, a bill ages seven days after introduction for public input, but Powers claims that it just sits in City Hall and is essentially unavailable to the public. He believes it should publicly age online.
Powers said that the challenge of moving some of the reforms through the state government shouldn't be a deterrent, that the city shouldn't be "abdicating our authority to Albany." Kallos said that the voting reform planks, other than ending patronage at the Board of Elections, don't have to go through the state Legislature. Many of the other planks need city passage, some can be done through City Council rules.
On closing doing business loophole, which already became law, Powers conceded to have not known the full extent of the legislative package that was passed. He also was largely nonspecific on his proposed additions to the 2014 member item reform, stating that there's a lot to look at where the Council can "do better."
The Powers agenda received an enthusiastic response from democratic reform group Citizens Union, which interviews candidates and releases preferences in some city elections based on good government bona fides.
"Keith Powers has put forward an ambitious and wide-ranging plan to increase transparency and accountability, and bring some needed sunlight to the New York City Council. While we do not support all of his proposed reforms, Citizens Union has long been advocating for several of them and will continue to do so in the upcoming session," said Rachel Bloom, Citizens Union's Public Policy director.
For example, Citizens Union is not in support of the full public financing of city elections plank of Powers' platform -- the organization "feel[s] that candidates should have to raise money in the districts they seek to represent," Bloom said. However, it is supportive of Powers' proposed pilot program in special elections. The organization has not yet made its preference in the Council District 4 race or any other.
In the Democratic primary to be voted on September 12, Powers is competing against Marti Speranza, Jeff Mailman, Bessie Schachter, Maria Castro, Vanessa Aronson, Barry Shapiro, Rachel Honig, and Alec Hartman, none of whom have released government reform platforms, though Shapiro called for transparency in lobbying in a campaign video.
Note: Gotham Gazette is an independent publication of Citizens Union Foundation, sister organization of Citizens Union.
The Citizens Union candidate interview and preference process is wholly separate from Gotham Gazette operations. Gotham Gazette does not endorse or support candidates for office.