Ben Max, left, of Gotham Gazette, and Jarrett Murphy, right, of City Limits
---
August 15, 2017: Representative vs. Substantive Representation, with Dr. Christina Greer and Alexis Grenell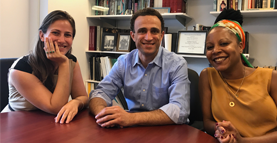 On this episode of the Max & Murphy podcast we're without City Limits' Jarrett Murphy, who is on a much-deserved vacation, but joined by political analysts Dr. Christina Greer, a political science professor at Fordham University, and Alexis Grenell, a Democratic strategist, founder of Pythia Public, and columnist on gender and politics.
With our Ben Max, Greer and Grenell discussed issues commonly referred to as "identity politics" dealing with gender, race, elections, and government. The three talked about the mayoral race between Mayor Bill de Blasio and Nicole Malliotakis, the Republican nominee seeking to become the city's first female mayor; de Blasio's record on gender equity; the low number of women in the City Council and what's at stake in this year's elections; barriers to entry into politics for women; and more.
Listen to the full conversation and let us know what you think -- we're on Twitter @TweetBenMax @Dr_CMGreer @agrenell. You can hear the conversation through the embedded audio below or download it wherever you get your podcasts.