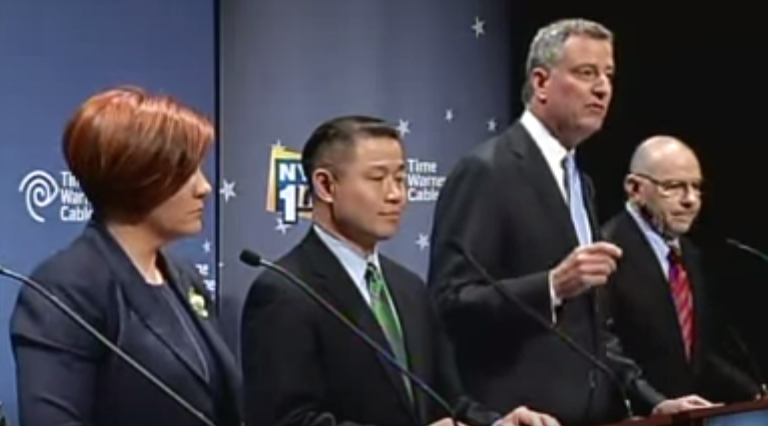 Quinn, Liu, de Blasio, Albanese (from 2013)
---
Debates have been an invaluable part of political discourse and elections for centuries. The face-to-face interactions between candidates reveal a lot about their character, policies, and ability to perform under pressure.
Debates for citywide races in New York -- for Mayor, Comptroller, and Public Advocate -- have played no small part in helping New Yorkers decide which candidates best represent their interests. Ahead of the 2017 debates, which begin Wednesday with the first Democratic mayoral primary debate between Mayor Bill de Blasio and former City Council Member Sal Albanese, Gotham Gazette presents 10 great moments from New York City debates of the last few decades.
1. Giuliani declines debate, spurs matching funds/must debate law
1993 General Mayoral Debate; 10/17/93
Candidates: David Dinkins (D); Rudy Giuliani (R); George Marlin (Conservative)
A non-debate on a debate list belongs because of the importance of the decision, both during the contentious 1993 rematch between Dinkins and Giuliani, which Giuliani would win, and the long-term implications of the subsequent change in law.
Mayor Dinkins wanted to include the Conservative Party candidate in any debate between himself and Giuliani, but Giuliani would only agree to a one-on-one debate, and so the two major party candidates did not have a single debate before the election that year. In response, the City Council voted on legislation that forced any candidate taking public matching funds (as both Giuliani and Dinkins did) to participate in two debates before both the primary and general elections, given certain criteria.
At the debate that Dinkins and Marlin did have, they both attacked Giuliani for not participating, and on other grounds. In his closing statement, Dinkins, who had bested Giuliani in 1989, said, "It takes a certain kind of temperament and personality to deal with the various legislative bodies in order to achieve [my accomplishments], I suggest to you that Rudolph Giuliani does not have the temperament to get the kind of consensus necessary to achieve the things that we've done."
For his part, Giuliani explained, "I have a letter from April of this year, where I had a firm commitment for a one-on-one debate with Mayor Dinkins, which NBC has now allowed him to sneak out of, because he rolled over for them. He shouldn't do that, it's wrong. And I know why David Dinkins won't face me. On 12 occasions in 1989, he ducked out of one-on-one debates with me. On 7 occasions, he has ducked out of one-on-one debates with me in this election. They shouldn't allow him to do it, because I'll ask him the questions that some of you won't ask him about how he's cheating."
Watch the October 17, 1993 debate between Dinkins and Marlin here.
2. Mayor Bloomberg tries to speak Spanish
2009 General Mayoral Debate; 10/13/2009
Candidates: Michael Bloomberg (i); Bill Thompson (D)
Mayor Michael Bloomberg's attempts to speak Spanish are well-known and much-skewered, most famously by the @ElBloombito Twitter account. Bloomberg used to end each news conference by summarizing his statements in Spanish, and he occasionally gave entire interviews in his second tongue. In a 2009 general election mayoral debate, Bloomberg tried responding to a question about diversity in his cabinet from Juan Manuel Benitez, host of Pura Política on NY1 Noticias, in Spanish. Although the mayor received applause, the moderator had to ask him to repeat his answer in English, as many in the room and at home had no idea what he had said.
Watch the moment here and watch the entire October 13, 2009 debate between Bloomberg and Democrat Bill Thompson here.
3. David Yassky sings Beyonce
2009 Comptroller Debate, Democratic Primary; 9/10/2009
Candidates: David Yassky (D); Melinda Katz (D); John Liu (D); David Weprin (D)
A crowded Democratic primary for Comptroller in 2009 included a lightning round of questions during the September 10 debate. When candidates were asked if they had listened to Beyoncé, all candidates said yes, and Melinda Katz even quietly said, "To the left." But only David Yassky actually sang, to the amusement of the audience, especially the moderators. Yassky sang the chorus to Beyonce's 2006 mega-hit, "Irreplaceable."
Yassky's singing prowess did not carry him to victory, however, as John Liu won the primary and became Comptroller.
Watch the moment here, and watch the entire September 10, 2009 Democratic Primary Comptroller debate here.
4. Giuliani calls out Henry Hewes for not even being his party's official candidate
1989 General Mayoral Debate; 11/5/89
Candidates: David Dinkins (D); Rudy Giuliani (R); Henry Hewes (Right to Life)
Before he refused to debate with a third-party candidate present in 1993, Republican mayoral candidate Rudy Giuliani showed his distaste for them in this surreal moment from the second of two general election debates that took place the week before the 1989 election, which Giuliani narrowly lost to Dinkins. Eight minutes into the hour-long debate, Giuliani claimed that Right to Life candidate Henry Hewes didn't deserve to be there. He then explained Hewes was not even the officially registered candidate of the Right to Life Party, as he pulled out a letter from the Board of Elections confirming that, indeed, Henry Hewes was a registered Republican and had not filed any declaration of his candidacy on the Right to Life ticket.
Watch the November 5, 1989 debate here. The moment is at 7:50.
5. Donald Trump's influence on New York City
2005 General Mayoral Debate; 10/6/05
Candidates: Fernando Ferrer (D); Thomas V. Ognibene (Conservative)
During the lightning round of this 2005 general mayoral debate, the moderator asked Democrat Fernando Ferrer and Conservative Thomas Ognibene (Mayor Michael Bloomberg did not attend as he was addressing a potential threat in the city), "Is Donald Trump a positive influence on the city?"
At the time, this was a throwaway question about an infamous New York celebrity. Before Twitter, before the presidential run, Trump was a local tabloid legend, real estate baron, and TV personality to most New Yorkers. The candidates agreed in their initial response: "I could care less."
Listen to the lightning round that included the question here, or watch the entire October 6, 2005 debate here.
6. Scott Stringer goes for Spitzer's jugular
2013 Democratic Primary Comptroller Debate; 8/12/13
Candidates: Eliot Spitzer (D); Scott Stringer (D)
The 2013 Democratic primary for Comptroller was defined by consistent antagonism between the two candidates, then-Manhattan Borough President Scott Stringer and former Governor Eliot Spitzer.
Five years earlier, Spitzer had resigned while under federal investigation, and during a section of the debate in which the candidates could ask each other a question, Stringer seized. "So Eliot, if you were the chairman of a large company, and you hired a CEO, and they engaged in money laundering, illegal wiring of funds to shell corporations, and if the CEO was under federal investigation - criminal investigation - and that CEO was fired, would you hire that CEO again?"
Listen to highlights from the debate, including this moment, here, or watch the entire August 12, 2013 debate here.
7. Democrats try to tie each other to Mayor Bloomberg
2013 Public Advocate Democratic Primary Run-off Debate; 9/24/13
Candidates: Letitia James (D); Daniel Squadron (D)
The end of Mayor Bloomberg's third term was a time when many New Yorkers were seeking change in city leadership. Candidates capitalized on this desire, and in few places was this more apparent than the 2013 Public Advocate Democratic primary. Candidates Letitia James and Daniel Squadron -- locked in a run-off for the nomination -- traded the usual barbs about each other's backgrounds, but they often simply used any kind of tie the other candidate had to Bloomberg as an attack.
James stated that Squadron had stayed silent when Bloomberg's third term was being debated, while Squadron claimed that it was not right that James had "stood with the mayor over 98 percent of the time."
Listen to highlights from the debate, including this moment, here, or watch the entire September 24, 2013 debate here.
8. Bloomberg pressed by moderator and opponent about book of jokes he allegedly made
2001 Republican Primary for Mayor; 9/9/01
Candidates: Michael Bloomberg (R); Herman Badillo (R)
During his initial run for mayor, Michael Bloomberg was repeatedly questioned at a primary debate about an article in New York Magazine in which columnist Michael Wolff described a gift given to the future mayor at a company party in 1990. The gift was a booklet of quotations supposedly said by Bloomberg, some of which were blatantly misogynistic and homophobic.
During one of the 2001 Republican primary debates, both moderator Gabe Pressman and rival Herman Badillo pressed Bloomberg on whether or not he said what was written in the booklet. Bloomberg repeatedly claimed he did not remember saying any of those things, and in the end, he attempted to move the debate along, claiming, "It was in a book written by somebody else. Let's go on to the issues. Come on…"
Read a transcript of debate highlights, including this moment, here, or watch the entire September 9, 2001 debate here.
9. Candidates debate prevalence of racial profiling in NYPD
2001 Mayoral General Election Debate; 11/1/2001
Candidates: Michael Bloomberg (R); Mark Green (D)
Michael Bloomberg's implementation of widespread "stop-and-frisk," a police tactic criticized for disproportionately targeting African-American and Hispanic men, is perhaps the least popular aspect of his legacy. During a 2001 general election mayoral debate between first-time candidate Bloomberg and Democrat Mark Green, one exchange reveals Bloomberg's early views on racial profiling in the NYPD. When asked, Bloomberg agreed that racial profiling must be combated because "the perception is widespread."
Watch the moment here, or watch the entire November 1, 2001 debate here.
10. Bill de Blasio targeted as Democratic frontrunner
2013 Democratic Primary Debates; 8/14/13 & 8/21/2013
Candidates: 8/14/13: Christine Quinn (D); Bill de Blasio (D); John Liu (D); Anthony Weiner (D); Bill Thompson (D)
Candidates 8/21/13: Sal Albanese (D), Christine Quinn (D); Bill de Blasio (D); John Liu (D); Anthony Weiner (D); Bill Thompson (D), Erik Salgado (D)
As the fast-moving 2013 Democratic primary moved to within a month of a vote, Bill de Blasio made a surprise leap into the lead of the polls. Just after a new poll showed de Blasio in the lead for the first time, the leading Democratic candidates showed for a debate, and the other candidates clearly recognized the new order by attacking de Blasio more than they previously had, when it appeared that Christine Quinn, Anthony Weiner and Bill Thompson were all likelier nominees.
Quinn said de Blasio "was in the Council for eight years, he didn't pass one bill to create a good paying job, not one bill to help our schools, not one bill to keep our city safe. That's not a record of results," according to The Daily News.
"The only difference between Speaker Quinn and Bill de Blasio is Speaker Quinn has been more successful. They made the same promises to the same people. She got elected speaker and he's never gotten over it," Weiner said.
A week later, for the first of two official, Campaign Finance Board-sanctioned primary debates, those same leading Democrats, along with Sal Albanese and Erik Salgado, took the stage in prime-time. De Blasio was again the focus of many attacks. He would go on to win the primary less three weeks later, even securing the 40 percent of the vote needed to avoid a runoff.
***
by Thomas Duda
with reporting by Ben Weiss
@GothamGazette