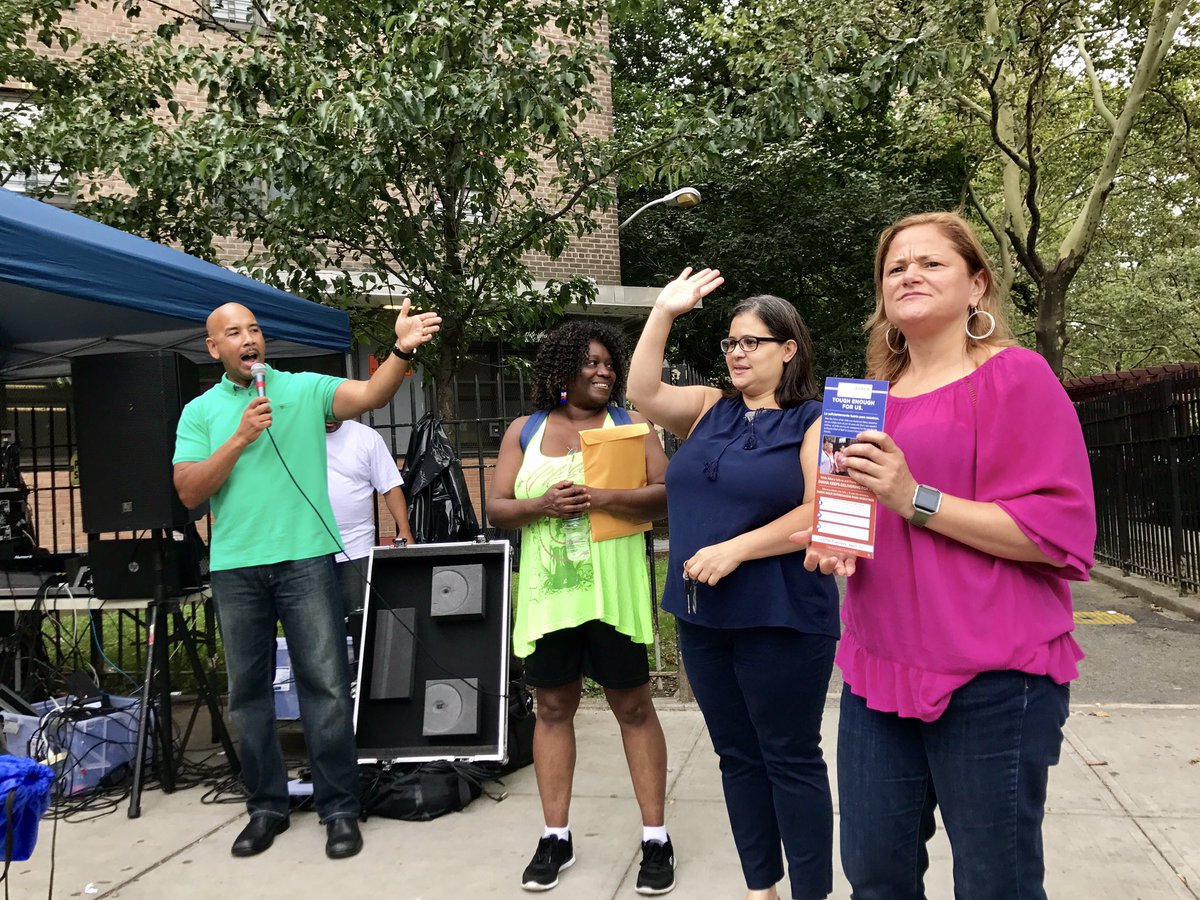 Ruben Diaz Jr. introduces Diana Ayala, alongside Melissa Mark-Viverito (photo: @jtaranto)
---
Melissa Mark-Viverito, the Speaker of the City Council, is term-limited and leaving office at the end of this year, which, aside from indicating that there will be a new leader of the Council, means her position representing the Council's 8th District is "open."
Since 2005, Mark-Viverito has represented the district, which includes East Harlem and parts of the South Bronx. New York State Assemblymember Robert Rodriguez, whose district encompasses much of District 8, and Diana Ayala, a former Mark-Viverito staffer who the speaker has endorsed as her preferred successor, are in a highly competetive race for the seat.
Ayala, 43, has appeared at multiple campaign events alongside her former boss, for whom she was constituent services director and deputy chief of staff. Mark-Viverito has also been door-knocking in the district with Ayala, attempting to use her name recognition to boost Ayala's, which is far behind Rodriguez's given his stature as an elected official.
Several other electeds from the area have endorsed Ayala, too. These include Bronx Borough President Ruben Diaz Jr., Congressional Rep. Adrian Espaillat, and City Council Members Rafael Salamanca, Ritchie Torres, and Annabel Palma of the Bronx. Ayala is hardly running away with the endorsements competition, though. The 41-year-old Rodriguez has support from Congressional Rep. Jose Serrano, who campaigned alongside Rodriguez at a recent family day gathering at Johnson Houses, and State Assemblymember Marcos Crespo, who is Bronx Democratic Party Chair, among others.
While the two can perhaps call it even in backing from key politicians, Ayala had significantly more money than Rodriguez for the remainder of the campaign, at least as of the most recent filings with Campaign Finance Board. As of that mid-August filing, Rodriguez had a bit under $34,000 left after raising $140,000 over the course of the campaign, while Ayala has raised over $77,000, boosted by $95,095 of public matching funds, to leave her campaign with $110,415 to spend. Rodriguez has not yet received any public matching funds.
And, though Ayala has the endorsement of the City Council Progressive Caucus and other progressive groups, the two candidates have few disagreements on the key policy issues in the race -- the two top contenders posit themselves similarly on charter schools and the East Harlem rezoning, along with affordable housing, generally.
Also on the primary ballot will be community activist Tamika Mapp, who ran against Rodriguez for his Assembly seat in the 2014 primary, and former State Assemblymember Israel Martinez.
Ahead of the Democratic primary on September 12, the candidates have been making their pitches to voters during campaign forums, door-knocking excursions, and community events in the district, revealing two distinct styles reflective of their backgrounds. Gotham Gazette spent time on the campaign trail with both Ayala and Rodriguez, including during retail campaigning and at candidate forums.
Candidate Messaging
Rodriguez, the son of a former Assembly member for the same district, speaks predominantly about his achievements in Albany, particularly as they relate to the New York City Housing Authority (NYCHA), on the campaign trail. "You sent me up to Albany to fight for NYCHA," Rodriguez said in his opening statement at a campaign forum in July. "Before I got there, there was no state contribution to New York City public housing. Not one dollar! Since then, in the fight to makes sure that the State meets its responsibility to NYCHA, we now have $300 million committed toward capital for New York City public housing," Rodriguez said.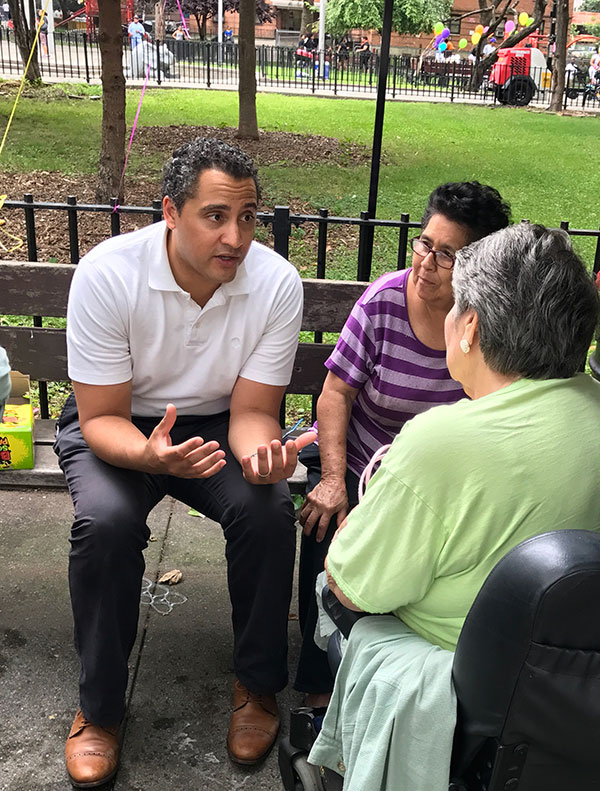 First elected to the Assembly in 2010, Rodriguez is a former member of Community Board 11. He went on to call attention to his other achievements as a state legislator. "You sent me to Albany to make sure we got a Second Avenue Subway that comes from 96th street to 125th street," Rodriguez continued. "When there were dangers of taking it out of the budget, which is still being talked about, you sent me up there to be a champion. And today we have $2.2 billion in the MTA plan to move the subway up to 125th street," he said. "You sent me there to fight for affordable housing to fund the Mitchell-Lamas we have in our community. We have $75 million in the budget to fight for our Mitchell-Lamas to keep them [affordable]," he said, sparking applause from an audience of just short of 200 in an East Harlem school. "Those are the things that you sent me to Albany that have given me the experience to be able to serve you in the City Council."
Like several other state legislators, Rodriguez is making a run this year for City Council, attempting to leave behind the many commutes to Albany and to boost his base salary by nearly 100%, from the $79,500 of a state legislator to the $148,000 of a City Council member. Rodriguez will not lose his Assembly seat if he is not victorious, since state legislative elections are in even years.
Campaigning in East Harlem Saturday, August 12, Rodriguez struck familiar points, molding his pitch slightly to the audience inside Jefferson Houses. "I grew up understanding that NYCHA is the only way that low-income people can raise their families and aspire for better," he said. "So when we got to the Legislature...the State gave no money to public housing. Not one dollar," he said. "We had to change that. So we made the fight and over the last three years we've got $300 million to go to New York City public housing."
"Now that's not enough," he continued. "I'm not saying the job is done; it's just the beginning. But we know that that put cameras here in Jefferson, and there are more projects that we have to do across NYCHA to help make things better and safer for all our residents," he said. "Just know that I'll keep up that fight wherever you let me go."
For her part, Ayala often talks of her own life experiences as making her uniquely suited to represent the district. "I have always been at the table and I have worked with the community to try to figure out the solutions to the issues that are all before us," Ayala said at the August campaign forum. "And I think that's what makes me a qualified candidate, coupled with the fact that a lot of the issues that came before us, or have come before the office of the Speaker, have been my issues," she said. "I have been homeless, I have been hungry, I have been the victim of domestic violence, I have been a single mother, I have been a teenage mother," she told the audience. "So these issues allow me a different perspective on the way that we legislate in the City Council."
Ayala sees her strength as a candidate in her ability to be in tune with her community's needs, rather than having particular policy expertise. Asked about her differences with Rodriguez, she took the opportunity to draw a distinction regarding community knowledge and relationships.
"In order for you to create common sense legislation you need to be engaged with what's happening in your community," she said. "And if not, how do you? This is where policy is born, right?" she said. "And it's deeply-rooted in the community and things that are happening on a day-to-day basis and it's really important that we be active participants," she continued.
During her time in Mark-Viverito's office, Ayala, in addition to building her relationship with residents of the 8th district, grew to admire respect her boss. When they were asked in a July debate to grade the Speaker's performance, Ayala graded her with an "A" while Rodriguez, noting he respects how hard her job is as an elected official himself, gave her a B or B minus, adding, "[t]here needs to be someone with experience to pick up the banner." Ayala, who remains loyal to her former boss and has spent time with her while campaigning, is hesitant to put any daylight between herself and her former boss. "The Right to Know Act, I probably would have acted a little bit more swiftly," she said. "But," she quickly said, "I understand that she felt like the need to be legislated and there needs to be an opportunity for discussion first."
When asked about the disagreement between Mark-Viverito and de Blasio over legal funding for immigrants that have been convicted of certain crimes, Ayala balked at taking a stance. "I don't really feel comfortable taking a position on that yet," she said. "I haven't really been actively involved in that."

Despite her loyalty to Mark-Viverito, Ayala has not been able to carry over all of her institutional support. The city's healthcare workers union, 1199 SEIU, which is a strong force in city and state politics and has been a close ally (and former employer of) Mark-Viverito, endorsed Rodriguez last week.
Indeed, one of the most interesting and determinative aspects of the race to replace her will be what kind of pull Mark-Viverito has among her constituents to choose her successor.
Differentiating Themselves
Throughout interviews, forums and other events, the candidates repeatedly underscored their campaign identities: Ayala as the on-the-ground community member and liaison who knows everyone in the neighborhood and what they need, and Rodriguez, the policy guy who's worked in Albany to help the district largely from afar.
When Gotham Gazette asked Ayala if Rodriguez comes up on the campaign trail, Ayala said it's a rarity but when he does constituents tell her Rodriguez is is seen to be out of touch with the district. "He rarely comes up, but when he does come up, people say 'where is he? I don't see him. He's not in this district. I'm not voting for him.'"
Ayala's campaign is clearly seeking to capitalize on the issue of district presence and constituent services. While going door-to-door in an East Harlem senior NYCHA development, Ayala knew well over half of the people at the doors.
"I saw that it was your birthday," Ayala said in an upbeat tone to one registered Democrat in the building, noting she knew of the birthday from Facebook. At other doors, she stopped to inquire about renovations in the apartments, gave instruction on how best to go about getting things fixed, cleaned, or replaced to residents with home issues and politely inquired about certain tenants' health if she knew they had been ill.
Ayala's relationships with community members are not exclusively from her years as constituent services director for Mark-Viverito. Before her tenure in the City Council office, Ayala worked in senior services for 20 years, which she credits with lending her familiarity with many in the district.
At the August 12 campaign event in East Harlem, Rodriguez spoke comfortably with members of the community. He, like Ayala, transitioned seamlessly between Spanish and English.
After his brief speech, Gotham Gazette asked Rodriguez how he differs from Ayala. Like her, he draws on experience, not particular ideological or policy differences between the two, to make the case. Rodriguez argues that the problems are known and thus political skill is what is needed to improve quality of life for District 8 residents. "Policy-wise, on some of the issues...there may not be a difference but execution and experiences I think is where there's huge difference there," Rodriguez said.
"Having served in the Legislature and understanding the challenges around finding funding, bringing funding into the district, and recognizing that you have to make some difficult decisions and prioritize," said Rodriguez. "Someone who has that experience, I think, has the advantage in terms of being able to better represent this district and address the issues that are really at crisis levels in the East Harlem and South Bronx," he added. "I think I can bring a unique set of experiences to do that."
Affordable Housing
In an interview in Ayala's campaign office just a few blocks south of Jefferson Houses following her voter outreach, she again highlighted housing as the most important part of the campaign. "Housing is always going to be the centerpiece of everything," she said. "Housing continues to be an issue for a lot of reasons. We have a large public housing stock that's...in pretty dilapidated condition."
Ayala remembered that NYCHA units had declined over the years. "I grew up in public housing. It was really nice and people don't believe it, but it was," she said. "They used to paint your house every five years, they would change your cabinets, they would clean the grounds, there was all types of stuff -- they didn't have rats. Seeing a mouse in public housing was unheard of," she recalled.
This deterioration, she estimates, happened about a decade or two ago. Ayala did not offer specific plans for addressing the problems.
Beyond NYCHA, Ayala said affordable housing no longer fits people's budgets, a major problem in the district. "We have people that are in rent-stabilized units that are paying upward of $2,000 [per month]. So you have families that are overcrowded in these apartments because, even though they're rent-stabilized...they stopped being affordable," she said. "We lose almost 400 units a year to rent destabilization and we're not making them up fast enough, so there's more going out than coming in," said Ayala. "And that's a problem, because that's how the community stops becoming El Barrio."
This dynamic comes into play regarding East Harlem rezoning in Ayala's telling. When asked about why she was opposed to the city's plan, Ayala said that many in the community "fear that they're going to be pushed out" if the city's version of East Harlem rezoning is enacted. "And," she continued, "they fear that y'know we're going to have all these luxury tall buildings that are going to change the character of the community and the culture is going to evaporate, [and it's] not going to be Harlem anymore."
Public Safety
After housing, public safety is the next most important issue in the campaign, according to Ayala. "I have several members of my family that have been killed in gun violence," she said. "My cousin was shot when he was 16 years old at a party when he was minding his business because he accidentally stepped on someone's sneaker and the guy pulled out a shotgun and killed him. My boyfriend was shot when I was 15," Ayala said. "So..that's something that continues to plague our community. I spend a lot of time in the community and people are afraid. Our seniors are afraid to sit on the benches, parents are afraid to take their children to the park because we've had shootouts in the park in the local playground," Ayala said.
Rodriguez has been endorsed by the Patrolmen's Benevolence Association (PBA) and received a $1,000 campaign donation from the police officers union in January. Rodriguez says he favors J-RIP, formally known as Juvenile Robbery Intervention Program. "It really helped with some of the gang issues we're having in our community and that has to continue," he said of the program, a paternalistic anti-crime method in which police officers track and intervene in the lives of teenagers authorities deem most likely to commit crimes. He also lamented the high turnover rate in the NYPD, which he regards as a problem of not allowing officers to establish relationships with the communities they serve.
Ayala said she did not see the PBA's stamp of approval as something she would seek, citing differing on issues such as the Right to Know Act and Closing Rikers Island jails. "I am a supporter of several pieces of legislation in the City Council that, you know, that the PBA is not in favor of, and so I didn't feel like it was an endorsement that I should pursue," she said. "I think if you're being stopped by anyone you should know why you're being stopped," she said, referring to one provision of the Right to Know Act, which would mandate more communication from officers during street stops where a crime is not evidently being committed.
"I have a great relationship with all of the precincts and community affairs officers, commanding officers," Ayala said. "I understand that they have a really tough job. But I'm also a parent of a 27-year-old who happens to have dark skin and who happens to, in his teens, be stopped every single day. I think that I have not only a responsibility to teach my son to be respectful of law enforcement, but also to teach law enforcement to be respectful of the community," she said. "And I don't think the two are mutually exclusive. And I work very closely with the police department too so that they understand the perspective of the young people who live in these communities and I think that we've been very fortunate that the precinct in the district have been slowly coming along and that relations have improved significantly."
The Campaign's Defining Issue
But housing, and related topics like gentrification and neighborhood character, more so than public safety, jobs, or anything else, has dominated the discourse around the race. At a July campaign forum, Ayala assured the audience that she was in tune with their anxiety about the signs of gentrification, putting her signature personal spin on the matter.
"Where I come from," she said, "it hasn't always been a positive thing. I grew up on the Lower East Side and we were gentrified and we didn't know that we were being gentrified because we lived in public housing and nothing really changed for us except for the fact that several years into it, we lost all of our delis, we lost the local pharmacist, we lost the pediatrician that has seen me, my kids my neighbors children," Ayala said. "And all of these mom and pop stores were replaced by all these sheek bars."
"We have people that move into the community and complain about the many festivals that we have or they complain about the marketa music being too loud, being the type of music they don't enjoy," she said. "When we talk about gentrification we want to make sure that if you're coming into this community, we'll welcome you, but you need to accept us the way that we are," said Ayala, speaking to the divide between long-time residents of the neighborhood and some new-coming gentrifiers.
At the forum, Rodriguez framed the phenomenon of neighborhood change in a different manner. "East Harlem is still a community of immigrants," he said. "Let's not forget our history here. People come from different places far and wide into our community," Rodriguez said adding that new people moving in "should not be something that we are afraid of."
"I'm open to new people coming in. I'm open to new business. That's what makes New York City great," Rodriguez added. Rodriguez also spoke to people's anxieties about the lack of affordable housing. "Now that being said, we deserve to stay here," he said. "The housing should reflect what we can afford."
Rodriguez emphasized affordable housing as the "number one issue" in the campaign. "There are concerns that your developments, if it's something like a Mitchell-Lama, may one day not be affordable," he said, referring to a type of subsidized housing set aside for middle-income New Yorkers. "They may opt out of a program and they may become market-rate," said Rodriguez of landlords. "That is what everyone's concern is when you're looking at affordable housing units."
He went on to note that affordable housing is a term that is unique to everyone's needs based on their income and family size. "That's why, years ago, when I was the chair of the community board, we set affordable housing guidelines that defend what we need as a community so that the city is on notice," he said. "There are $17 billion of capital needs in NYCHA. Whatever numbers we're talking about need a significant intervention." Rodriguez said. "This is a crisis that we have."
But Rodriguez does not welcome all opportunities to build new affordable housing. The East Harlem rezoning plan has loomed in the background of the race. As it stands, Rodriguez is against the city's East Harlem rezoning proposal, as are Ayala, Mark-Viverito, and Manhattan Borough President Gale Brewer.
"I'm against it and I support the conditions that were included by the Community Board," Rodriguez said. "Some of the concerns about the benefits -- are they extending some of those benefits to those that are earning below 30% of AMI (Area Median Income)? How do we increase that? I raised additional concerns about what happens to small businesses and smaller commercial spaces as we start to increase density. Where do the small mom and pop stores go?" he said.
Rodriguez, formerly a member of Community Board 11, voiced his respect for the process and disappointment the community's input wasn't incorporated sufficiently in the de Blasio administration's plan. "There's been a significant amount of community dialogue and I think that the East Harlem Neighborhood Plan is pretty comprehensive at covering some of those issues and concerns and I think that didn't all materialize in terms of the City Planning proposal," he said of the plan put forth by the community, in conjunction with Mark-Viverito's office. Still, all hope is not loss for the prospect of East Harlem rezoning and getting the additional affordable housing that it is aimed at spurring. "[A]t this point in the process, ultimately, it falls on the City Council to either approve it or reject it and try to make as many changes as possible before they get to that place," Rodriguez said. "It's not voted upon yet so there's alway room and opportunity for change."
Charter Schools
The two leading candidates' divergent frames is also evident when they speak about charter schools, which both feel have advantages and drawbacks. "My children are public school students," Ayala said, prefacing her opinion on the issue. "As a parent, I don't want anyone to tell me where I can and cannot enroll my children," she said. "I want to have options. That having been said, there have been issues" with charters. "The reality is, when we meet with parents -- we meet with parents all the time -- and we talk about the whole charter school issues, a lot of the concerns are lack of space," she explained.
Ayala added that many charter schools take up extracurricular activity space used by traditional public school students and lack special education programing, which gives her a less favorable opinion on charter schools. "These are things that are all as important as reading and writing and math," Ayala said.
Rodriguez spoke about many of the same issues as Ayala when asked about the role of charter schools in an interview, adding the criticism that some charters churn out students that do not meet certain education standards or hurt test scores, and are not welcoming
"We have different experience with the charters. We have community charters that are doing great work, and we have some that get a lot of criticisms for practices that are not necessarily reflective of what public schools should be doing," Rodriguez told Gotham Gazette. He quickly pivoted from any problems with charter schools to the agenda he hopes to help implement in the Council. Funding regular public schools, not charter school policies, would top his list of educational priorities should he be elected, he said. "So my priority on the City Council will be to pick away at some of these issues that are administered locally by the Board of Education and figure out why we're not getting our fair share."
Purpose
During the interview, when Rodriguez was asked for a short summation of his campaign's central purpose, he talked about what he would do in the City Council. "The elevator pitch is, how can we make differences for our community? And one thing we haven't talked about is parks and waters," he said. "One of the things we haven't talked about is the The East River Esplanade and the South Bronx waterfront," he said. Rodriguez went on to lament the sorry state of the conditions by the two areas.
"There's no reason why our community, which happens to be low income but are changing rapidly, shouldn't have world-class parks and open space on their waterfront and that's something I'd like to fight for," he said. "I've raised the issue, I've gotten some state funding. But this is clearly one of those times that it's clearly a New York City issue that can only be changed by, hopefully, being elected to the City Council and bringing that vision there," he said. "That's just one example of many things that can dramatically improve the lives of residents here, and that's what we're trying to do.".
At the campaign forum, Rodriguez summed things up more broadly in his closing statement. "If you're a working mom, if you're a working family, those are the thing that at the government is supposed to be able to provide some support for," said Rodriguez. "That's the job that you sent me to Albany to do," he said. "So I have the experience and the track record just because you have given me that chance. I want to be able to take the experience and bring it to bear on the city council to meet your needs every day."
As for Ayala, she again struck the tone of personal experience informing her public service when asked about the purpose of her candidacy. "I'm a regular person. I'm a mom. I'm a constituent of this district. I love my community," she said. "I'm motivated by the needs of my community that are also my needs," said Ayala. "So when people talk about gentrification and people being pushed out, these are my people that are being pushed out," Ayala said. "These are my kids that are being pushed out."
"Am I an expert on all things? I am not," Ayala said at the July campaign forum. "But I have always been at the table and I have worked with the community to try to figure out the solutions to the issues that are before us."