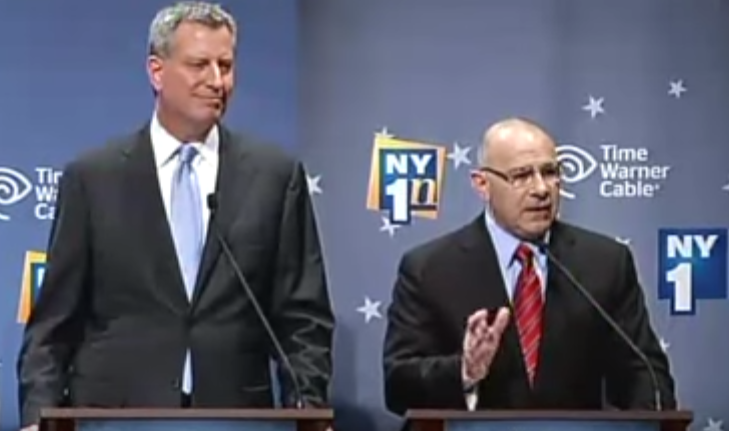 Albanese & de Blasio in 2013 via NY1
---
"A win for me is making the case that de Blasio has not been a good mayor and making the case that I can be a good mayor," Sal Albanese, putting it simply, told Gotham Gazette on Monday, a little more than 48 hours before he was to take the stage against Mayor Bill de Blasio in the first of two Democratic primary debates.
The debate, a 90-minute affair that will air at 7 p.m. Wednesday on NY1 television and WNYC radio, is sure to be lively. The two participants have known each other a long time, served together in the City Council, ran against each other in 2013, and do not seem to like one another.
For de Blasio, the debate will be an opportunity to tout his first-term record and outline his vision for another four years. "You'll hear a heavy focus on his record, going through his accomplishments of the last four years," said de Blasio campaign spokesperson Monica Klein in a Monday phone interview, ticking off universal pre-kindergarten, low crime, affordable housing, and other items. "And obviously talking about what his plans are for the second term, which are pretty expansive," Klein added, providing a few examples like extending public pre-school to three-year-olds.
Earlier Monday, de Blasio had told reporters at an unrelated press conference that he has been preparing for the debate. "We've done a number of prep sessions already the same way we did debate prep in 2013," de Blasio said when asked. "I never take anything lightly. I've been an underdog in essentially every race I've been in. This is a different dynamic but it doesn't change my preparation."
That different dynamic is, of course, that de Blasio -- the incumbent mayor with a massive fundraising advantage and many endorsements from labor unions and other elected officials -- is a heavy favorite. Albanese, however, sees the debate as a major opportunity to get more New Yorkers to learn about his campaign, increase his fundraising for the final weeks of the primary race, and find a way to victory on September 12, in what is expected to be another terribly low turnout election.
Given the one-on-one nature of the debate -- especially juxtaposed to the crowded primary field of four years ago -- expect a pointed, at least somewhat substantive discussion of key issues facing the city. As it should, the debate will feature a good deal of reckoning with the record of the incumbent seeking another term. This is where both de Blasio and Albanese believe they will make key points -- de Blasio believes he has a lot to boast; Albanese thinks de Blasio has been a failure and must be replaced.
"Every mayor does some good things," Albanese said, recognizing universal pre-K, "but on balance, he has not been a good mayor. That's why I'm in the race."
In 2013, de Blasio and Albanese participated in dozens of candidate forums and debates across the city. They were often joined on stage by the other Democratic hopefuls, including Christine Quinn, Bill Thompson, Anthony Weiner, and John Liu. Even during those busy affairs, Albanese almost always homed in on de Blasio, criticizing the soon-to-be-mayor as opportunistic and hypocritical. De Blasio usually swatted away the barbs and returned to his carefully crafted talking points about his equity agenda and the reasons that Quinn, the early frontrunner, should not be mayor.
Wednesday night, it will be just de Blasio and Albanese -- a moment the latter has surely been pining for since the former ran away with 40 percent of the primary vote, followed by 73 percent in the 2013 general election against Republican Joe Lhota. Albanese received less than 1 percent of the primary vote in 2013. Head-to-head with de Blasio, Albanese believes he can make a stronger case than he could in the circus-like 2013 primary.
Wednesday night, Albanese has his shot. Five things to watch for at the first debate:
1. Candidate Preparation
De Blasio said he's been preparing and not taking anything lightly, despite his significant lead in the polls and in fundraising. Klein, the de Blasio campaign spokesperson, said that as of Monday, de Blasio's prep consisted of reviewing key topics and the essential points the mayor wants to make in the allotted time. Unlike certain interviews, news conferences, and town halls, de Blasio will have some external time constraints via the debate format and the moderator, NY1's Errol Louis. De Blasio practices his talking points and gets feedback about specifics he might have left out, Klein said, on broad topics like education.
The mayor had not yet done a mock debate, Klein said, but he would be in a more simulated session before Wednesday. She said the campaign hadn't yet had someone playing the role of Albanese. Klein would only divulge that she and campaign strategist Phil Walzak, who, like Klein, worked on de Blasio's 2013 campaign and in City Hall, are among those in the room when de Blasio is prepping. She added that Walzak has some debate experience from high school.
"He's a pretty experienced debater," Klein said of de Blasio, "he's pretty comfortable being up on the stage." A former City Council member and Public Advocate, de Blasio has participated in his share of debates, and, Klein pointed out, he is familiar and comfortable with those who will be asking him questions Wednesday night: Louis, the moderator, and panelists Juan Manuel Benitez and Grace Rauh of NY1, Brian Lehrer of WNYC, and Laura Nahmias of Politico New York.
The mayor is regularly on his toes and engaged in the issues, Klein added, given his weekly news conferences and regular town hall events. "He's been talking about all these issues for four years," she said
"I have a group of people that have worked with me on debate prep," said Albanese, who is an attorney. "There are so many issues, so many different points that need to be brought up in these debates, it's hard to get them all in. You want to get in as many as you can. It's like preparing for a bar exam, really, there's a lot of material. You've got to really drill it into your head."
Albanese is very knowledgeable about city affairs, drawing on his experience as a teacher and City Council member. He doesn't always quickly or neatly articulate his ideas, though, and it will be important for him to deliver his messages tightly, so that those watching or listening or seeing news coverage afterward get the best possible impression of him. After 90 minutes, one-on-one, Albanese said, "people will know what you're about." In 2013, with seven people on stage, "sometimes you rush through" your chance to speak, he said.
"I'm not a good sound bite guy, this gives me an opportunity to delve into some of the nuances of policy," Albanese said. "He's a very good debater," Albanese said of de Blasio, "I don't underestimate him. I've seen him debate."
"We had a guy play de Blasio, obviously, during debate prep," Albanese added. "We know the de Blasio arguments, what they're going to be." When asked, he said the de Blasio stand-in had been "David Eisenbach, the public advocate candidate...he's actually pretty good, he's a Columbia professor." Eisenbach is running in the Democratic primary against incumbent Public Advocate Letitia James.
2. How intense will it get?
Albanese must be mayoral, but he also has to throw some haymakers. Will he interrupt de Blasio if he doesn't think the mayor is addressing the issue at hand? "Hard to say," Albanese said. "I think you've got to be careful with that - you don't want to come across as a raving lunatic. You have to be assertive, but you have to be a critic. There may be some loud exchanges, we'll see."
Asked if de Blasio will go on the attack himself, perhaps critique Albanese's record or past, Klein said, "We'll see what happens when they're on the stage…you can expect him to be pretty focused on talking about his record and his plans for the future."
Recalling the 2013 tour of forums and debates across the city, Albanese said he remembered several instances where he got under de Blasio's skin. "Up in the Bronx he got really angry...it was about the garbage, the waste-transfer station [slated for the Upper East Side]. He was arguing he has one near his home, and I said that's not true, I know the neighborhood, and he got very upset, said I was misleading the public."
"He also got angry at me when I said his tax-the-rich plan was going nowhere in Albany...I was right," Albanese said of de Blasio's signature 2013 proposal to get Albany approval for a city tax hike to fund pre-kindergarten. The state didn't approve the tax, but provided most of the needed money through the state budget.
"He likes to tell New Yorkers why he's fighting for them - that works him up, that we need more affordable housing, that we need neighborhood policing," Klein said of the mayor, "I wouldn't expect him to be subdued or anything."
3. What's Albanese's vision?
Albanese will surely score some points critiquing de Blasio -- it's a strong suit for the former City Council member from southern Brooklyn -- but the big question for the challenger is whether he can make the case for himself, and show New Yorkers that he has his own vision, with enough interesting policy proposals to warrant a more serious look.
"That's what I would like: to talk about the issues in-depth," Albanese said of the debate. "Give the public a sense of what our proposals are, talk about what's working and what's not working."
"The issues that I think he gets an 'F' on are very big issues; integrity in government, transit, affordable housing, mismanagement of agencies," Albanese said. The challenger has proposals for campaign finance reform, contributing more city money into the MTA, and passing the Small Business Jobs Survival Act, among other planks.
Given the recent attention on the city's subway meltdown, Albanese will surely focus on his promise to be the "mass transit mayor." He'll also sell himself as someone who can restore integrity and management to City Hall -- eliminate "pay to play," get control of the growing budget, reform the pension system, and more.
It would behoove Albanese to unveil at least one new splashy proposal at the debate and explain in careful detail the broader organizing principle of his campaign.
When de Blasio successfully ran in 2013, he pledged to reduce inequality by ending the "tale of two cities." This year, de Blasio's slogan is "Your City," and he'll pitch New Yorkers "on his vision for driving New York City forward with a focus on really making the city fairer and more affordable," Klein said. "He'll talk a lot of about how important it is that New Yorkers can afford to live in the city that they love."
4. How well does de Blasio pivot -- and will Albanese and the moderators let him?
When Gotham Gazette asked the mayor on Tuesday about the fact that Albanese plans to stress de Blasio's ethics issues, the mayor previewed the type of pivot he'll surely showcase during Wednesday's debate.
"All those issues were looked at by multiple entities and everything was resolved," de Blasio said. "I think the election should be not about things from the past that are already behind us, but about what's going to be necessary for everyday New Yorkers to do better in this city." De Blasio then said he's going to talk about affordable housing, lawyers for low-income people facing eviction, improved test scores and graduation rates, "crime going down for four years in a row." It's those substantive issues that "people want to talk about," de Blasio said, and that "they want to know what's next."
"I think it must be difficult if you're a challenger and you're looking at those facts, I guess you have to try to change the discussion to something else," de Blasio added.
Albanese said he knows it will be a challenge to get his points to stick and to make sure de Blasio faces the music in real time. "You can't really get away from your record," Albanese said. "He'll say, 'crime is down, jobs are up, pre-k, municipal ID cards' -- and some of them are good things, but there's a huge amount of weakness. Integrity in government is a huge piece of it. You need a higher bar for being mayor than not being indicted."
"He's probably going to try the kind-of Rose Garden strategy," Albanese said, where de Blasio tries to not fully engage with his opponent but instead stress his talking points.
If de Blasio pivots, Albanese said, "We come back to it," and pointed out the time for rebuttals built into the debate "You've gotta be quick on your feet. He's probably going to pivot quickly from all the negative stuff. And my job is not to let him pivot."
5. Substance
Even in 90 minutes with just two candidates, the debate won't get to all the topics of concern to New Yorkers.
Where will the questioners and the candidates take the debate?
As he runs for reelection and as part of his larger equity paradigm, de Blasio is extremely focused on affordability. He'll want to talk about affordable housing, good-paying jobs, low crime, improving student test scores, and other signs of progress in the city. He'll want to tout reforms at the NYPD, including new training for officers, the ongoing implementation of body cameras, and the rollout of neighborhood policing. He will of course stress the continued reduction in "stop and frisk," one of the central elements of his 2013 campaign.
It's a Democratic primary and Albanese is to de Blasio's right on some issues, like policing, which is helpful to the mayor. Albanese may offer one of his critiques of the mayor, that many in the NYPD rank-and-file do not like de Blasio. Beyond that, it may be up to the moderators to broach subjects that would otherwise be raised by Bob Gangi, a police reform activist also running in the Democratic primary who did not qualify for the debate, about a lack of more radical reform at the NYPD, especially regarding the practice of broken windows policing, and the limits to de Blasio's approach to police accountability and transparency.
The city's homelessness crisis, one of the few areas de Blasio has admitted failure, is sure to come up. Albanese may tie it to a larger argument about de Blasio's management, which may also include a discussion of the city's ballooning budget, which has grown about 17 percent under de Blasio and a free-spending City Council that he is largely aligned with. You name the topic, it could easily come up, from transportation options to school choice to traffic congestion to the financial problems at the city's public housing and hospitals.
De Blasio's proposals for a term two include continuing toward creating 100,000 jobs that pay over $50,000 per year, developing and moving into motion a plan to close the Rikers Island jail complex, and more. "[F]rom 3-K to the mansion tax to the millionaire's tax," Klein said, referring to de Blasio's plans to make pre-school available to all three-year-olds in the city and his proposals to tax large real estate transactions to fund senior affordable and raise taxes on the highest city earners to fund mass transit repairs. For all three of those measures, de Blasio needs Albany funds or approval.
For the incumbent mayor, it will be important to make clear to those consuming the debate or coverage of it that he has plans to move the city forward if given another term.
As for Albanese, the goal is fairly clear: "At the end of the day, I want people to say, 'Albanese can be a good mayor, he can do the job.'"