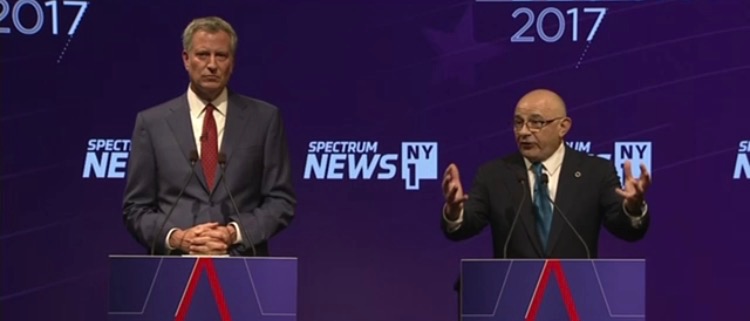 De Blasio & Albanese on NY1
---
Mayor Bill de Blasio, a first-term Democrat pursuing reelection this fall, faced off against Sal Albanese on Wednesday at the first of two primary debates ahead of the September 12 vote. Over the course of 90 minutes at the Symphony Space on the Upper West Side, the two shared a number of tense exchanges as they made their pitches to voters. De Blasio offered a continuation of his first-term accomplishments in tackling inequality, while Albanese attempted to present himself as the alternative to a mayor who he argued has not done the job well.
Albanese, a former City Council member, went on the attack almost immediately and jabbed at de Blasio throughout, criticizing the mayor's inability to reign in homelessness, his ties to real estate interests, his "ineffective" affordable housing policy, his nonchalance towards the city's subway crisis and his "politicizing" of the police. "I think people are looking for reform politics," said Albanese, selling himself as an outsider with integrity who wants to deliver a better democracy to New Yorkers. Albanese is also running on the Reform Party ballot line regardless of the outcome of the Democratic primary.
As the incumbent, de Blasio came armed with a strong grasp of the intricacies of city policy and comfortably, if at times condescendingly, batted away Albanese's critiques. On multiple occasions, de Blasio challenged Albanese on his facts, insisting that his criticisms were more often than not falsehoods. (De Blasio's campaign simultaneously sent reporters fact-checking email blasts in real time.)
De Blasio spent nearly the entire debate touting his record, including universal pre-kindergarten, the creation of affordable housing, reduction in crime, reforms to policing, improvements in educational achievement, and a stronger economy. "We've got a lot more to do to make this a city that truly is for everyone," he said in his opening statement, alluding the organizing theme of his reelection bid, making the city more affordable by creating more housing and good-paying jobs, among other initiatives.
Defending his efforts on the national and international stage, de Blasio emphasized the need to stand up to the Trump Administration and the Republican-controlled Congress. At one point, when asked by a moderator, he definitively ruled out running for president in 2020 if he's reelected this year. On multiple occasions, he defended himself regarding his focus on the city.
While de Blasio made clear his well-crafted campaign theme, Albanese left a more vague picture of what's organizing his run beyond thinking poorly of de Blasio and believing the city needs a more ear-to-the-ground leader who can effectively and ethically manage municipal government.
The debate featured much of what both candidates have already said on the campaign trail, peppered with instances of tension and occasional shouts from hecklers in the audience, but no clear game-changing moments. De Blasio entered the debate a heavy favorite in the primary, with a massive advantages in fundraising, name recognition, institutional endorsements, and campaign infrastructure. Albanese is hopeful he will crack double digits in the next public opinion poll.
Albanese, who has focused on the election as a referendum on de Blasio, laid out a handful of policy proposals including "democracy vouchers" to publicly finance elections and a pied-à-terre tax on foreign property owners to subsidize affordable housing. He said he would build more affordable housing through a land bank and nonprofit developers, pledged more city dollars to the MTA, and stressed the need to reform the pension system.
But, he struggled for concrete answers at other times, such as when debate panelists asked how he would reform the city's child welfare services to reduce racial disparities or what he would do about the city's jails. Even on his top policy priority of campaign finance reform, he wrestled with his words and had to be pulled back twice by debate moderator Errol Louis of NY1 when he strayed to attack de Blasio in the middle of explaining his proposal.
Although de Blasio had ready retorts for Albanese for the most part, he was on the defensive when Albanese pressed him on the state and federal investigations into his administration and his fundraising, which ended without any charges filed but words of admonishment by prosecutors. A steady stream of comments from Albanese about transparency and ethics under de Blasio formed a clear theme of the night.
Under questioning, de Blasio pledged that he would never again form an issue-advocacy organization like the Campaign for One New York, which was the subject of a federal investigation, all while stressing the worthy policy goals that the group helped achieve, chiefly universal pre-K.
Among others, there were five especially interesting moments in the debate, which was moderated by Louis and featured questions from panelists Grace Rauh and Juan Manuel Benitez of NY1, Brian Lehrer of WNYC, and Laura Nahmias of Politico New York.
Subway Shame
Early on in the debate, the candidates got into a back-and-forth about the city's transit system, one of the campaign's most reliable and oft-debated issues. While the system is operated by the state-controlled Metropolitan Transit Authority, as delays soar and many of the city's straphangers spend their days stewing in sweat and frustration, many want solutions from the mayor.
"For three-and-a-half years he has said the subway isn't his job," Albanese said of de Blasio, and claimed that the mayor knew his recently proposed millionaire's tax – which would tax the city's wealthiest residents and divert the funds to the transit system – was "another ruse."
"I had to shame him into taking the subway a couple weeks ago," Albanese said, referencing de Blasio's recent affinity for taking the subway more after having previously said it wasn't the best use of his time.
The mayor shot back by pointing to his pre-kindergarten plan, which was acted on and passed by Albany legislators after he had first floated a similar tax to pay for it. "Sal, we got it done because we proposed a millionaire's tax," the mayor said, arguing that his push forced the issue and secured the funding, the bottom line. He also predicted that he wouldn't have to worry about Albany obstruction much longer.
"Mark my words, we will have a Democratic state Senate," de Blasio predicted; the Senate is the only Republican stronghold in statewide government, though barely, and only because of the breakaway Independent Democratic Conference and Brooklyn Sen. Simcha Felder, a nominal Democrat who caucuses with the Republicans.
Money for Nothing?
One spat took place as the prospect of campaign donations and their undue influence was raised. De Blasio has been hounded by accusations that his administration is too accommodating to campaign donors since early on in his term. Local and federal investigations into his campaign activities and the now-defunct Campaign for One New York did not ultimately find criminal liability, but the din of scandal has only lessened, not abated.
Albanese said that "developers are running amok" after giving the mayor large donations, and accused de Blasio of running a pay-to-play administration. De Blasio responded that he was "taking on the real estate industry and winning," and pointed to policies like mandatory inclusionary housing (MIH), a city policy that requires developers to set aside affordable apartments in market-rate buildings in rezoned areas.
Stating that the country's "free enterprise system" has positives and negatives, the mayor said "our laws say that you have to go out there and get donations," an arrangement that Albanese promptly equated to organized crime. "They own you when you get there," he said, specifically referencing real estate money and lobbyists.
De Blasio said the comments were insulting to public officials from former President Barak Obama to Senator Elizabeth Warren -- both of whom have acknowledged you need campaign donations to run for office but that it doesn't mean you're compromised -- on down, and said the Citizens United decision was the "root of all evil."
Albanese conceded that "the system is broken, but there are good public officials" before calling on de Blasio to release a previously promised list of campaign donors who didn't receive any official favors. De Blasio pledged the list -- which has morphed into "examples" in an op-ed column -- would be published before the September 12 primary vote.
The Housing Crisis
Affordable housing, a de Blasio campaign focus and administration legacy item, was brought up intermittently throughout the debate, at times for longer stretches than others. One of the pivotal moments on the topic was when Albanese was attempting to outline his affordable housing plan under questioning from Lehrer of WNYC, who pointed out Albanese was only attacking the mayor's plan without offering his own specifics.
Albanese had reiterated support for a pied-a-terre tax, which would apply to luxury properties owned by wealthy individuals not residing in them, and bashed de Blasio's plan, saying "the problem with his numbers is that the housing is not affordable."
"There's people making $30,000 a year, $29,000 a year who can't afford to live here, it's outrageous," Albanese said, while repeatedly referring to the city's affordable housing situation as a crisis. As for his plan, he mentioned being on the City Council during the mayoralty of Ed Koch in the 1980s. "I would do what Ed Koch did. He built hundreds of thousands of units, using non-profit developers, and he provided the land," said Albanese, inflating the Koch numbers.
That idea was immediately derided by de Blasio, who said "it's not the 1980s anymore. We can't have what Koch did." There are few city-owned vacant lots available, he noted. De Blasio acknowledged "no doubt we have an affordable housing crisis," but insisted that the city's current reality would render a Koch-esque plan unfeasible, and his strategy of forcing private firms to set aside housing for certain income brackets and providing financing to extend existing affordable housing was the way to go.
Where's the Mayor?
A discussion that began as a question about de Blasio's travel habits morphed partly into an assessment of what it means to be the Mayor of New York. De Blasio's has regularly traveled out of the city on political junkets, often to much criticism, especially for a recent trip to Hamburg, Germany to protest outside the G20 summit of world leaders, where de Blasio said he was offering an alternative representation of American values to that of President Donald Trump.
After assuring Rauh of NY1 that he had no intention of running for president in 2020, de Blasio defended his attempts to build a national profile, saying his predecessors "didn't deal with a Donald Trump as president, they didn't deal, a lot of the time, with both houses in Congress being Republican. We've to find a new way of protecting our taxpayers' interests." He added, "if it takes going to Washington or anywhere else, I will do what it takes for New Yorkers."
The exchange led to Albanese being asked if he had a prominent enough national profile to represent New York City as Mayor.
"Whenever you become mayor, you become prominent. Even Bill's prominent," Albanese said, jabbing at his opponent and drawing one of many smirks from de Blasio throughout the night.
Albanese said he wants to make New York a "modern-day Athens" with a hyper-democratic political system that limited involvement by lobbyists and big-money interests. De Blasio eschewed the notion, instead saying he wants the best New York City possible.
A Transparency Pledge
Somewhat related to the donor conversation was a more general examination of de Blasio's transparency practices. During the 2013 mayoral campaign, de Blasio said that his would be most transparent administration in history, a claim that hasn't been borne out by the reality.
De Blasio reiterated a prior pledge not to create any other groups like Campaign for One New York and insisted that "compared to previous administrations we've gone a lot farther" on the issue of being transparent about contacts with lobbyists and special interests and been forthcoming with journalists, saying "we should not be unwilling to take those questions."
This was immediately ridiculed by Albanese, who said "I think Koch was more transparent than you were, shockingly!" he laughed, and referred to how "Koch and [Rudy] Giuliani had press conferences every day, pres availabilities" -- de Blasio has been criticized for holding relatively few press conferences compared to predecessors. He also raised the issue of de Blasio's use of personal email, recently exposed, obliquely referencing the 2016 presidential campaign and scandal involving Hillary Clinton's email practices.
After de Blasio brought up that he was cleared by investigators of criminal wrongdoing in their investigations over his fundraising and donor relations, Albanese said "we should have a higher standard for the mayor than not being indicted."
Three other Democrats who are also on the ballot did not qualify for Wednesday's debate. The next primary debate is scheduled for September 6.
***
by Samar Khurshid and Felipe De La Hoz
@GothamGazette