Jarrett Murphy, left, of City Limits, and Ben Max, right, of Gotham Gazette
---
September 5, 2017 - Max & Murphy with Brigid Bergin of WNYC radio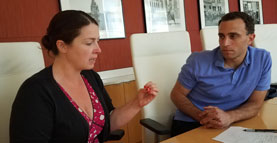 One week from primary day 2017, Max & Murphy were joined by Brigid Bergin of WNYC radio to discuss the final week of campaigning before voters head to the polls on September 12; key races and themes to watch; and the second Democratic mayoral primary debate between Sal Albanese and Mayor Bill de Blasio set for Wednesday, September 6.
[A reminder: Gotham Gazette, City Limits, & WNYC have teamed up to provide voters with an interactive election guide]
Listen to the full conversation and let us know what you think -- we're on Twitter @TweetBenMax and @jarrettmurphy and guest @brigidbergin of WNYC. You can hear the conversation through the embedded audio below or download it wherever you get your podcasts.