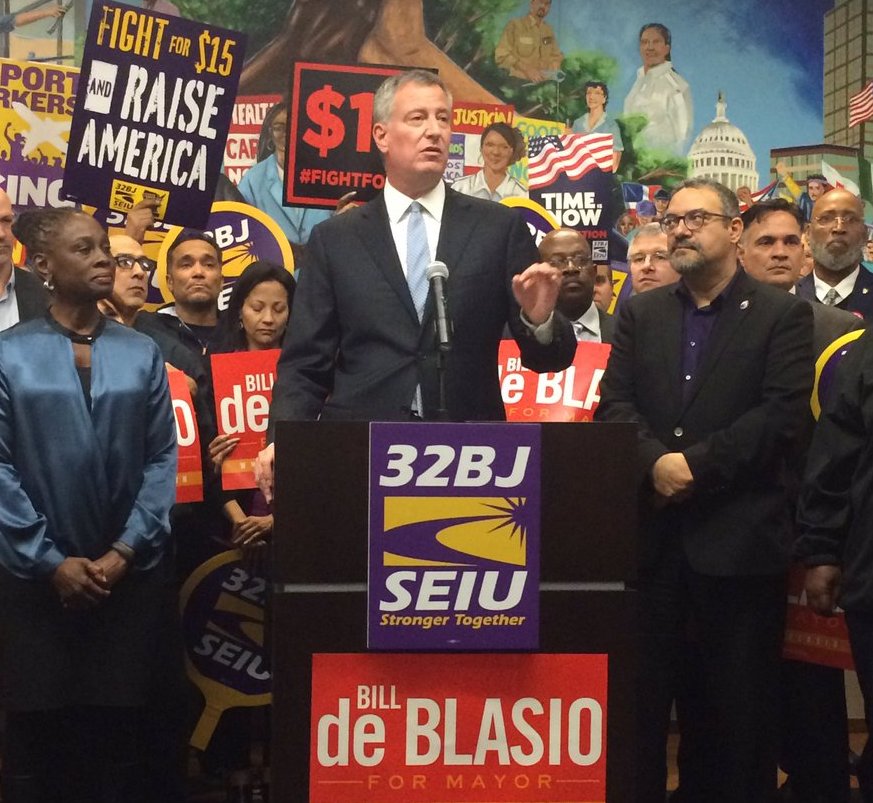 Mayor de Blasio is endorsed by 32BJ SEIU (photo: Ben Max/Gotham Gazette)
---
Do endorsements matter in elections? In short, yes. How much they matter depends on who is endorsing whom, amid many factors. As candidates run for office they almost always seek as many endorsements as they can get from elected officials, labor unions, newspaper editorial boards, political clubs, advocacy groups, and others. These endorsements can help give candidates more caché -- something to boast about as they seek other endorsements or votes or funds -- and can lead to important help with leafletting, door-knocking, and getting out the vote.
Labor unions are often seen as especially important in the endorsements game in New York City given their membership numbers, political operations, and, crucially, their voter turnout proficiency. In New York's low turnout elections, labor unions, by virtue of getting their members out to vote, not to mention influencing other voters, can be critical.
In New York City, endorsements are often tied to appearances in front of a group of decision-makers, whether the members of the New York Times editorial board or the executive committee of the United Federation of Teachers, the teachers union, or the full membership of the New Kings Democrats, a Brooklyn reform-minded political club. Endorsements are often influenced, if not dictated, by other relationships and power structures, such as the county party apparatuses, connected political consultants, government action or power, and more.
During the crowded Democratic primary for Mayor in 2013, labor unions, political clubs, and others were largely split among leading candidates Christine Quinn, Bill Thompson, Bill de Blasio, and John Liu. De Blasio won the primary with limited "institutional support" as these endorsements are often called. There were also some splits in other contentious and competitive 2013 primaries, like the one for Manhattan Borough President and a variety of "open" City Council seats. Scott Stringer may have prevailed over former Governor Eliot Spitzer in a close primary for Comptroller due to the institutional endorsements he received that helped him earn and whip votes.
This year, 2017, incumbent Mayor Bill de Blasio has secured the lion's share of labor union and other endorsements as he again seeks the Democratic nomination and eyes a second term. De Blasio began rolling out union endorsements early in the race, in an apparent effort to discourage some of his potential Democratic rivals from jumping into the race. De Blasio was also recently endorsed in the primary by The New York Times editorial board, which, while of interest to the political class of the city, may not have much sway with that many voters. What has more sway are the many union, elected official, and political club endorsements that have gone to de Blasio.
Along with the mayoral race, there is a very competitive Brooklyn District Attorney primary, where acting DA Eric Gonzalez has picked up most of the endorsements. In the City Council, there are 10 "open" seats this cycle where the incumbent is not seeking reelection due to term limits or other factors. There are also another roughly 10 competitive Council races where the incumbent is being challenged. In these roughly 20 City Council races, the endorsements competition has been fast and furious as candidates seek support leading to the September 12 primary vote, which in almost every race is determinative given the city's distinct Democratic tilt.
At Gotham Gazette, we've been tracking endorsements across all the races of this city election cycle. You can see them all here in the spreadsheet we've created.
[Did we miss something? Email editor Ben Max at This email address is being protected from spambots. You need JavaScript enabled to view it.]
If you want to revisit the endorsements of the 2013 primaries, you can use the spreadsheet here, which was compiled by the team at DecideNYC.com.
with reporting by Ben Brachfeld