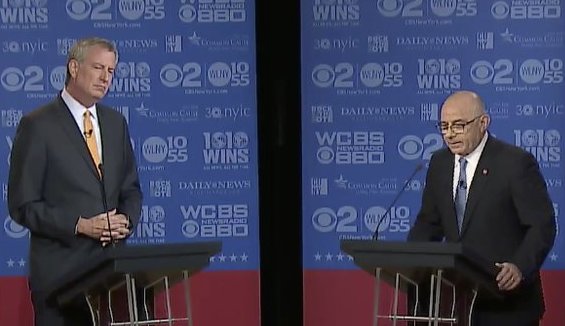 Bill de Blasio, left, & Sal Albanese
---
The second and final Democratic mayoral primary debate on Wednesday was a frenetic hour-long affair in which Mayor Bill de Blasio spent much of his time on the defensive, facing probing questions from debate moderators and tough criticism from his opponent, Sal Albanese. At the same time, Albanese appeared to come up short yet again in terms of clearly articulating a vision for a mayoralty beyond tearing down many of de Blasio's current policies.
Right off the bat, de Blasio was challenged on allegations of pay-to-play that have plagued his term and was asked if he believed the public had the right to know about donors who request favors from the mayor. Falling back on his oft-stated defense, the mayor maintained that his administration had acted legally, and ethically, and that his reliance on donors is necessitated by the political reality of election financing.
"I'm very proud of what we've achieved in this administration, I'm proud of the ethical standards that we've set and kept to throughout," de Blasio said, insisting that the scrutiny of his administration by state and federal prosecutors, who closed their investigations without filing any charges, had clarified that his conduct was lawful. "I'm very satisfied with the way I handled things," he said.
The question allowed Albanese an opening to attack the mayor early. "I think the people of the City of New York want integrity in government...we need a higher standard for mayor than not being indicted," he said, repeating a line he has used often during the race ahead of Tuesday's primary vote. He would later come back to the mayor's ethics, referring to de Blasio's recent column on Medium that purports to show that donors to his campaign did not receive favorable treatment from his administration. The column, which de Blasio promised to publish before primary day at the first debate, was far from what the mayor had pledged well over a year ago, and de Blasio himself expressed regret earlier this week about the promise he had made to present "a whole lot of evidence" where donors did not get what they wanted from his administration.
The debate was held at the CUNY Graduate Center and aired by sponors CBS-2 television and 1010 Wins and CBS 880 radio; it was also sponsored by the New York Daily News, Common Cause New York, and the New York Immigration Coalition. It was the second of two official Campaign Finance Board-sanctioned mayoral primary debates. There are no other citywide primary debates, with not enough competition for any of the Republican citywide nominations or for the Democratic nominations for Comptroller or Public Advocate, where the two incumbents are set to cruise into the general election.
Albanese, who finds himself running for mayor a third time this year and will appear on the general election ballot on the Reform Party line no matter the outcome of the Democratic primary, provided a few alternatives about how he would run the city. He promised to abandon the current administration's housing and neighborhood rezoning policies, which he said have been an "unmitigated disaster." He critiqued the city for overspending on the Renewal Schools program and the "politically massaged" school results delivered by the administration, noting that a high percentage of high school graduates are not ready for college coursework. And he pledged to restore respect for the NYPD, which he said had been missing under de Blasio.
De Blasio, in response, repeatedly challenged his opponent's "mistruths" and fell back on consistent talking points that he has relied on throughout his campaign. He bluntly stated that issues such as homelessness, affordable housing, and education would be long and tough battles, but insisted that his administration is on the right path and has made significant progress in his first term, progress that he would build on if reelected. The mayor cited investments into the NYPD and delicately answered a question about how he would talk to his son, Dante, about interacting with the police.
It was a frenetic debate, with moderators often interjecting with follow-up or clarifying questions and the two candidates regularly sparring. Topics meandered from citywide issues to more parochial ones, and there was often little that separated de Blasio's positions from Albanese's. For instance, the two largely agree on quality-of-life policing, on greater enforcement of fines for unauthorized or dangerous construction, and on building street infrastructure to prevent vehicle-involved terror attacks.
But, they sharply disagreed on other issues.
Albanese critiqued the mayor for constantly antagonizing President Donald Trump and insisted that the Mayor of New York needs to work closely with federal agencies, even as he said that he opposed Trump's "abhorrent" policies. Albanese supports a proposed congestion pricing initiative, known as Move New York, to impose tolls on the three East River bridges to help fund the subways; while de Blasio called congestion pricing a "regressive tax" and stressed that his proposal for a millionaire's tax to fund subway repairs was a more viable alternative, even though his proposal has largely been shot down by the GOP-controlled state Senate and de Blasio sees it passing only once Democrats take control of that house of the Legislature in January 2019, which de Blasio said was soon.
Albanese supports legalizing recreational marijuana but the mayor does not, instead saying he wants to continue to see how it goes in other locales. And Albanese is in favor of retaining the statue of Christopher Columbus at Columbus Circle, an issue the mayor did not personally take a stand on; de Blasio instead insisted on "objective" standards for monuments and statues and possible "symbols of hate" on public property in the city, which will be decided by a commission he will soon convene, announced in the aftermath of the violence in Charlottesville last month where Confederate monuments were a focus.
Albanese concluded the debate as he began it, emphasizing his background as an immigrant, a graduate of the public school system and CUNY, a former teacher and City Council Member, and a lawyer who worked in finance. "Those experiences qualify me for the best job in America, which is being Mayor of New York City," he said.
De Blasio, in conclusion, relayed his simple campaign slogan. "This is your city," he said. "That's my message to all New Yorkers, it has to work for you." He pledged a continued fight for New Yorkers on equity and affordability if reelected.
The primary election is on Tuesday, September 12.