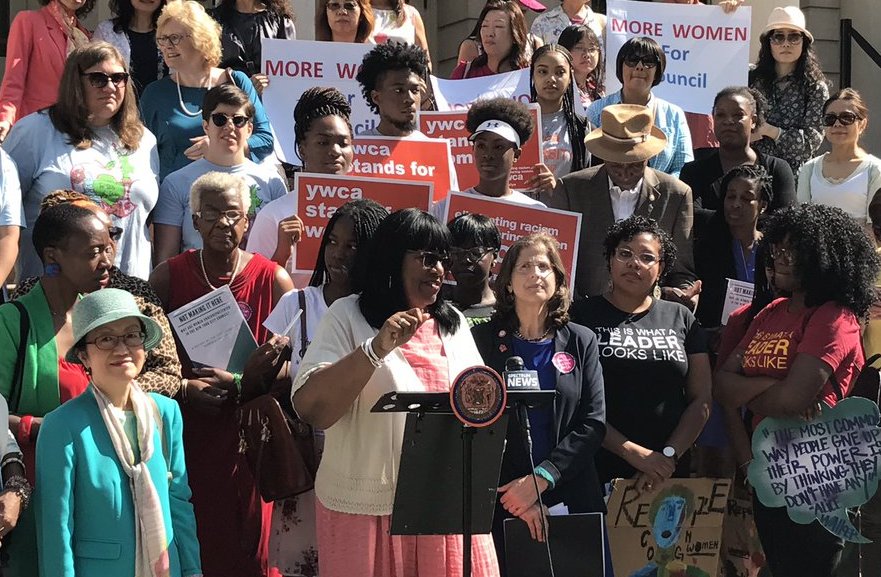 CMs Chin, left; Rose, center; & Rosenthal, center right (photo: Gotham Gazette)
---
There are currently only 13 women in the 51-seat New York City Council, a troubling 25 percent. The number is down from 18 women in the Council a few years ago. With the city's quadrennial elections upon us, a new Council class will be inaugurated in January, with the September 12 primaries largely determining who will fill the city's legislative body for the next four years in this very Democratic city.
Most would agree that gender balance in the City Council improves the legislative, oversight, and constituent services provided to the public. The dynamics of this year's elections are not promising for improving the Council gender balance: five of the Council's 13 women are not running for reelection, four of them due to term limits. Notably, all five are women of color: Rosie Mendez, Melissa Mark-Viverito, Annabel Palma, and Darlene Mealy are all term-limited and Julissa Ferreras-Copeland has decided not to seek reelection.
Ferreras-Copeland is certain to be replaced by a man, as the race to replace her is between two men; while the other four could be as well, though there are women running competitively for each seat.
There are five other "open" seats this cycle where the incumbent male Council member is not running for reelection, in three cases -- Dan Garodnick, James Vacca and Vincent Gentile -- due to term limits. While Gentile is almost certain to be replaced by a man, for Garodnick's seat and Vacca's seat there are competitive races that include female candidates with a solid shot at victory. The fourth case is David Greenfield, who will be replaced by one of the two men seeking his seat. And the fifth case is Ruben Wills, removed from office after a recent corruption conviction, who is likely to be replaced by a woman, Adrienne Adams, the favorite in the race.
Additionally, there are a handful of incumbent female Council members being challenged by men in their reelection bids and two incumbent male Council members facing significant challenges by female candidates.
All told, the number of women in the Council could realistically dip as low as six. It could realistically increase to as many as 16. Both extremes are unlikely, but plausible.
The City Council's Women's Caucus, which is chaired by Council Members Helen Rosenthal and Laurie Cumbo, each of whom is facing a tough primary challenge this year (Rosenthal from a transgender man, Cumbo from a woman), recently released a report on the gender imbalance in the Council. It notes barriers to office-seeking for women, especially "structural barriers and issues of perception" that "create a "political ambition gap.""
"Traditional gender roles force women to choose between careers and family, limiting the potential pool of female candidates," the report states. "Electoral gatekeepers then fail to reach out to and support women. Women also underestimate their own qualifications and overestimate the challenges they will face in electoral politics."
The report recommends "more aggressive recruitment of female candidates and stronger mentoring efforts." (It notes that the number of women in the Council "is projected to decrease even further, to as low as 9 for the upcoming term ending in 2021." The problem is even more potentially dire than the report indicates. It appears its authors did not consider Ferreras-Copeland's departure or that incumbent female members could be ousted by male challengers.)
The current City Council Speaker, the aforementioned Melissa Mark-Viverito, previously helped launch a nonprofit, 21 in 21, which seeks the election of 21 women to the City Council through the 2021 city election cycle. Due to the tinkering done to term limits by former Mayor Michael Bloomberg and the City Council, there will be more than 30 "open" seats in the 2021 cycle, making for a lot of opportunity to address the Council gender balance.
But there are also opportunities this year, and little seems to be in motion in terms of major collective efforts by the Democratic establishment to see more women elected through the 2017 voting cycle (48 of the 51 Council members elected in 2013 are Democrats).
Mark-Viverito is doing a great deal to see her preferred successor, Diana Ayala, defeat Assemblymember Robert Rodriguez in one of the races to replace a female Council member that could go either way. Given his status as an elected official, Rodriguez is at least a slight favorite in this race to represent East Harlem and parts of the South Bronx.
For Mendez's seat, which represents parts of the Lower East Side, her preferred successor is Carlina Rivera, who has received a good deal of establishment support and is considered the favorite, though she has tough competition from Mary Silver and Ronnie Cho.
Alicka Ampry-Samuel has a lot of establishment support to keep Mealy's central Brooklyn seat represented by a woman. But, she is in a tough race with several male candidates, most notably Henry Butler and Cory Provost.
For Garodnick's East Side seat, a very crowded primary includes several strong female candidates. The favorite in the race, however, is Keith Powers. Still, Marti Speranza could quite plausibly prevail, which would flip this seat from male to female. Bessie Schachter, Vanessa Aronson, Rachel Honig, and Maria Castro are also running, with varying less likely paths to victory. Garodnick has not endorsed in the race. Of the unions, elected officials, political clubs, newspaper editorial boards, and others that have, Powers and Speranza have each received a lot of support.
For Vacca's seat in the Bronx, he is backing Marjorie Velazquez, but she is facing a significantly uphill race against sitting Assemblymember Mark Gjonaj. There's been no groundswell behind Velazquez.
There's a similar situation for Palma's Bronx seat: Amanda Farias is a strong candidate, but she is likely to lose to State Senator Ruben Diaz Sr. and little seems to be happening to rally behind her candidacy.
The Queens establishment and other members of the Democratic political elite are behind Adrienne Adams for Ruben Wills' empty seat. But, Rich David is also running and could pull off an upset.
As previously stated, Ferreras-Copeland will be replaced by a man, either Assemblymember Francisco Moya or former State Senator Hiram Monserrate, who has been convicted for both assaulting his girlfriend and illegal use of city money. Greenfield will be replaced by either his preferred successor, Kalman Yeger, or by Yoni Hikind, both men. And the crowded competition for Gentile's seat is almost all men, including the most likely winners, led by Justin Brannan (this Southern Brooklyn race is actually one where a Republican could win the seat, though Brannan, a Democrat, is generally seen as having the upper hand, both in a tough primary and the eventual competitive general).
There are also competitive incumbent primaries where the Council gender balance is at play. As mentioned, Rosenthal is facing a tough primary, from Mel Wymore, on the Upper West Side, though Rosenthal is likely to prevail. Wymore is seeking to become the first transgender member of the City Council, and has not lived what we may think of as a typical male life. Council Members Margaret Chin in downtown Manhattan and Elizabeth Crowley in Queens are also facing competitive challenges from male candidates, though both are favored to be reelected.
The female incumbents either certain or nearly sure to win reelection are Vanessa Gibson, Inez Barron, and Karen Koslowitz. As mentioned, Laurie Cumbo could lose to another woman, Ede Fox, though Cumbo has significant advantages of incumbency. And, Council Member Debi Rose, of Staten Island, is facing a tough challenge from another woman, Kamillah Hanks.
In the other direction, Council Member Peter Koo is facing a tough challenge from Alison Tan, and Council Member Mathieu Eugene is facing formidable opposition from Pia Raymond, a woman, as well as from Brian Cunningham.
We'll know a lot more on Tuesday night when the primary results come in.
In its report, the Women's Caucus explains why it is important to elect more women and have gender balance in government. It says, in part:
"Women legislators bring with them lived experiences and crucial viewpoints that allow them to identify and take on the unique challenges that women face. As a result, women legislators have been shown to introduce more legislation directly affecting women, children, and families. Additionally, women have been shown to introduce more legislation overall, and are also more likely to work across party lines."
One of the "strategies for the future" that the report identifies is: "Party leaders, advocacy organizations, and other political groups also need to make an active effort to reach out to individual women about running for seats. The women in City Council should make an effort to encourage politically active women in their circles to run for of×ce, as current or former Council Members have a unique ability to address many of the factors that discourage women from running."