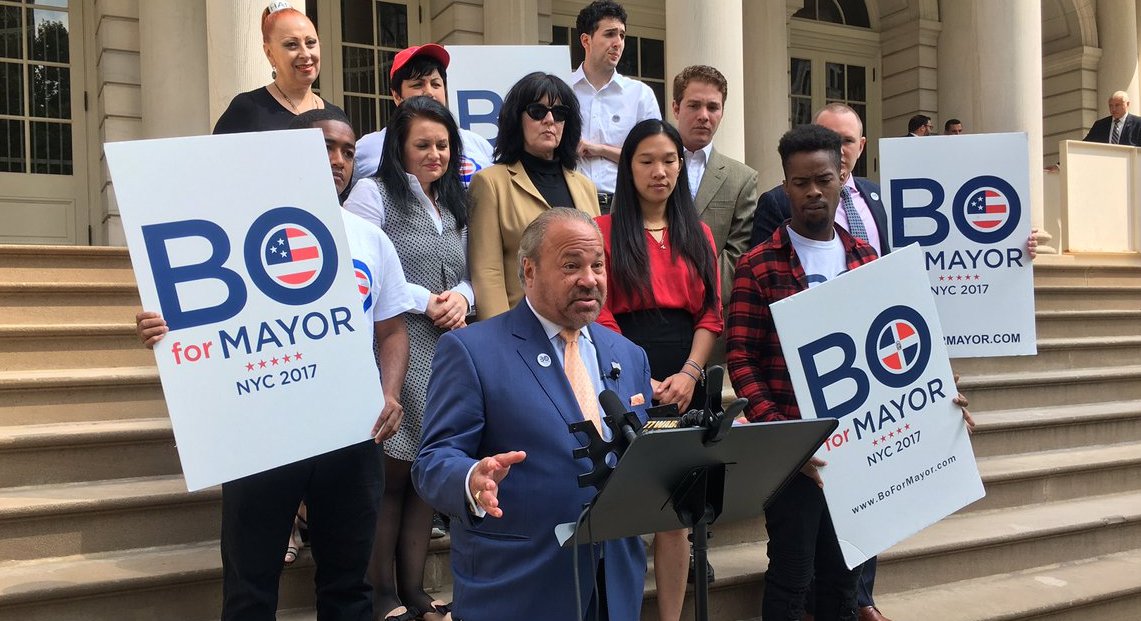 Bo Dietl (photo: Samar Khurshid)
---
GOP mayoral candidate Nicole Malliotakis and independent candidate Bo Dietl are both making a last-minute push to win the Reform Party ballot line for November's mayoral election. While Sal Albanese, who is also challenging Mayor Bill de Blasio in the Democratic primary, has been backed by the Reform Party, Dietl and Malliotakis are each attempting to convince their supporters to help them steal the ballot line by voting on primary day -- Tuesday, September 12 -- using a provision in state election law that effectively allows an open vote.
Albanese, a former City Council member who is running as a Democrat, was officially endorsed by the Reform Party of New York and is counting on winning the line to be included in the November 7 general. But, an "opportunity to ballot" petition filed with the Board of Elections has opened up the party line to other candidates as well, allowing registered Reform Party voters as well as unaffiliated voters -- those not registered with any party -- to write in the candidate of their choice. The petition had to be signed by only 5 percent of the party's registered members, which amounts to about 10 signatures in the case of the Reform Party which has a total of 187 registered voters. On primary day, Albanese's name will appear on the Reform Party ballot next to an area that allows for a write-in vote.
Both Dietl and Malliotakis, each of whom is assured of a spot on the November ballot through other lines, has sent out a mass mailing with instructions for their supporters, Gotham Gazette has learned.
According to Frederico Polsinelli, Bo Deitl's campaign manager, the petition to ballot was filed by Reform Party members who support Dietl and "felt that Bo had been shut out unfairly and felt that the Reform Party should have an open, fair process to vote."
Dietl was passed over for the Reform Party's endorsement in June and lashed out at Staten Island Reform Party Chair Frank Morano in a number of obscenity-laden text messages. A Staten Island Advance reporter posted screenshots of the messages on Twitter.
Malliotakis spokesperson Rob Ryan confirmed that the campaign has begun reaching out to voters. "We did a bunch of robocalls and a mailing that will be hitting today or tomorrow which also explains the process," he said. Ryan provided Gotham Gazette with the instruction mailers which include directions on how to choose Malliotakis. (pictured)
Polsinelli, Dietl's campaign manager, said they are taking an "active, aggressive" approach to the process. "We're encouraging all independent and Reform Party voters to go to the ballot and write in Dietl's name," he said. "We're in the process of launching a citywide mailer. We're actively reaching out, we're going hard on email, phonecalls and hard mail. This is not a passive exercise."
He said the Dietl campaign is targeting about 8,000 voters. "We're in this to beat [Mayor] de Blasio and getting on the Reform Party line will help do that." Dietl will be on his own self-created ballot line, "Dump the Mayor," for November's election.
Malliotakis will be the Republican nominee, and she also has the backing of the Conservative Party. She has also filed to appear on her own self-created ballot lines. De Blasio will likely appear on both the Democratic Party and Working Families Party ballot lines.
Albanese's campaign does not seem worried about the added competition. "Sal's the only candidate whose name is on the ballot," said Linda Cronin-Gross, a campaign spokesperson, referring to the Reform Party ballot, which voters will have to ask for at the polls.
New York election law, in normal circumstances, only allows closed primaries in which registered members of a party can cast a vote to choose their nominee. This shuts out voters who do not have a party affiliation from voting on primary day. According to the latest statistics from the state Board of Elections, as of April 1, there were more than 780,000 active registered voters unaffiliated with a party. The Reform Party had only 183 active registered voters.
"It's creating quite an interesting contest," said the Reform Party's Morano. "I do think Sal's gonna win pretty handily...Sal best embodies the Reform principles." Morano noted that if Albanese, or any other candidate, fails to receive 40 percent of the vote in that primary, it will trigger an automatic run-off two weeks later between the top two vote-getters.
"It's gonna be interesting to see how this works," Morano said. "It's certainly a first-of-its-kind experiment."
Note- this article has been updated to include details about the "opportunity to ballot" petition process.