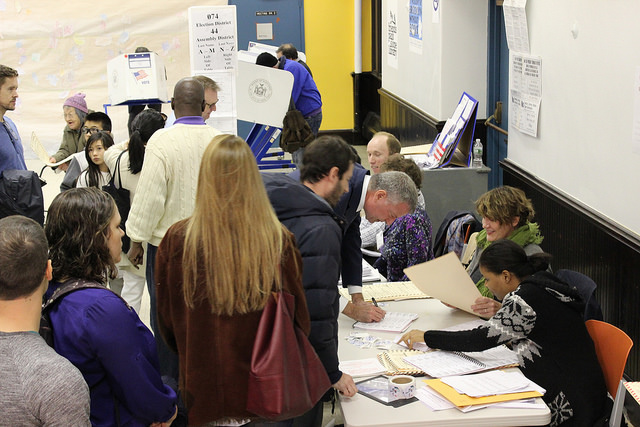 (photo: Samar Khurshid/Gotham Gazette)
---
New York City voters head to the polls Tuesday in this year's party primary elections, mostly contests among competing Democrats. It is expected to be another low turnout election. Four years ago, only about 691,000 of the city's 3.4 million (20%) registered Democrats voted in a high-profile, exciting, and hugely consequential mayoral primary with no incumbent in the race. Bill de Blasio won that primary and went on to cruise in the general election, which also saw terribly low voter turnout.
In 2013, there were also open seats for the other citywide positions of Comptroller and Public Advocate, with highly-competitive Democratic primaries in each, and many open seats for Borough President and City Council positions. If all that competition couldn't drive much turnout, this year could see an especially shockingly low number of voters cast ballots.
Mayor de Blasio is expected to win reelection handily this year and is facing limited competition in the Democratic mayoral primary, though his main challenger, former City Council Member Sal Albanese has expressed optimism, citing a lack of enthusiasm for de Blasio. There are far fewer "open" City Council and other seats this cycle, with many incumbents gliding to reelection, some with nominal primary competition and some with none at all. In this heavily Democratic city, the Democratic Party primary is often the main event in terms of who wins an election.
As of April 1, the city was home to just under 5 million registered voters: 3.43 million Democrats; 880,660 unaffiliated with a party; 522,629 Republicans; and a few hundred thousand with other smaller parties.
There are about 20 races of particular interest on primary day, including the Democratic mayoral primary, if for nothing else to see what margin de Blasio can post; a very competitive Brooklyn District Attorney primary; the 10 "open" City Council seats; and another eight to ten Council races where the incumbent is facing a tough primary challenge.
As we look ahead to the outcomes, a look back at 2013 can be helpful.
In the end, elections are all about votes, and which candidates turn out their supporters or win the votes of those turning out because they always vote or they are motivated by another race on the ballot.
Turnout numbers and some of the primary election outcomes in specific races from 2013 can help us have a better sense of what is at play on primary day this year.
Of those 691,000 Democrats who voted in the 2013 primary for mayor, 282,344 voted for de Blasio, giving him just above the 40% he needed to avoid a runoff. It was a very crowded field, so de Blasio could easily surpass that vote total this year, but that will in part depend on overall turnout, which is expected to be lower than four years ago. Turnout and margin will both factor into how New York's media and political classes interpret the results, including around a potential "mandate," or lack thereof, for de Blasio. If he's victorious on primary day, de Blasio will still have to defeat several general election opponents, including Republican Nicole Malliotakis, independent Bo Dietl, and, likely, Albanese, who has been backed by the Reform Party, among other candidates.
In the Brooklyn DA race, the late Ken Thompson won the 2013 primary, unseating long-time District Attorney Charles Hynes. After Thompson's death due to cancer, Acting District Attorney Eric Gonzalez is seeking election to keep the position. He's facing five qualified opponents in the primary. Brooklyn Democrats are eligible to vote in this election.
In 2013, Thompson won 100,678 votes to Hynes' 81,173. In a crowded field with potentially lower turnout, the number to win the primary is surely lower than 100,000.
As for key City Council races, several interesting 2013 numbers are at play.
In City Council District 1, Council Member Margaret Chin is again running for reelection and facing a fight. In 2013, Chin won 8,846 votes to Jenifer Rajkumar's 6,171. This year she faces several challengers, led by Christopher Marte.
In Council District 2, term-limited Council Member Rosie Mendez won reelection in 2013 with 12,507 votes. Her nearest competitor earned 2,809 votes. For this "open" seat, Mendez has endorsed frontrunner Carlina Rivera in a crowded primary with two other strong contenders, Mary Silver and Ronnie Cho.
In Council District 4, there was no primary in 2013 as term-limited Council Member Dan Garodnick cruised to reelection. There is a very large Democratic field this year, with Keith Powers and Marti Speranza seen as the frontrunners. Powers earned Garodnick's endorsement this weekend. In this crowded race, the winner could get under 30% of the vote.
In Council District 6 we see one of three interesting rematches happening this year. This Upper West Side district is also almost always the highest turnout area of the city. Council Member Helen Rosenthal is being opposed by Mel Wymore, who came in second to Rosenthal in a crowded 2013 primary when it was an "open" seat. In 2013, there were 28,749 votes cast in the Democratic City Council primary. Rosenthal earned 7,716 for the win. Wymore earned 6,440. The two combined for about half the votes cast in the race. Rosenthal now has the power of incumbency and many more endorsements than in 2013. Wymore may also be hurt by the presence of a third candidate, Cary Goodman, who may siphon some anti-Rosenthal votes.
In Council District 8, Council speaker Melissa Mark-Viverito, now term-limited, won reelection in 2013 through a Democratic primary that saw 10,567 votes (a little more than a third of the votes cast in District 6), with 3,768 for the incumbent, who had several challengers. Mark-Viverito is now working hard to see her preferred successor, Diana Ayala, elected this year. She is facing a tough competition with Assemblymember Robert Rodriguez.
There were just 8,832 votes cast in the Council District 18 primary election in 2013, when Annabel Palma, now term-limited, won with 6,244 votes. Her challenger, William Moore, received 2,588 votes. Moore is running again this year, in a race that features a wider Democratic primary field headlined by State Senator Ruben Diaz Sr. The winner this year is likely to be elected with just a few thousand votes.
In one of the most-watched races of this cycle, Democratic voters in Queens' 21st City Council District will choose between Assemblymember Francisco Moya and former Council Member and former State Senator Hiram Monserrate, who has convictions to his name for assaulting his then girlfriend and for misusing public money. Despite Monserrate's criminal record, he retains a base of support. In 2013, outgoing City Council Member Julissa Ferreras-Copeland won the primary unopposed. She has endorsed Moya for the seat.
The Council District 28 seat is already vacant given former Council Member Ruben Wills' recent corruption conviction. In 2013, Wills won the Democratic primary with 5,095 of the 10,420 votes cast. In second place was Hettie Powell, who received 3,435 votes. Powell is now running again, and is facing Adrienne Adams and Richard David. Adams has a lot of institutional support from the types of elected officials and unions that help get out the vote.
One of the most-watched races on primary day where an incumbent is being threatened by a tough challenger is in Council District 35, where Laurie Cumbo is again facing Ede Fox. When the seat was "open" in 2013, Cumbo won a crowded primary with 7,561 of the 20,895 votes cast among Democrats. Fox finished third with 5,340. This year, it's just Cumbo and Fox head to head in the primary, though Cumbo now has key advantages (and some negatives) that come with incumbency.
In Council District 38, Carlos Menchaca is trying to hold onto his seat. He is facing several primary challengers, most notably Sara Gonzalez, whom Menchaca unseated in a rare feat in 2013, and Assemblymember Felix Ortiz. It is especially rare that an elected official would challenge a member of his or her own party in a primary, but Ortiz is doing it this year. In 2013, Menchaca received 4,306 votes to Gonzalez's 3,017. District 38 was one of the lowest turnout districts in 2013.
Mathieu Eugene is trying to keep his Council seat in Brooklyn's 40th District, where he faces two formidable challengers, Pia Raymond and Brian Cunningham. Raymond and Cunningham may split the anti-Eugene vote and send the incumbent back to the Council. In 2013, Eugene received 6,210 votes, whereas his top challenger, Saundra Thomas, received 4,862 votes. There were 12,974 votes cast in the District 40 primary overall, with Eugene receiving fewer than half.
Another lowest of the low turnout districts is Brooklyn's 41st. Term-limited Council Member Darlene Mealy will be replaced this year, with a crowded Democratic field vying for the seat. Mealy received 7,607 of the 11,469 votes cast in the 2013 primary.
[See the full list of 2013 results from the Board of Elections]