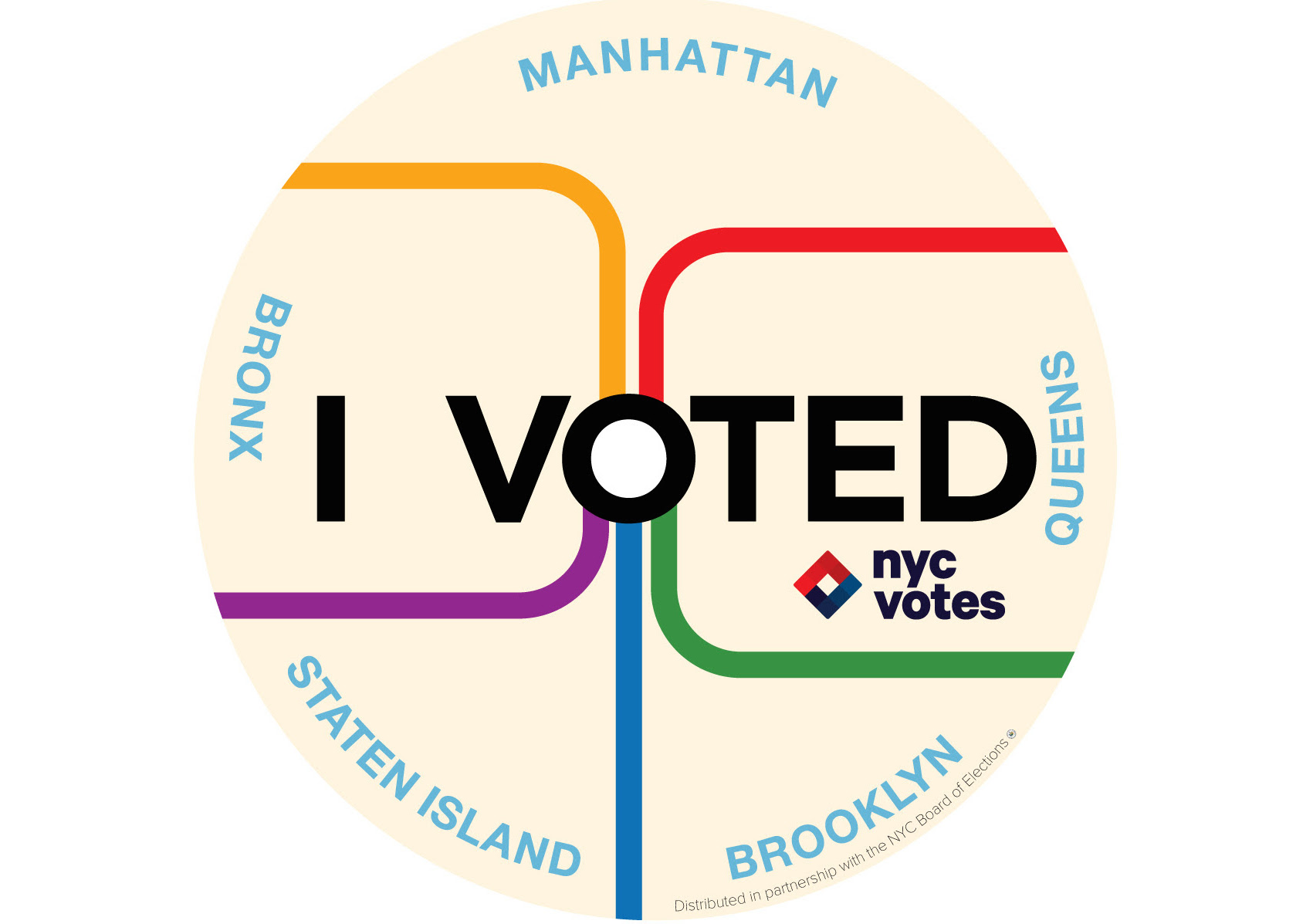 NYC Votes sticker, design by Marie Dagata and Scott Heinz
---
Mayor Bill de Blasio prevailed convincingly in the Democratic primary Tuesday as he seeks a second term. De Blasio was facing four challengers, most prominently former City Council Member Sal Albanese. With 98% of precincts reporting, de Blasio had secured 74.4% of the vote, to Albanese's 15.4%, and Michael Tolkin's 4.7%, Robert Gangi's 3.1%, and Richard Bashner's 2.4%. De Blasio had about 317,000 votes; Albanese with about 65,450 in a very low turnout election, where about 15% of more than 3 million registered Democrats cast ballots.
There was no Republican primary for mayor as Nicole Malliotakis will be the party's nominee for the general election. Malliotakis and independent candidate Bo Dietl both made a last-minute push to win the Reform Party nomination through write-in votes allowed by the "opportunity to ballot" that had been filed ahead of primary day despite the fact that the Reform Party had endorsed Albanese. The results of that challenge will be determined soon, but Albanese said Tuesday evening he had held on to the line.
There was also no Republican primary for the other citywide positions of Public Advocate and Comptroller -- the general election GOP nominees will be J.C. Polanco and Michel Faulkner, respectively. There was no Democratic primary for Comptroller, incumbent Scott Stringer moves ahead to the general election in search of a second term.
In the Democratic primary for Public Advocate, incumbent Letitia James easily won. James had nearly 77% of the vote, with 277,405 votes, to David Eisenbach's 23% and 84,457 votes. Eisenbach's campaign never got far off the ground as the Columbia professor attempted a long-shot challenge based on his belief that James has not been a forceful enough check on de Blasio.
Bronx Borough President Ruben Diaz Jr. won his primary with 86% of the vote. None of the other borough presidents had primaries.
Acting Brooklyn District Attorney Eric Gonzalez, who took over after the death of Ken Thompson in 2016, won a resounding victory in a crowded Democratic primary that fully determines the race, given no general election competition. Gonzalez received about 53% of the vote with 98% of precincts reporting. The second place finisher was Anne Swern at 11.5%, followed by Marc Fliedner at 10%, Patricia Gatling at 9%, City Council Member Vincent Gentile at 9%, and Ama Dwimoh at 7%. [All numbers in this race and others may change slightly when all the votes are finally tallied.]
In general it was a big night for incumbents, led by de Blasio, James, Diaz Jr., and Gonzalez, but also down through the City Council, where several incumbents were facing tougher challengers than those bigger name officials.
One exception, however, is in City Council District 1, where Council Member Margaret Chin and challenger Christopher Marte finished the night in a race too close to call. With 100% of precincts reporting, Chin had 5,220 votes (46%) to Marte's 5,020 (44%). Two other candidates combined for about 10% of the vote. It is unclear when the race may resolved given counting of affidavit and absentee ballots, or a potential recount.
Most of the City Council intrigue coming into the night was around the majority of the 10 "open" seats where an incumbent was not running. But there were about 15 competitive Council races.
Carlina Rivera won the District 2 race handily, with about 61% of the vote in a crowded primary to replace Rosie Mendez.
Keith Powers won the crowded District 4 primary in the race to replace Dan Garodnick with more than 41% of the vote. Marti Speranza came in second with about 23%.
District 8 is another race without a final conclusion as primary night ended. Diana Ayala had 3,646 votes to Assemblymember Robert Rodriguez's 3,556 votes. Two other candidates combined for about 1,000 votes. Ayala declared victory shortly before midnight, however, though it had not been called by the Associated Press. Just after midnight, Rodriguez said the "race is far too close to call."
An Ayala win would be considered an upset given Rodriguez's stature as an elected official, and a boon for both City Council Speaker Melissa Mark-Viverito, who campaigned for Ayala, her aide, to replace her as the district's representative, and Mayor de Blasio, who also endorsed Ayala. Gov. Andrew Cuomo and Comptroller Scott Stringer had endorsed Rodriguez. Many other electeds were split in the race.
Assemblymember Mark Gjonaj, who set spending records in his race, has won the Council District 13 race to replace James Vacca, with about 39% of the vote. Vacca's preferred candidate, Marjorie Velazquez, won about 34%, and John Doyle came in third with about 19%. Two other candidates combined for about 8%.
Continuing the partial Albany exodus, State Senator Ruben Diaz Sr. won the race to replace Annabel Palma in Council District 18 with about 42% of the vote. Amanda Farias earned about 21%, Elvin Garcia about 15%, Michael Beltzer about 14%, and William Moore about 9%.
In one of the most-watched races of the night, Assemblymember Francisco Moya won the District 21 race to replace Julissa Ferreras-Copeland over Hiram Monserrate. Moya earned about 56% of the vote to Monserrate's 44%.
Adrienne Adams has won the race to fill the vacant seat left by former Council Member Ruben Wills, who was convicted on corruption charges this summer. She received about 39% of the vote to Richard David's 32% and Hettie Powell's 29%.
Mike Scala won a three-way Democratic primary to see who will challenge incumbent Republican Council Member Eric Ulrich in the general.
Brooklyn Council Member Laurie Cumbo won the Democratic primary with 58% to challenger Ede Fox's 42%.
Notably, there was one Green Party primary, in Council District 35, which was won easily by Jabari Brisport, who will now attempt to unseat Cumbo in November.
In District 38, incumbent Carlos Menchaca won his primary with about 49% of the vote to Assemblymember Felix Ortiz's 33%, Chris Miao's 9%, Sara Gonzalez's 6%, and Delvis Valdes' 3%.
Incumbent Council Member Mathieu Eugene won his primary with 41% of the vote against Brian Cunningham's 30% and Pia Raymond's 22%. Jennifer Berkley earned 6%.
Alicak Ampry-Samuel won a crowded Democratic primary in District 41 where the field was competing to replace Darlene Mealy. Samuel won 31% of the vote, to Henry Butler's 22%, Cory Provost's 11%, and a number of other candidates between 9% and 3%.
In the District 43 Democratic primary, Justin Brannan prevailed, with about 39% of the vote, followed by Khader El-Yateem's 31%, Nancy Tong's 16%, Vincent Chirico's 8%, and Kevin Carroll's 6%.
The Southern Brooklyn district was also home to the one competitive Republican primary, which John Quaglione won. Quaglione won about 49% of the GOP vote, to Liam McCabe's 32%, Rober Capano's 15%, and Lucretia Regina-Potter's 5%.
Brannan and Quaglione will now face off in one of the few competitive general election races in the city in District 43.
Incumbent Debi Rose won her primary against challenger Kamillah Hanks. Rose earned about 70% to Hanks' 30%.
In other, less competitive races:
Manhattan incumbents Ben Kallos in District 5, Helen Rosenthal in District 6, Mark Levine in District 7, and Ydanis Rodriguez in District 10 all won handily. Rosenthal was thought to be facing a tough challenge from Mel Wymore, and the election was fierce, but Rosenthal won more than 65% of the vote in the high turnout district.
Council Member Bill Perkins, elected in a February special election, won the primary with about 50% of the vote against several competitors, most notably Marvin Holland, who earned about 20% of the vote.
Bronx incumbents Andy King in District 12; Fernando Cabrera in District 14; and Rafael Salamanca in District 17 all won their primaries.
Queens incumbents were victorious include Council Members Peter Koo in District 20; Barry Grodenchik in District 23; Rory Lancman in District 24; Daneek Miller in District 27; and Elizabeth Crowley in District 30.
Victorious Brooklyn incumbents include Council Members Antonio Reynoso in District 34; Inez Barron in District 42; Jumaane Williams in District 45; and Chaim Deutsch in District 48.
Districts not listed did not have any primary contest.
The general election will be Tuesday November 7.