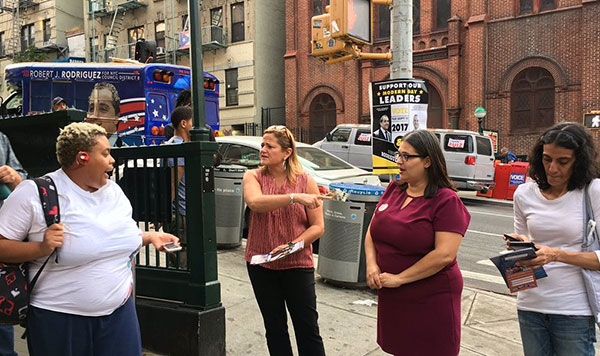 Speaker Mark-Viverito with Diana Ayala (photo: Samar Khurshid/GothamGazette)
---
The primary election on Tuesday saw incumbents retain power across most of the city and few upsets in contested races. But in one of the most competitive races of the day, a first-time candidate prevailed over a long-time elected official, overcoming an expected gap in name recognition and other deficits, in a City Council district struggling with concerns for its future and looking for its next local leader to advocate for its interests.
District 8, which covers East Harlem and the South Bronx, is the constituency of current City Council Speaker Melissa Mark-Viverito, who faces term limits and cannot run for reelection. Four Democratic candidates ran in Tuesday's primary to replace her: Diana Ayala, Mark-Viverito's former deputy chief of staff and preferred successor; sitting state Assemblymember Robert Rodriguez; community activist Tamika Mapp; and former state Assemblymember Israel Martinez.
As soon as the field of candidates was clear, it was evident that it would be a race between Ayala and Rodriguez, with the sitting elected official coming into the race with distinct advantages, including in terms of raising funds.
After months of tense campaigning, split establishment allegiances, and some mudslinging, it all came down to primary day, September 12, where -- like in most districts across the city -- the outcome would determine the next officeholder given the overwhelming Democratic advantage.
A grueling day of crisscrossing the district to canvas for votes, with polls open 6 a.m. to 9 p.m., culminated with a race that was too close to call once most of the returns were in. Yet, Ayala claimed victory with a margin of just 122 votes in a race that saw only 8,471 ballots cast. She received 3,705 votes, or 43.7 percent, to Rodriguez's 3,583, good for 42.3 percent. Mapp took 814 votes and Martinez took 369.
While Ayala declared victory from Harley's Smokeshack at 11:20 p.m. to a room full of allies and supporters, including Mark-Viverito, Rodriguez soon put out a public statement saying that every vote needed to be counted, given the possibility of affidavit and absentee ballots perhaps yet tallied. One week later, on September 19, all the ballots had been accounted for and Ayala still came out on top. "With all vote counting complete, I am proud to declare victory today," she said in a statement.
"El Barrio and the South Bronx are at a crossroads, like so many other communities in our City," she added. "I will fight tirelessly to ensure that we do everything to protect the lives and provide affordability for those who have grown up, are raising their families, or are retiring here." Rodriguez, who will continue to serve in the state Assembly, conceded defeat on Tuesday. "I offer my congrats to Diana Ayala, and I hope she can fulfill the promises she made," he said in a statement.
More than 14 hours before she declared victory on primary day, Ayala was standing at the corner of East 109th Street and 2nd Avenue, asking residents for their votes.
"My legs are starting to get numb," said Ayala, around 8:30 a.m., already more than two hours into her time there, as the sun was beginning to warm the crisp morning air. Ayala shifted on her feet as she stood, arms folded at the waist, surveying the scene, as if steadying herself for the long day ahead. It was the first of many stops she would make.
Campaign volunteer Joe Taranto, a top government aide to Mark-Viverito, passed out campaign literature as Ayala greeted each voter. "I feel good, I'm excited to see what the results will be," she said, with a composure that she wouldn't betray until she was saying she had won, holding back tears with a beaming smile on her face.
Around 8:45 a.m., a campaign barker walked by across the street, yelling, "Vote for Robert Rodriguez for City Council, Robert Rodriguez for City Council!!" He had come from the 110th Street subway station where he had been spotted earlier.
Ayala has worked for Mark-Viverito for nearly 12 years and, as her director of constituent services, she has been in direct contact with members of the community, hearing residents' problems firsthand and seeking to help them as she could. It's one of the reasons she expected that people would vote for her. "They know me personally, they know my work ethic," she said. "They know I deliver." It explains why voters recognize her on the street, why some stopped to hug her and wish her good luck.
"The best team in the world! That's my girl!," exclaimed one voter, Susan Rodriguez, walking down the street seeing Ayala at the corner. Rodriguez, the founding director of Sisterhood Mobilized for AIDS/HIV Research & Treatment, a nonprofit, said Ayala had personally assisted her when the nonprofit faced an office space issue. "She's been a champion of the community," Rodriguez said. "She goes out of the way to help people. She's always been accessible. She loves this community and you know that."
Seeing Ayala's name on the ballot gave her "goosebumps," Susan Rodriguez said. "She doesn't need to put her name all over the place, We know her."
"Diana's been a rock for our community and we'd be blessed and privileged to have her in the Council," she added. "We love Melissa [Mark-Viverito] and she's passing the torch to Diana, who will continue her legacy and build her own."
What about her main opponent, Robert Rodriguez? "I only hear about him when he's running for something," she said.
Another voter, 95-year-old Josephine Surita had just walked out of PS/JHS 117 after voting for Ayala. "Diana la gana! Diana la gana!" she yelled in Spanish. "Diana will win! Diana will win!"
It was 9 a.m. and time to head to PS 206, Ayala's polling site. Ayala and Taranto hopped into her Toyota RAV4 and headed west. First, a quick stop at her favorite coffee cart at the corner of Lexington and 116th, where she gets a cup everyday. Ayala had been up since 2 a.m., she said, tossing and turning in bed, but not out of apprehension, she explained. "I tried to go to sleep early, but I only slept for four hours," she said. "I didn't feel nervous, though; maybe subconsciously."
Standing in line for coffee, Ayala recounted how four years ago she'd worked, as part of Mark-Viverito's staff, with the city to help find a suitable location for that very coffee vendor. The owner had faced harassment from a local business across the street where it was located earlier. Throughout the day, Ayala relayed similar anecdotes, pulled from her decade-plus working in the community. "Who are you gonna vote for?" the cart's owner asked Ayala as she handed her two steaming cups. "I don't know, I haven't made up my mind," Ayala chuckled.
At the polling site, Ayala's two adult children and her mother were already waiting. First she had to pick up 11-year-old Isaiah, the youngest of her four children, from the East River North apartments where she lives with her parents. "He's my baby. He refuses to stop growing," said the proud mother, who also has three grandchildren from her only daughter. "We measure the amount of time I've worked for Melissa by looking at him, because when I started working for her, he was born."
By 9:40 a.m., the entire clan was at PS 206 and soon they had cast their votes. Seeing her own name on the ballot "was a little surreal," Ayala said with excitement.
"She takes care of everybody," said Abraham, 27, Ayala's oldest son, thrilled after having just voted for his mom. "She's always been for the community. She's been about family, everybody's her family. She's just the best candidate. She'll make sure she does what she has to do to make sure that everybody in the community will thrive and survive."
For Ayala, perhaps the hardest part of running for office, ostensibly a full-time commitment, was the time away from her children and grandchildren. And, at the same time, keeping them removed from what can sometimes be a nasty affair. She spoke of the time an independent group plastered the neighborhood with flyers that depicted her on all fours like a dog, and how she had to explain that to her children. "This is very new to them," she said. "It can get pretty dirty out there and I didn't want them tainted by that."
Her children played no small part in her decision to run for office. "If you had asked me three years ago, I would've said never," she said of jumping headlong into a City Council campaign. Her kids were younger and needed their mother, and her infirm parents had also moved in with her. Her family has been supportive, and her youngest also appeared in a campaign ad for her. "They don't need me anymore, they're OK without me," she said, with her typical chuckle. "It's mama that misses them."
What drove her decision was term limits and the Speaker's entreaties. The one-time term limit extension passed under Mayor Michael Bloomberg had allowed Mark-Viverito to serve a third four-year term on the Council. "Because of term limits, it allowed us four more years, so a lot of things kinda settled," Ayala said, "in a way that made it possible for me to consider this an option."
Her decision was made over time, in conversations with the speaker, who prodded Ayala to run. "I had never really thought about it," Ayala said. "I don't come from a political background. I consider myself more of a social services person. I wanna know the issues. I wanna know people. Even though I have an appreciation for politics, it does tend to get in the way of doing the work sometimes."
It was the realization, she said, that there were so few women on the City Council that pushed her across the line. "I figured, 'If not me, then who?' You don't have to be a politician to run for office," she said. The term that ends this year includes 13 women in the 51-seat Council. "We're regular people with life experiences that have shaped who we are," Ayala continue. "I think that my life experiences allow me some insight into my own community because a lot of the issues that I help constituents navigate through have been my issues."
Ayala regularly talks openly about her life experiences, which led her directly into public service. At the age of 17, she had her first child, whose father died a victim of gun violence earlier that year. She struggled with postpartum depression, and conflict at home with her mother meant that she couldn't cope with the grief. She emancipated herself, and lived for a time in a homeless shelter on the Lower East Side before moving to an apartment in the Bronx. She personally knows the difficulties of navigating the bureaucracy of public assistance offices.
"Those kinds of interactions with social service providers that were not always positive left me with an interest of wanting to be helpful and doing it the right way," she said. Alaya consistently talks on the campaign trail about how she sees the residents of the district through her lived experience. "A lot of people helped me and I just wanna give back," she said.
Just after 10 a.m., Ayala headed to PS 57, where she was met by Mark-Viverito, who had been stumping all morning for her preferred successor. Mark-Viverito's popularity in the district is distinct. For many voters, she's immediately recognizable and her opinion carries weight. "I'm not running for reelection so I need you to vote for Diana," she told residents who passed the two at the corner. Several members of her staff volunteered for Ayala's campaign. A few, including Taranto, took the day off to help drum up support.
"I think that there's a different level of energy that surrounds her campaign versus the opponent's campaign," Mark-Viverito told Gotham Gazette, confident of Ayala's chances. "People are very excited and motivated and have a reason to vote for her...and I don't get that same sense from the opposing side."
Mark-Viverito emphasized that the race would hinge on the Ayala campaign's ground game, which was extensive. Ayala said she had personally knocked on more than 2,000 doors over the course of the campaign and had a team of about 70 volunteers out on the streets on Tuesday, most of them women, urging voters to support her.
For Mark-Viverito, Ayala's campaign also carried the promise of fighting greater gender imbalance on the City Council. The 51-member body had 18 women in 2009, but is down to 13 and was at risk of dropping to single digits. The speaker has been spearheading a movement to improve women's representation on the legislative body, aiming ultimately to elect more women in 2021 when more than 30 seats will be up for grabs -- the goal is 21 women on the Council through the next cycle. Mark-Viverito called the current gender imbalance "appalling" and pointed to other City Council races where she has tried to support women candidates to ensure what is the best-case scenario given the current situation. "If we work hard, maybe we'll be able to make it stay the same, that's my hope at least," she said, "I would love to gain a little bit...Right now, to stay at least treading water is what we need to do."
Around 11:30 a.m., it was time for the operation to move across the river to the South Bronx, home to half the Council district. Ayala went north, but just blocks away, Assemblymember Robert Rodriguez would arrive with his wife and son about two hours later to vote at his poll site at PS 102 (That also happens to be where Mark-Viverito voted that morning and where the Ayala campaign would later call it a day). Comptroller Scott Stringer, who endorsed Rodriguez, made an appearance and the two greeted voters together.
Rodriguez, with his young son atop his shoulders, seemed confident of a victory. "I think voters are responding well," he said as his son absent-mindedly played with his father's hair. "I'm looking forward to good results and I think the message about our success and our track record and our experience has begun to resonate."
Stringer also spoke to Rodriguez's experience, having worked with him in the past as Manhattan borough president. "I want members of the City Council who are able to also see beyond their street corner, that they can see the big picture, which is how we're gonna create a city that everyone can live in," he said. "And there's no question that in El Barrio today there are people who built this community who are now being forced out. So we need to have leaders like Robert Rodriguez who understand land use and zoning, who understand community planning."
Ayala recognizes that gentrification has been rapid in East Harlem and is creeping into the South Bronx. "I think that voters are concerned, they would like to see the next Council member is cognizant of the fact that they are afraid, that they have real life fears that they will be displaced," she said at one point on primary day. Mark-Viverito, Ayala and Rodriguez have stood against a de Blasio administration proposal for a comprehensive rezoning of East Harlem, and have emphasized the need for community input to inform the process.
An alternate community-based proposal called the East Harlem Neighborhood Plan -- an effort led by Mark-Viverito, with help from Ayala -- included community priorities but was largely ignored by the administration. The rezoning is likely to be voted on under the current Council, but on Tuesday, it was one of the issues that voters took to the polls. Although some who spoke to Gotham Gazette felt that current leadership had been unable to protect them from displacement, and saw Ayala as a continuation in that direction, others believed Ayala's close ties to the community would mean she would fight that much harder for them.
Ayala's ties to Mark-Viverito, in that sense, are a double-edged sword, even if one edge is sharper than the other. "Some people say, 'I don't know you, but if the Speaker says you're good enough, you're good enough for me,'" Ayala said, outside Betances Houses on St. Ann's Avenue in the Bronx. It was about 2:30 p.m. and schools were letting out. Hoards of little children rushed to a snow cone vendor at the corner and Ayala tried to catch their parents and a few more votes. Joe Pressley, another Mark-Viverito staffer volunteering for the campaign, had taken Taranto's place and was Ayala's sidekick for the rest of the afternoon.
Ayala realizes that she'll have to forge her own path, independent of Mark-Viverito. "Those are big shoes to fill," she said. "I'm not trying to fill her shoes, I'm trying to find my own role, find my own position and how I fit in, how my experiences can benefit this community, both parts of it. I'm not in a competition with the speaker."
Could she fill those shoes? "One day, one day," she said.
By late afternoon, Ayala was running on fumes and lunch was long overdue. "One piece of advice I'd give people is definitely get in shape," she joked, about running for Council. "Because it's a lot of walking around and door knocking. She needed "some pep in my step" for the next stop. After a quick roast chicken lunch at Peruvian restaurant Pio Pio, Ayala and Pressley headed for the Mitchell Community Center on Alexander Avenue where they were met around 4:30 p.m. by another campaign ally, Bronx Borough President Ruben Diaz Jr.
The charismatic Diaz Jr.'s energy was almost infectious, and no voter that passed by escaped his grip. At least three cars stopped to greet the popular Democrat, who was also on the ballot Tuesday (he easily fought off two primary challengers). Diaz Jr. said Ayala's advantage over Rodriguez was her familiarity with both the Harlem and Bronx sides of the district. Rodriguez's Assembly district falls entirely south of the Harlem River and the Bronx Kill. "I think both sides of the river are familiar with Diana and the work that she's done, working with Mark-Viverito, but also being the face of the office, being the face of constituent services," Diaz Jr. said.
"People just want services, people want someone who can identify with them," Diaz Jr. continued. "People want someone who is sincere, who is hardworking, and she's exhibited and shown all of those qualities without the title...I think Diana just represents that everyday constituent, that everyday citizen that people are yearning for."
Diaz Jr. didn't discount Rodriguez but preferred him to remain in the Assembly. "I respect him," he said, adding with a slight chuckle, "I think that he's done a great job in Albany and he should stay in Albany. He's actually shown to be an involved and intelligent legislator and we certainly need that."
Having popular leaders like Diaz Jr. and Mark-Viverito on her side helped offset the establishment support that went in Rodriguez's favor, Ayala said. Rodriguez was endorsed by the Bronx County machine, including Bronx Democratic Party Chair and Assemblymember Marcos Crespo, and by Governor Andrew Cuomo and other local, state, and federal elected officials. For her part, Ayala also had the backing of Mayor Bill de Blasio, the City Council's Progressive Caucus, the Working Families Party, U.S. Rep. Adriano Espaillat, prominent unions including 32BJ SEIU, the Hotel Trades Council, and DC37, and activist group Make the Road New York.
Another hour, another stop. It was almost rush hour and Ayala began to head back across the river to 103rd Street and Lexington Avenue, to grab the dozens of potential voters exiting the 6 Train. On the way, she witnessed a Rodriguez volunteer -- the same man who had been shouting across the street that morning -- yelling at one of her own campaign volunteers, a young woman. She was familiar with the man, having seen him around in previous campaigns, and said he had a history of being menacing and aggressive. She immediately directed Pressley to call campaign headquarters. "Call and send someone there. She shouldn't be alone," she told him.
At 5:45 p.m., Ayala pulled over at the corner of 103rd, converging with Mark-Viverito who was already at the bustling intersection. A large blue truck, emblazoned with Assemblymember Rodriguez's face, intermittently blared support for him between pop songs that drowned out the street traffic. The truck, and about a dozen or so individuals, represented 700 Strong, a group purportedly made up of residents of public housing, people living in homeless shelters, and those living near public housing, and even philanthropists. The group handed out dozens of fliers, including disparaging ones that showed Mark-Viverito as a puppetmaster controlling Ayala and John Ruiz, a candidate running for District Leader. Ayala picked up the phone. "This corner is all Robert Rodriguez," she told someone at her 116th street campaign headquarters, calling for backup. "This is when anxiety starts to peek in," she turned and said. "People tend to get tense and aggressive."
The volunteers for 700 Strong were either unaware or would not say who leads the group, which is not registered with the New York City Campaign Finance Board as is required of any independent expenditure group that engages in electioneering. Kimesha Alvarado, one volunteer, said they were out there to support Rodriguez because he "is more connected to the people, more accessible and community oriented," while dismissing Ayala, with no hint of irony, as a "part of the establishment" that had allowed gentrification in the district to go unchecked.
The group also encouraged residents to vote for Kelmy Rodriguez, a candidate running for District Leader against John Ruiz. Kelmy Rodriguez was on the scene and denied any knowledge of who had organized the fliers and campaigners, while acknowledging that he was a member of 700 Strong. Mark-Viverito speculated that the group was illegally coordinating its efforts with Ayala's opponent.
Amid the chaos of rush hour commuters, traffic and campaign teams, Assemblymember Robert Rodriguez arrived, an hour after Ayala had already been there. The two candidates were barely seven feet apart, but did not acknowledge each other. Volunteers from both campaigns tried to shout over their counterparts, devolving into a barely comprehensible white noise assailing those stepping out of the subway station.
Barely 10 minutes later, the Assembly member started to rush away. Asked what prompted him to show up, he said, "Well, you know, sometimes you can't concede any street corners and 103rd Street is where my family grew up and I wanna make sure that on election day, they have a choice and understand that the choice should be Rodriguez. I wanna make sure that an alternative is presented this evening." He also denied knowing anything about 700 Strong, but said he was grateful for their support.
Having finished the last frenetic push of the day, just one stop remained for Ayala: PS 102, Mark-Viverito's poll site. The entrance to the site had been shifted, confusing voters who had showed up there for years, including the speaker herself. She realized it would be a good place to stake out for the last leg of the race, to catch the later voters and nudge them to the ballot and towards an Ayala vote.
"Diana is the kind of person who doesn't mind coming to the community," said Mildred Santiago, 56, a retired special education teacher who had just exited the poll site. "She visits the seniors, she visits the disabled, she sees what they need...she follows up on cases. She calls you directly. She doesn't say, 'Oh I'll send someone,' like other people. She says, 'I'll be in charge.' So she knows how to manage issues."
For voters like Santiago, Tuesday was a bittersweet election because it also meant that Mark-Viverito was that much closer to leaving office. (Mark-Viverito also won the position of District Leader that day, which she says will keep her involved in the community.) "I'll miss Melissa," Santiago said, "but if she goes to Congress, I'm gonna be so happy." Mark-Viverito heard Santiago and laughed. She has been rumored as a potential replacement for U.S. Rep. Jose Serrano, who is said to be considering retirement, but she wouldn't say if she had considered a run for Congress.
It was late, just after 8 o'clock and the polls would be closing in about an hour. Ayala had literally walked a hole into her beige ballet flats. "I didn't take them off because they're my lucky shoes," she said, and she needed every bit of luck she could get. The campaign had done all it could do and now there was only the wait for results.
Back at the campaign headquarters, there was an air of "nervous excitement" as the campaign team took a breather in the large back office, where the walls were plastered with maps of the district. At about 9 p.m., when voting was done for the day, they would head two doors down to Harley's Smokeshack, a local barbecue joint advertising a Tuesday Tacos and Tequila special. The campaign team, including dozens of union workers from LiUNA Local 78, crowded in front of the bar as a screen switched to NY1, which was broadcasting the primary results.
Ayala betrayed no emotion. "I've put everything I've had into it, and if it's for me, it's for me," she had said earlier. "And if it isn't, then there's a lot of lessons to learn. It's a new experience for me and one should never be afraid to challenge themselves and to take chances."
At the bar, the first precincts had begun to report. Ayala was leading and the crowd erupted into whoops and cheers. "Diana! Diana! Diana!," they roared. The next two hours would be an emotional rollercoaster as Ayala continued to lead through the night but Rodriguez inched closer and closer. At 9:30 p.m. Ayala had a five point lead. By 10 p.m., with about 85 percent of precincts counted, that lead had whittled down to three points, and then two. The race had become a nail-biter, as the numbers then stayed frozen for well over an hour. "I'm so nervous," exclaimed Alicia, Ayala's 25-year-old daughter.
"It's a little annoying that they're not moving," Ayala said, before retreating outside to sidebar with Mark-Viverito and her core campaign team. They repeatedly huddled outside, with anxious faces, as the ballots crawled up. Most other races had already been called and District 8 was one of only two City Council races that remained undecided.
At 11:20 p.m., Ayala and Mark-Viverito walked back in. More than 96 percent of precincts were reporting and Ayala led by 122 votes. Mark-Viverito signalled to the bartender to kill the music and stepped up on a barstool, hushing the supporters. "I wanna introduce our next Council member," she said smiling, declaring triumph to a roaring response.
Ayala gingerly climbed up after her. "As a woman, and as a minority, it was not an easy decision" to run for office, she said. "Many of the women that are represented in this room, we do all of the work in the background, we do it all and we don't ask for credit, we just ask for decency...It wasn't until this woman said to me that I have the potential to do this, that I believed in myself," she said, tearing up and pointing to Mark-Viverito. "I thank all of you!"
"It was a very close race but this is a huge victory. We won against an incumbent," she added. Supporters rushed to hug Ayala as Celebration by Kool & The Gang blasted through the speakers.
"This is a community victory, this is amazing," Mark-Viverito said to Gotham Gazette afterwards. "I didn't doubt it. Obviously we knew it was gonna be close. It reminds me of my first election."
"I think Diana was the right candidate for the moment, the right candidate for the community," said Edison Severino, business manager of Local 78. "Diana is a person that is not a politician per se, but is a daughter of these streets...She's real, she's us. And we feel that people like that are the people we need representing us."
Rodriguez had not conceded the race, however, noting that affidavit ballots and absentee ballots will still have to be counted. "This race is far too close to call right now, and it is premature for anyone to declare a victory," he said in a statement released just before midnight. "There are still ballots left to be counted, and we want to make sure each voter has their voice heard."
But Ayala's team was confident it had the votes. "I feel great," Ayala said. "I was really calm through all of it. I just had faith that the system was gonna work in my favor and that people were gonna turn out...It is a dream come true, for me and for a lot of little girls that come from communities of color, and I hope that I'm an inspiration to those women and that they feel that they see in me an opportunity to do what I'm doing, one day."
Note - this article has been updated.