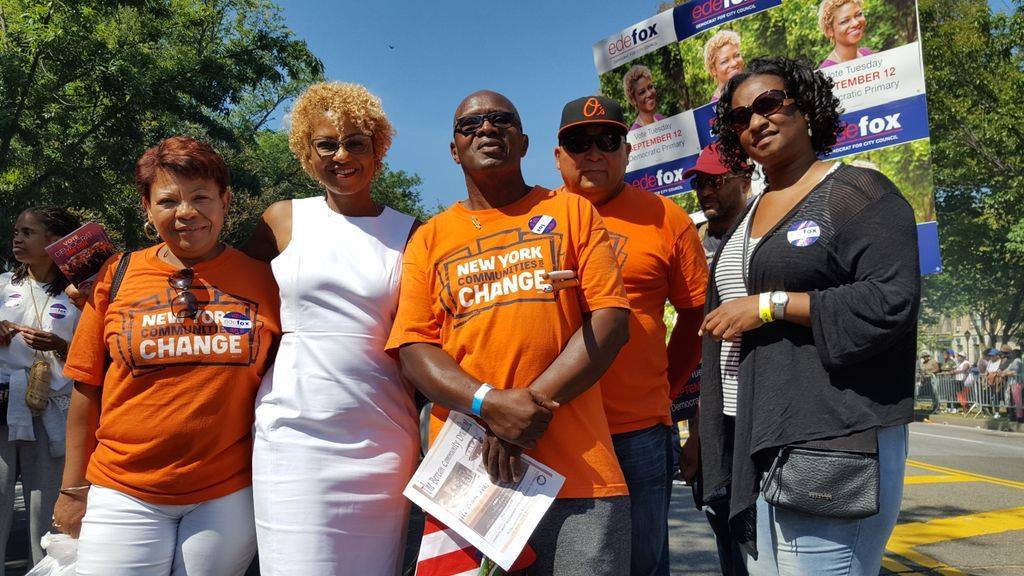 Ede Fox, in white, with campaign help (photo via Facebook)
---
At 7 a.m. on primary day, September 12, Ede Fox had already been campaigning for an hour, since polls opened, at P.S. 20 in Fort Greene. The neighborhood is part of the 35th City Council District, where Fox was trying to unseat incumbent Democrat Laurie Cumbo, who had bested Fox four years ago when the seat was open.
That year, Fox finished third in a five-way primary, 1,825 votes behind Cumbo. This year, she decided to take Cumbo on again, motivated by community concerns around affordability and gentrification, and encouraged by the head-to-head nature of the primary. Cumbo, however, now had advantages of incumbency: name recognition, more institutional support, easier access to donors.
Fox had worked in the City Council as an aide and was particularly moved by one major land use project in the district: the potential redevelopment of the vacant Bedford Union Armory, which sits on a large piece of public land in Crown Heights, and is the center of controversy as the administration of Mayor Bill de Blasio seeks to move ahead with a proposal to turn it into a mixed-use facility that includes condominiums, market-rate rental apartments, rent-capped apartments at different levels of affordability, and recreational space. Fox believes the proposal would usher in more displacement to a community already feeling squeezed, and wants to see the land put into a public trust, not turned over to a private developer who won a city request for proposals.
While the issue, and Fox's attacks against Cumbo about her stance on the project, which Cumbo eventually came out against, has gotten most of the attention, the race was not only about one topic. The district is diverse, including Clinton Hill and Fort Greene, where Fox started her day, feeling optimistic.
Early on this primary day, Fox told Gotham Gazette that 2013 was "much more difficult to capture attention, partly because there were so many candidates for mayor, and so much going on up-ballot that that's where a lot of people had their attention focused. So this time around, there's been a lot more focus on this race, and that's been great. It's helped us really capture the attention of the 35th district residents."
Fox was confident that she would win the day, despite the fact that incumbents are almost impossible to unseat in New York City Council races. Media reports regularly listed the race as a close one, and one of the few where an incumbent was vulnerable. There has been a very organized and vocal community advocacy effort to defeat the Bedford Armory proposal, with much antipathy aimed at Cumbo and de Blasio.
"I think that voters all over the district are really struggling around the issue of housing," Fox said. "That's the number one issue people to raise to me when I'm at their doors and talking to them."
Although the armory issue has dominated headlines, the issue is not as salient in the more gentrified, more white parts of the district, Fort Greene and Clinton Hill.
In Fort Greene, numerous voters approached Fox and inquired about laws surrounding bicycling.
"A lot of people prioritize biking here," she said.
Fox, who used to live in Amsterdam, the biking capital of the world, was sympathetic to the plight of cyclists, vowing to ensure that streets remain safe for them. Fox said that Brooklyn could learn a few things from Amsterdam.
"The Netherlands has a very different take on human rights. All the apartments have balconies. Everyone has a right to fresh air and sunshine," Fox said, adding that the Dutch do not spend 100% of their incomes on rent. "I want to see a country like that."
Many voters in Fort Greene were completely unfamiliar with the armory issue; one father of two on his way to vote exclaimed "holy smokes" when Fox described the situation to him. Fox said that partnerships with big real estate developers to create affordable housing are not working, and that a change in direction was warranted.
According to Fox, the media had focused in on the armory, but the district prioritized a range of issues, including criminal justice reform and transportation.
As the candidate moved further east into the district, into Clinton Hill, Prospect Heights, and Crown Heights, the issue of affordability, and the armory in particular, became evidently on voters' minds. Those who spoke with Fox and with Gotham Gazette proclaimed the armory as the most prominent issue informing their vote. Kris, from Clinton Hill, accused Cumbo of being "in the back pocket of developers," a common accusation by her critics.
Kris stated that, in the district, she would vote for anyone who went against real estate developers. She also said she was voting for de Blasio in the mayoral primary, though, since there were no other good choices. De Blasio has regularly been criticized from the left for being too close to big real estate and given that his housing policies, while demanding new extractions from developers, rely on the private market to help create affordable housing by building a lot of new market-rate housing as well.
"This partnership with real estate to create affordable housing is not working," Fox said.
The primary between Fox and Cumbo was personal and nasty. At a candidate forum in July, Fox accused Cumbo of being in the pocket of big developers, which led Cumbo to accuse Fox of running a negative, insult-based campaign.
There was history to the attacks on Cumbo as tied to big real estate, given that in 2013, Cumbo was the beneficiary of a large independent expenditure by the Real Estate Board of New York (REBNY), seeking to boost her candidacy in the hopes of a more friendly face in the Council.
In 2013, REBNY's PAC, Jobs for New York, spent $229,616 in independent expenditures on behalf of Cumbo, and $27,098 in expenditures against Fox and Alabi. This year, Jobs for New York did not make any independent expenditures. The Hotel Trades Council's PAC, Hotel Workers for Stronger Communities, spent $113,588 on behalf of Cumbo in independent expenditures, as of the September 1 filing with the city's Campaign Finance Board.
Cumbo notably did not take a position on the Bedford Union Armory until May, which many activists and neighborhood residents took as tacit approval of the proposal. Facing mounting pressure, she came out against it, and regularly explained that she had listened to the community, which wants no part of the armory sold off, which condominiums would do, and wants more affordability in the rental housing. She said she had been supportive of a general redevelopment, but had to study the specifics proposed, and that when she did, she heard her constituents and said it would need to be renegotiated.
The fate of the project is now unclear, as there remains time to change some of the specifics, though not in grand fashion, or to kill the proposal altogether. Many, including Fox, expressed skepticism that Cumbo would retain her opposition to the proposal if she were to win the primary election.
Fox and Green Party candidate Jabari Brisport saw an opening to potentially defeat a weak incumbent. Fox told Gotham Gazette that the community does not have a strong advocate in the City Council with regards to the armory, and that she was someone who would be "firm" and would "stand with the community." Both candidates took the position of developing the armory into 100% affordable housing, rather than the de Blasio-approved plan of 50% of rental units and 20% of condo units being designated affordable at the site.
Endorsements for the primary were split between Cumbo and Fox. Cumbo received more union support and support from elected officials and news publications, while Fox received ample support from advocacy organizations and political clubs. Among Fox's endorsements were the Transport Workers Union, the United Automobile Workers, Citizens Union, Tenants PAC, Streets PAC, and New Kings Democrats.
Despite the flaring tensions, a number of residents walked into their polling stations without having made up their mind, especially in Fort Greene, where the armory issue isn't as dominant. Becca Delmonte, of Fort Greene, told Gotham Gazette as she walked into her polling station at P.S. 20 that she was undecided and hadn't been closely following the race.
"[They] both seem like great candidates," she said. "Both support issues I do," she added, highlighting women's issues in particular. Cumbo is co-chair of the Council's Women's Caucus and chair of the Women's Issues Committee. The incumbent also recently gave birth to her first child, a son, just a few weeks before the primary. It was not long before she was back on the campaign trail, necessitated by the tight race, or before she and her son appeared on campaign mailers and handouts, explaining to voters that key issues were now even more important to Cumbo because she had become a parent.
Fox called last-minute voter indecision normal, saying that in local races, voters often make up their mind in the last three days of the race, making the last day of campaigning especially critical. A lot of times, she said, "people only pay attention in the last two days."
Throughout the day, Cumbo and Fox worked to sway those voters throughout the district. At times, Cumbo was joined by several or her many allies among her City Council colleagues.
Late in the day, Fox told Gotham Gazette that Cumbo's campaign had sunk to low blows to win votes. According to Fox, Cumbo's campaign was chasing down voters and heckling Fox and her volunteers, which she called an "indication of desperation." Fox also stated that Cumbo's chief of staff, Monica Abend, was yelling incessantly, apparently not learning a lesson from a recent New York Post article that alleged Abend had said voters should choose Cumbo because Fox doesn't have a good relationship with de Blasio.
Indeed, de Blasio has been supportive of Cumbo, though he did not make a formal endorsement, in part because it may not help Cumbo given the armory controversy. Reports indicated that de Blasio's allies and supporters were quietly helping Cumbo, which none of the parties denied or confirmed when Gotham Gazette asked earlier this campaign season.
When Gotham Gazette asked Fox on primary day whether she had voted for de Blasio in the mayoral primary, she said it was a private matter.
Council Member Jumaane Williams, not facing a heated primary, stopped by to assist Cumbo, leafleting the neighborhood and parking a bus with his own campaign literature covering the windows in front of the school.
When the polls finally closed, Fox returned to her campaign office in Crown Heights to watch returns. She said she was feeling good about the campaign, that most of the people she spoke to were supportive of her campaign, and that she felt confident of a win.
"Every place I was, there was a high level of support," she said.
It didn't work out that way, however; Cumbo won 58% of the vote to Fox's 42%. Cumbo will now face Brisport and Republican Christine Parker in the general, but is expected to win handily given the Democratic Party's dominance in the district.
For Fox, the second attempt to win the seat did not turn out as planned. Cumbo is likely to win a second term, after which she would be term-limited from running again.
"We did a fabulous, fabulous job," Fox told her volunteers and campaign staff. "It took a quarter of a million dollars to beat us this time." After her speech ended, the room erupted in a chant of "Ede!"