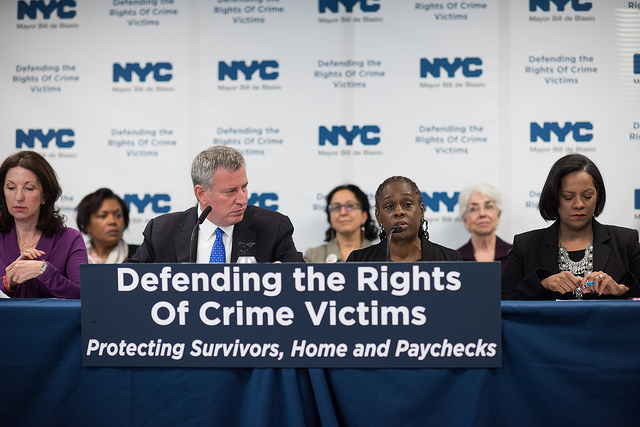 De Blasio & others announce new measures (photo: Michael Appleton/Mayor's Office)
---
Increases in reports of domestic violence have gotten the attention New York City officials, from Mayor Bill de Blasio to the NYPD to members of the City Council. The de Blasio administration has taken a series of steps to address the problem and is promising more; while new legislation is expected to soon pass in the City Council.
On Monday, the Council's Committee on Courts and Legal Services will hold an oversight hearing on New York's Domestic Violence Courts and Integrated Domestic Violence Courts, which dedicate specific judges, counselors, and other resources to domestic violence cases. The committee, chaired by Council Member Rory Lancman, has indicated the hearing comes "as the number of domestic violence crimes in New York City continue to rise and domestic violence has become the leading cause of homelessness in the City."
In 2016, there were 76,237 domestic violence incident reports in New York City, up from 75,241 in 2015. There were 59 intimate partner homicides in New York City in 2016, up from 49 in 2015, according to the mayor's office.
In November 2016, de Blasio launched a domestic violence task force, noting that while the city's homicide rate has dropped 82% over 25 years, domestic violence homicides have remained stagnant, and the mayor received its report in May of this year, promising "$7 million to better apprehend abusers [and] ensure support for survivors."
In August, Bea Hanson started as executive director of the Domestic Violence Task Force, according to a City Hall spokesperson, and she is working with First Lady Chirlane McCray and NYPD officials, including Commissioner Jimmy O'Neil, to implement task force recommendations. More will be announced next month, in October, which is domestic violence awareness month, according to the spokesperson.
The spokesperson added that the city is working to develop a better coordinated criminal justice and social service response to incidences of domestic violence. As the city's overall crime rate has dropped significantly, domestic violence incidents have become an increasingly high proportion of violent crime.
"It's a good thing that we're hearing more and more," said City Council Member Helen Rosenthal of Manhattan, a member of the Council's Committee on Women's Issues and co-chair of the Council's Women's Caucus. "That means that people trust the police enough to call more and more."
One initiative in place to combat domestic violence, started by former Mayor Rudolph Giuliani, is the Mayor's Office to Combat Domestic Violence, which runs New York City Family Justice Centers, which serve nearly 3,000 victims and their families every month. The Family Justice Centers, now located in every borough, offer both civil and criminal legal aid, healthy relationship training for youth, as well as social services, and are a "one stop shop" for information and resources related to domestic violence, sex trafficking, and even elder abuse, according to Elizabeth Dank, a deputy commissioner at the Office to Combat Domestic Violence (OCDV).
"One of the biggest programs out of our office [are] the New York City Family Justice Centers," said Dank. "The first Family Justice Center was launched in Brooklyn in 2005, and it was the first one in the city and it was actually one of the first ones in the country. We have the largest network of Family Justice Centers in the country per municipality."
According to Dank, the OCDV was one of the first government agencies in the country to be devoted to domestic violence, and it tries to do as much outreach as possible to remain a cutting-edge force in preventing and prioritizing domestic violence.
"We also have [partners] who help with benefits and economic empowerment classes, financial literacy classes, computer skills, and job training classes, so really the goal is that victims can come to one location and receive all of the services they need instead of having to jump around government agencies to get the services they need," said Dank. "We do also do a lot of work around training."
Training initiatives include the healthy relationship training, which focuses on raising awareness among young people about dating and sexual violence among. The OCDV also helps train advocacy groups, and works closely with the Domestic Violence Task Force, which is tasked with finding innovative ways to combat domestic violence.
In the Domestic Violence Initiative Report from October 2016, the Manhattan District Attorney's Office calls domestic violence "one of the most underreported crimes in the United States" with reporting rates of less than 30 percent, primarily due victims' fear of retaliation by abusers, fear of losing child custody, fear of losing financial resources, or the belief that a report to the police will not change their situation. For domestic violence involving one or more immigrants, fear of deportation is also prevalent.
"One issue [people] have been focusing on is financial abuse and economic barriers to independence," said Jae Young Kim, supervising attorney for the Domestic Violence Legal Education and Advocacy Program at the Urban Resource Institute, which is host to six victim shelters and offers legal aid to victims. "Even though we're not in the 2008 recession anymore, the economy is still not great. I think when you're dealing with [survivors] especially, economic stability is often times one of the top issues when people are deciding whether to leave a relationship or not."
A large part of obtaining and maintaining financial independence for victims includes being able to leave their residence and find a new place to live, but according to Kim, the state law allowing victims to leave, RPL 227-c, is "completely unworkable."
Diane Johnston, a staff attorney for Legal Aid Society, agrees, stating in her testimony at a hearing held by the City Council's Committee on Women's Issues that "While well-intentioned, the current law is unduly burdensome and effectively bars countless survivors from obtaining the intended relief," citing the often difficult eligibility requirements as the problem.
"It required someone to be current on their rent, have an order of protection, and then they would reach out to the landlord and say, 'I need to terminate my lease for my safety,' [then] notify their co-tenant, and if the landlord chose not to terminate based on that written request, then they'd be able to go to court to file [asking] the landlord to terminate their lease," said Kim.
The process could take several months, during which the victim must remain current on their rent, even though they would not be living in their apartment anymore, thus severely limiting their options.
"Most people can't afford to pay rent on two apartments," said Kim. "This is New York City!"
The report also mentions that leaving an abuser "is no guarantee of safety" as "victims are at the greatest risk of homicide, severe physical and sexual assault, stalking, and menacing in the first few months after attempting to or succeeding in leaving an abuser."
Kim confirmed this, and said that she has seen it happen while representing victims in court.
"You're going to a place, usually once every six weeks for a year, and you're safe in the courthouse but eventually you have to leave," said Kim. "You have to go home, and it's always a potential spot where an abuser can follow you, can stalk you, and I've seen that...It's not safe."
According to Kim, despite an often overwhelming police and legal presence, batterers will sometimes ignore protection orders and attempt to approach victims after court proceedings, even following them all the way back to her office.
The City Council Committee on Women's Issues' hearing, in late June, was in response to some of these concerns, and an attempt to try to improve the system and to provide more justice to domestic violence victims by making their process of breaking a lease easier.
At the hearing, the committee introduced two bills, Intros. 1610 and 1496, which would, respectively, , add "at least one hour of training biennially to persons licensed to practice cosmetology," so that hairdressers can better spot domestic violence victims, and change the term "chronic offender" to include perpetrators who had "been identified in more than one domestic incident report" in order to identify those who are batterers in multiple relationships, and a resolution, Res. 1292, which calls for modifications to the state law, 227-c, to make it easier for victims to move out of their residences.
The change to current state law being sought would make it that the only thing needed from victims to break their lease would be a relevant police report. Police reports would be considered adequate on a case by case basis, crimes must be related to domestic violence to qualify.
"That's the toughest one to get through, because this is an area the state regulates, and the state would have to pass legislation that will make it easier for people to break their leases," said Rosenthal. "What the city will do, what we'll do, is pass a resolution in support of specific ideas that will make it easier for people to break their leases. But it's the state that has the power on this one. They will have to amend the Real Property Law to do that."
Rosenthal stressed that the City Council will be working with state colleagues to get the legislation pushed through.
"I think the important thing here…is the distinction between using something in the criminal justice system in order to break a lease, versus something that requires less criminal justice intervention," said Rosenthal. "It may be the case that getting a court order is not something [a victim] can do, so what we're asking the state to do is make it easier."
In addition to the lease legislation, the additional prevention and identification measure of requiring hairdressers to take a course on how to spot signs of domestic violence among clients was also introduced. Rosenthal was inspired both by a similar bill passed in Illinois, and by a conversation she had with a woman doing her nails while on vacation, who said that even though she often sees signs of domestic violence from clients, she didn't know who to turn to.
"The conversation was fascinating…and as [it] went on, she said that she was a victim of domestic violence herself," said Rosenthal. "That conversation was an eye-opener for me, and I'm really glad we're trying to find a way to have similar legislation here in New York City."
"Our goal is to have the legislation pass in October, which is domestic violence awareness month," Rosenthal said this summer. "I think [it will pass] -- our conversations have been very constructive."
Another measure that could pass next month is the "paid safe leave" legislation introduced by City Council Member Julissa Ferreras-Copeland in conjunction with the de Blasio administration, which would amend the city's paid sick leave law to allow domestic violence victims to use paid sick leave when seeking help, refuge, or justice.
When Ferreras-Copeland and de Blasio announced the legislation, last October during Domestic Violence Awareness Month, de Blasio noted that in 2015, "the NYPD received on average one domestic violence report every two minutes." In June of this year, NYPD statistics show over 16,000 police responses to domestic violence related calls. At a press conference earlier this year, NYPD officials responded a question from Gotham Gazette with a frank assessment of how challenging it is to drive down instances of domestic violence. Top NYPD leaders indicated that they are constantly assessing patterns and ways to work with partners to prevent domestic violence and bring abusers to justice, but that they are among the most complicated and delicate crimes.
Meanwhile, the report from de Blasio's task force, published earlier this year, includes its own series of recommendations, all part of accomplishing four broad goals: "prevent violence and abusive behavior before it happens; increase early reporting and engagement by survivors; enhance the response of the criminal justice system; and create strategies for long-term violence reduction and innovative practices to hold offenders accountable."
The recommendations also fit four broad categories: "Expanding child and youth prevention and intervention; Enhancing criminal justice system responses; Strengthening New York City communities; and Improving citywide coordination to maximize resources."
The recommendations range from standardizing domestic violence data collection and reporting across city agencies to "OCDV will introduce evening hours one day per week at the three NYC Family Justice Centers (FJCs) with the highest client flow." The city is also looking to integrate more services with those that are part of First Lady Chirlane McCray's ThriveNYC mental health care program.
Another example of a specific recommendation is expanding "Child Trauma Response Teams," which provide "a coordinated, immediate, trauma-focused response to children and their family members who are exposed to domestic violence." This recommendation comes, in part, because of the fact that "children exposed to domestic violence are more likely to become involved in an abusive relationship in their teens or as an adult."
***
by Jynn Schubert and Ben Max
Note: this article has been corrected with accurate data on domestic violence reports in 2016 and 2015; and data for 2014 and 2013 was removed.