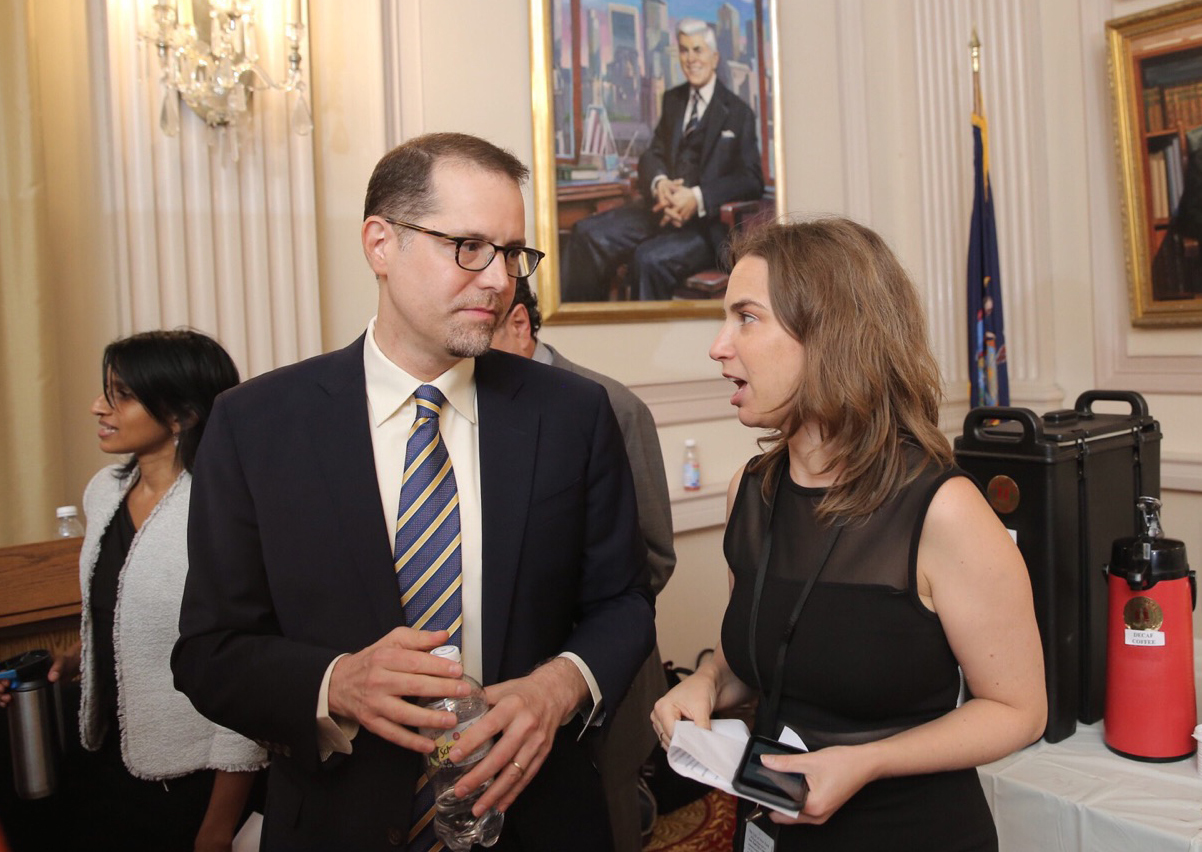 Council Member Mark Levine & his Chief of Staff, Aya Keefe (photo: Levine's office)
---
The New York City Council, a 51-member body, currently includes only 13 women, down from 18 in 2009, and that number is likely to soon fall to 12 when the next Council is seated in January, if this year's elections continue as expected. There has been widespread recent attention given to the City Council gender imbalance, in part because the Council's Women's Caucus released a report on the subject, and there are efforts underway to improve female representation in the Council through future elections.
But, at one level at least, the Council is faring much better in gender balance. Of the 50 sitting Council members, 24 have women serving as their chiefs of staff, the highest ranking aide, buoying hopes among members, aides, and advocates that these positions can serve to further the political careers of numerous qualified and experienced women in city government. For men and women alike, being a top aide to a City Council member is often a path to elected office, as evidence by the victory in last Tuesday's primary election by Diana Ayala, the former deputy chief of staff to outgoing City Council Speaker Melissa Mark-Viverito, who is term-limited.
Ayala, seen as an underdog against sitting Assemblymember Robert Rodriguez, secured a narrow victory in the primary, with Mark-Viverito's help, and is expected to easily win the general election in November.
Chiefs of staff play vital roles in Council members' offices, overseeing their legislative headquarters near City Hall and their local district offices where staffers provide constituent services. It'a role that involves liaising with other Council members' staff, advocates, and others, and can require a working knowledge of priorities and policy proposals of nearly the entire Council. Most significantly, it can serve as a foundation for political careers. Many Council staffers, particularly chiefs of staff, go on to run for elected office, often to fill seats left vacant when their bosses are either term-limited or leave office for other reasons.
"As the saying goes, 'If you wanna get something done, ask a woman to do it,'" said Council Member Laurie Cumbo, who is co-chair of the Council's Women's Caucus and whose chief of staff is a woman, in a phone interview from a restaurant. "Women are awesome, dynamic multitaskers," Cumbo said, chuckling that she was talking to a reporter, ordering food and breastfeeding at the same time. Cumbo was pregnant on the campaign trail as she ran for reelection, and recently gave birth to her son. She won a tough primary battle on September 12 and is expected to easily beat two opponents on November 7.
Cumbo stressed that the role of a chief of staff involves "really wearing multiple hats at the same time," being able to understand the issues a Council member is focused on and being able to troubleshoot problems before they arise. And, as much as she said she hates stereotypes, "Women are able to do that well," Cumbo said.
In a city government so heavily dominated by men -- the mayor, the comptroller and most of the City Council are men, while the public advocate is Letitia James, the first woman of color to hold citywide office -- having women serve in top positions helps inform policy and the legislative process, Cumbo said. And chiefs of staff bring that valuable perspective to the table. "I think it's something that happens by nature, because of staffers eating, breathing, and sleeping this work," she said.
City Council Speaker Melissa Mark-Viverito, the second woman and first Latina to hold that powerful seat, has made it a future priority to increase the number of women elected to the City Council. She is spearheading the "21 in '21" movement, which aims to elect 21 women in 2021, when more than 30 Council seats will be up for grabs along with incumbents seeking reelection. The speaker also launched the Young Women's Initiative to provide enhanced services to girls and women, particularly those of color, between the ages of 12 and 24.
Monica Abend, Cumbo's chief of staff, said her position gives her the opportunity to "participate in contributing ideas to legislation, to policy and contributing to progressive legislation for a progressive city that is a frontrunner in many of those policy areas."
"To be able to wear that chief of staff role positions you in a wonderful arena to understand local government," she said. It's on-the-job training in the legislative process and in understanding how the city changes at the local level, she said. "While our communities change on a constant basis, a lot of the work stays the same," she added.
Abend doesn't envision running for office any time soon but she did agree that working for a Council member provides the skills to do so. "Maybe one day in the future," she said.
Under the de Blasio administration and the largely progressive City Council, led by Mark-Viverito, the city has increased its focus on issues of gender equity. The mayor established the Commission on Gender Equity in 2015 through an executive order, and also banned city agencies from inquiring about salary history, a step towards ensuring pay equity for women.
The Council has passed and the mayor has signed numerous bills related to empowering and aiding women across all walks of life. These include legislation to enhance support for caregivers, who are largely immigrant women of color; establishing public lactation stations; increasing access to feminine hygiene products in shelters, jails and schools; improving contracting opportunities for women- and minority-owned businesses; enhancing protections for victims of domestic violence; among other measures. A bill from Public Advocate James to ban inquiries about salary history in the private sector was passed and signed earlier this year.
The Women's Caucus also released its report last month that examines the cultural and institutional barriers to women's representation in New York politics.
"I think that the City Council is really a great place for women to work and take on leadership positions and express themselves, and advocate for policies that benefit all New Yorkers," said Aya Keefe, chief of staff to Council Member Mark Levine. She noted that Levine's director of constituent services and budget and legislative director are also women. "It's a powerful statement for our office," she said. "We're very much a partnership-driven office. There's a strong female style of management, not necessarily being hierarchical but collaborative. And that works really well on legislation. Ultimately, you have to bring a lot of interests to the table and women are uniquely positioned to do that."
Keefe personally has no intention of running for office, she said. "But I definitely think that chief of staff gives you great insight into the ins and outs of working in government," she said. She also noted, as did others, that there should be a push to translate the gender balance at the staff level into elected positions.
Alexis Grenell, a Democratic political consultant and writer on gender issues, cautioned against being overly celebratory about the number of women chiefs of staff, saying it meets the "baseline expectation" since women represent half the population. "Women make up more than 50 percent of many graduate degree programs, making them arguably more qualified than their male counterparts," she said.
She argued that it's more important for women to receive support in their aspirations for elected office, pointing to the "crisis in women's leadership" in the City Council, where the next speaker is likely to be a man for the first time in 12 years. "Empirical data shows that gender balance directly results in better outcomes," she said. "This is true for corporate boards, and for legislation. That is undeniably the case."
She did agree that chief of staff is a pipeline to the Council, with outgoing Council Member Julissa Ferreras-Copeland being a prominent example. She also pointed to two Council staffers -- Ayala and Carlina Rivera -- who ran for City Council this year to replace the term-limited Council members who they worked for. Ayala was deputy chief of staff to Mark-Viverito before leaving to run for the speaker's seat in District 8. Rivera, who served as legislative director to outgoing Council Member Rosie Mendez, handily won the primary for Mendez's District 2 seat on the Lower East Side. "These are women who served in the Council for two terms and backed their staffers to replace them," Grenell said, in the hope that other Council members do the same for their own staff.
While Ferreras-Copeland, who decided not to seek another term due to family considerations and a move to another state, is being replaced by a man, term-limited Council Member Darlene Mealy will be replaced by a woman, Alicka Samuel, who won a crowded primary in District 41. And while term-limited Annabel Palma is being replaced by a man, Adrienne Adams won the competitive primary to replace Ruben Wills, who had recently vacated the seat due to a corruption charge.
Sonia Ossorio, president of the National Organization for Women of New York, also hoped that the Council's "abysmal" record of women's representation would improve. "The good news is that while there are less than 25 percent of women in the City Council, a 50 percent rate of women chiefs of staff says to me that there's a lot of potential," she said. "They know the community well, they know the job."
She agreed that women add a diversity of opinion that is necessary for good policy. "But we need a representation of leaders that reflects our community," she said.
Council Member Helen Rosenthal, co-chair of the Women's Caucus, whose chief of staff is also a woman, said the numbers were "heartening" but was cautious of drawing any conclusions. "I think that sounds normal to me," she said of the nearly 50 percent representation. "It doesn't necessarily reflect in what people are submitting legislation about or doing in their districts."
"To the extent that there aren't barriers to having chiefs of staff, it is an equalizer," she acknowledged. But she wondered about the larger questions it raises about the entire city government. She also recognized that the Council as a body should perhaps do more to support women. "Should we have a daycare?" she said, for instance. "I think that's something we should talk about."
Council staffers also don't have set pay ranges with titles, so it's hard to gauge whether there is pay parity across the Council. "It's not something I've explored," Rosenthal said. "It's a great question. Every Council member has their own fiefdom. Council members can choose to pay staff whatever they want. We're not given a range and perhaps we should."
"I'm lucky to have strong women leadership in the office and I benefit from it every day," said Council Member Levine. "I think we certainly strive to be accommodating to women," he said of the City Council, adding that he would support extending maternity leave. "We can do more," he said, "there's no doubt about it."
Keefe, Levine's chief of staff, also said the Council should do more to accommodate women. "I think we should have a better maternity leave policy, that sets the example for businesses and nonprofits across the city," she said. She did note that when she gave birth last year, she received three months leave, but that that isn't the standard policy across the Council.
Abend, from Cumbo's office, said, "There's always room for improvement," but insisted that "this has been an incredible time to be a woman in local city government."