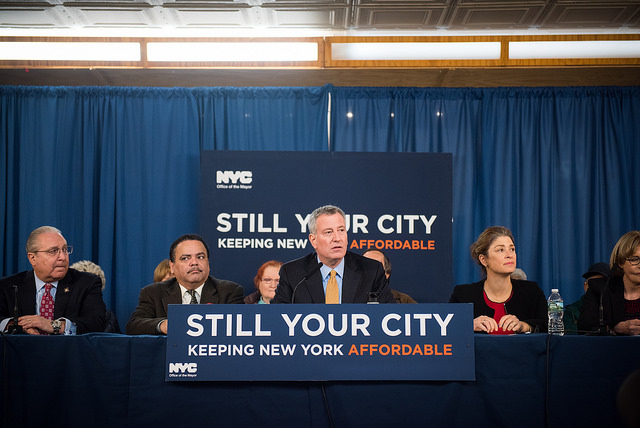 Mayor de Blasio and Deputy Mayor Alicia Glen (photo: Edwin J. Torres/Mayor's Office)
---
An expert panel convened at The New School on Wednesday by the Center for An Urban Future delved into Mayor Bill de Blasio's plan to create 100,000 "good-paying" jobs in the next ten years, discussing the challenges of growing the city's economy while ensuring that New Yorkers are its beneficiaries.
The mayor's "New York Works" plan, unveiled in June, envisions targeted city investments in booming or burgeoning industries such as cybersecurity, life sciences, virtual reality, tech, culture, freight, and manufacturing to create 10,000 jobs each year that pay at least $50,000 a year, promoting the middle class and reducing income inequality in the city. Some have questioned the less-than-ambitious goal -- the city has created on average about 90,000 jobs each year in the last decade -- while others have raised concerns that the new jobs may not be sufficiently well-paying in a city that is increasingly unaffordable for many. The panel of experts explored those issues, and the related economic factors that they agreed were necessary to facilitate and maximize the impact of the job creation plan.
Deputy Mayor for Housing and Economic Development Alicia Glen kicked off the event with the administration's pitch for its ten-year plan. She pointed to the city's record-high employment rates and job growth -- employment is at 4.4 million jobs, unemployment is at 4 percent this year and the private sector has grown overall by 9 percent under this administration -- and laid out the strategies for creating quality jobs through city actions. Notably, the 100,000 target only accounts for jobs created directly through city intervention, and doesn't include employment that may be created as a secondary result.
"It's really important to remember there's a short game here and a long game and we have to play both of them," she said, touting the administration's first-term achievements as contributors to a stronger economy including universal pre-kindergarten, improvements in educational achievement, record-low crimes and the building of affordable housing, among other factors.
But she recognized that industry trends such as automation and globalisation are increasingly impacting the middle class and that the city would have to actively intervene to stem job losses and promote growth in specific sectors "where specific government intervention in either space or talent or certain kinds of incentive structures, we believe, are actually necessary for them to reach their true potential. So this is on top of any organic growth that would happen without our interventions."
She also noted that the administration has leveraged its land use and regulatory powers to encourage economic development. Referring to comprehensive land use changes passed in East Midtown, Far Rockaway and East New York, she said, "All of these neighborhood rezoning plans are not just about housing, it's also about creating opportunity for smart job growth and many of those will have very interesting overlaps with this plan."
After Glen spoke, she quickly departed and a five-member panel comprising real estate insiders and urban policy experts, and one City Council member, took the stage.
Panel moderator Winston Fisher, a partner at real estate firm Fisher Brothers and co-chair of the NYC Regional Economic Development Council, posed the central question. "If the economy is doing so well...do we need a strategy for good jobs?" he asked. "Why do we need this and how do we even measure this?"
"Absolutely we need it," said Jonathan Bowles, executive director of the Center for an Urban Future. "This is the big economic development question today." Bowles noted that projections show seven out of the ten occupations that will create the most jobs in the next ten years will be in low-wage sectors, and the other three in high-wage fields. "It's not just that we need more jobs, we need more good-paying jobs that are accessible for a broad range of New Yorkers because so few of the new jobs are in that middle range that are accessible to people without a college degree."
There was general praise for the administration's jobs plan but certain concerns among the members of the panel about whether it targets the right population, whether job growth will directly benefit the city's residents, and whether it adequately accounts for the overarching factors that affect the economy and income inequality at large.
City Council Member Dan Garodnick, chair of the economic development committee, questioned whether the administration was being sufficiently ambitious in aiming for 100,000 jobs. "I do think we need to be asking the question, is that the right number? Is it aspirational enough?"
But panellist Seth Pinsky, executive vice president at RXR, a real estate firm, and former president of the NYC Economic Development Corporation, said the problem was not the number of jobs. His "quibble" about the plan was that it does not explicitly address the need to bring jobs to those who require them most, particularly New Yorkers without an advanced education.
"The problem is not creating jobs, it's who's getting the jobs," Pinsky said, noting that the unemployment rate for those without a high school degree is three times that of those with a master's degree or higher. That was, for him, the biggest challenge for the city, noting that the administration would need to figure out how to "creatively" educate those without a formal education and also establish a robust safety net for those who are likely to never catch up in education and job skills in increasingly automated industries. "This is a problem that's bigger than New York City, it's a problem that cities and countries all over the world are dealing with," he said.
Kevin Ryan, an entrepreneur and founder of companies including MongoDB, Zola, Workframe and NoMad Health, echoed that uncertainty. Although the high school graduation rate in the city hit an all-time high of 79.4 percent last year, Ryan was pessimistic about the job prospects of the more than 20 percent who don't receive diplomas. He also pointed to the city's lack of affordable housing and abysmal transit infrastructure as factors that negatively impact the economy.
Marlene Cintron, president of the Bronx Overall Economic Development Corporation, stressed that jobs created should meet the needs of residents of communities and also the needs of current and prospective employers. Chiefly, she said, it was necessary to ensure that "our students, our New York City residents get the first bite of this New York City apple…Economic development and jobs start at the cradle, we need a healthy child, we need a great excellent education system, we need affordable education...to ensure our kids get the first crack at the apple."
One of the more pressing issues, repeated often by different panellists, was the need to enhance affordability to complement increased wages among lower- and middle-wage job holders.
Pinsky emphasized the role real estate could play, by increasing housing density to create more affordability. And, if the city were to invest heavily in transit infrastructure and connectivity across the boroughs, he said, it would relieve stress on the housing market and automatically lead to more affordable housing units farther from the city center. He also pointed out that, since the economy is not organically creating middle-wage jobs, the city should take an aggressive approach to incentivise companies to create those jobs through subsidies, similar to the way the de Blasio administration has approached affordable housing.
Cintron repeatedly emphasized the need for affordable education, which she suggested could be implemented through the CUNY and SUNY systems by New York State, building on the recent Excelsior program that provides tuition-free college for families making $100,000 a year or less. Ryan added that creating a more affordable city, through infrastructure and housing, would also discourage companies from outsourcing jobs and would draw more qualified workers to the city.
Pinsky, Bowles and Garodnick also touched on the broader economic conditions that are necessary to promote job creation. Noting Pinsky's argument about workforce development, Bowles said the mayor's plan would need to incorporate jobs training and skill building to create a "talent pipeline" across diverse sectors. And he said that it was impossible to tell which job sector would grow the fastest. "We do know that New York has this amazing opportunity to scale up our small businesses," he said, emphasizing that that could create more middle-wage jobs with benefits.
Pinsky agreed that certain sectors were ripe for growth, but he said it was a mistake for the city to focus too heavily on them. "People in government often think that they're chasing the next big thing when, in fact, what they're chasing is the last big thing," he said. "We're much better off trying to create the conditions for all sectors to thrive and then to let the marketplace sort through which are the ones that actually should be here and which are the ones that have a less logical connection to a specific place like New York."
Reiterating that point, Garodnick said, "The plan makes only passing reference to those general conditions which are necessary for businesses to be successful in New York." He said the city needed to account for the "fundamentals" that affect economic activity, be it the ongoing subway crisis or traffic congestion. "Until we're adequately dealing with those, we're gonna have challenges," he said. He did praise the administration for including land use policy in the jobs plan, but was disappointed with inadequate steps taken to relieve burdens on small businesses. In particular, he called for reforming the commercial rent tax that is levied on businesses below 96th Street in Manhattan. "We can't ignore some of these other issues that the city can actually act on right now," he said.
Bowles agreed that the city should foster an "ecosystem" to strengthen small businesses and put resources into modernizing infrastructure, which would naturally create jobs as well.
The de Blasio administration is well aware that achieving its goals will require an organic approach that meets the needs of the economy as it develops and changes. Deputy Mayor Glen noted as much on Wednesday. "This is a ten-year plan," she said. "I can't say in year eight or nine where every single job is going to be. That would be an unrealistic expectation. So we have to be nimble, we have to be thoughtful. We have to adapt in real-time to changes in technology, to changes in capital markets, to changes in political and regional realities."