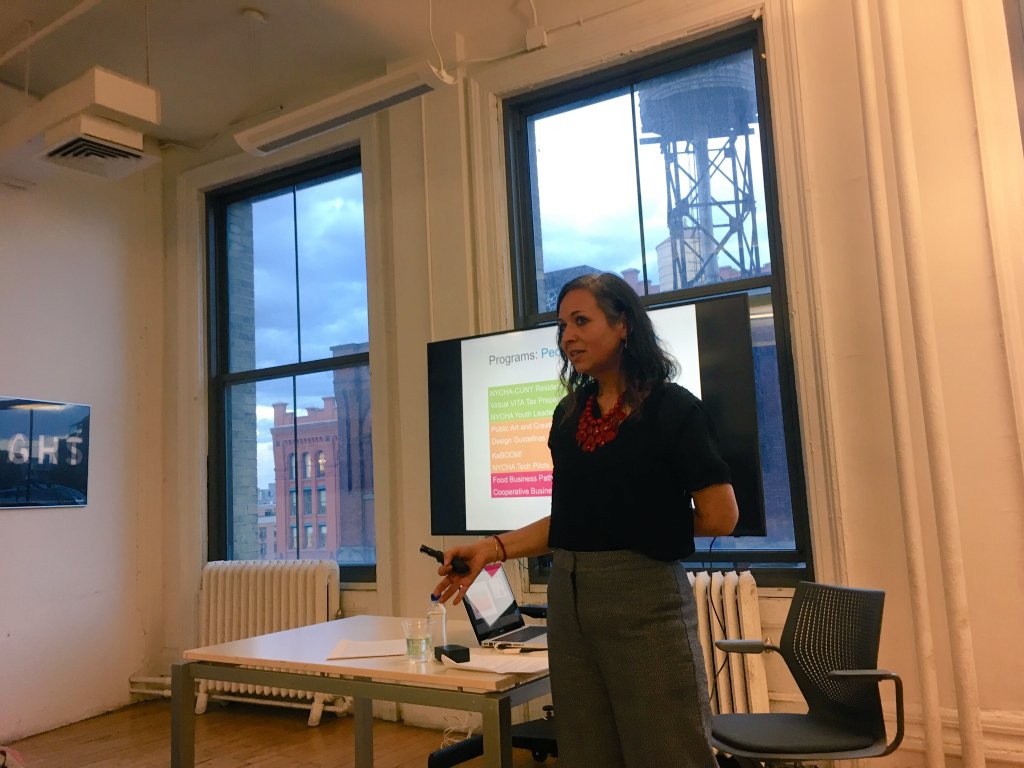 Rasmia Kirmani-Frye (photo:@Fund4PH)
---
The Fund for Public Housing, a nonprofit established last year to supplement the New York City Housing Authority's finances and services, launched an online platform this week in conjunction with ioby, a crowdfunding website, to enable NYCHA residents and community-based organizations to source funds for local sustainability initiatives like rooftop gardens and water conservation.
The online portal, called Ideas Marketplace, acts not only as crowdfunding tool, but as a means to connect community organizations and "generate excitement" for local projects across the five boroughs, explained Rasmia Kirmani-Frye, the founding president of the Fund for Public Housing, in an interview with Gotham Gazette. "This is the first time in NYCHA's history that we've launched something like this," she said.
The new platform reflects an overarching goal of the Fund for Public Housing to cut through bureaucratic red tape and speedily implement programs for the more than 400,000 residents living in NYCHA developments. It is a "bread and butter" example of the Fund's role as "an innovation escape hatch," or laboratory for potential NYCHA programs, Kirmani-Frye said.
Rumblings about the creation of Ideas Marketplace began last April after the addition of a sustainability agenda to NextGen NYCHA, the city's comprehensive 10-year plan to fortify public housing. The agenda called for the establishment of a website that "would provide resident- and community-led programs a platform to raise individual donations, seek volunteers, and find like-minded partners in other NYCHA communities to jointly raise philanthropic support."
NYCHA soon began conversations with ioby, a nonprofit, crowdfunding website that supports neighborhood sustainability initiatives. The oldest and largest platform of its kind, ioby had previously partnered with other municipal agencies on similar ventures, including a campaign with the New York City Department of Transportation to transform space near the elevated railway along Livonia Avenue in Brownsville.
Praising ioby's nonprofit work and specialization in community-based fundraising, Kirmani-Frye said it "is the perfect, both tech platform and crowdsourcing partner, because they get it and are authentic and genuine."
ioby expressed mutual appreciation. "We've been looking to partner with NYCHA for years, so it's good it got off the ground," said Katie Lorah, ioby's director of Communications, in a brief phone interview. She went on to explain that ioby will personally help with NYCHA projects, whether that includes "one-on-one budgeting" or providing participants a "network of people to talk to."
Following their partnership with ioby, NYCHA approached community partners and organizations to gauge their interest and solicit proposals for local, community-sourced projects. "I went door to door… and met with over 20 organizations, where now we have over 10 or 11 organizations that are proposing projects," said Vlada Kenniff, director of sustainability programs at NYCHA. "We were really hands on with approaching CBOs [community-based organizations] and residents."
The collective efforts of NYCHA, the Fund, and ioby paid off when Ideas Marketplace went live this week. Although the website has yet to become the vibrant showcase of community-based projects as envisioned, it has already attracted attention. Rockaway Youth Task Force, a youth advocacy group, was the first to launch a project, raising over $9,000 so far for community gardens in Far Rockaway.
In partnership with the Fund and NYCHA, ioby also recently hosted a workshop to introduce the platform to community-based organizations from across the city. The the nascent crowdfunding platform was "well-received," according to Erycka de Jesus, a NYCHA resident and outreach coordinator for NYC Compost Project, who attended the presentation. "In public housing, we don't want to lose momentum to green up and to help promote a greener, more sustainable way of thinking," she said.
While the launch of Ideas Marketplace meets a small target of NextGen NYCHA's sustainability agenda, Kirmani-Frye does not see the crowdfunding platform's efforts limited to sustainability initiatives. "You gotta start somewhere. This was written into the sustainability plan and that's a publicly released document that the Authority is then accountable to," she said. "But if this is a model and a process that is successful, there is no reason to keep it limited to sustainability."
Kennif agreed. "I think the vision could become something greater," she said.