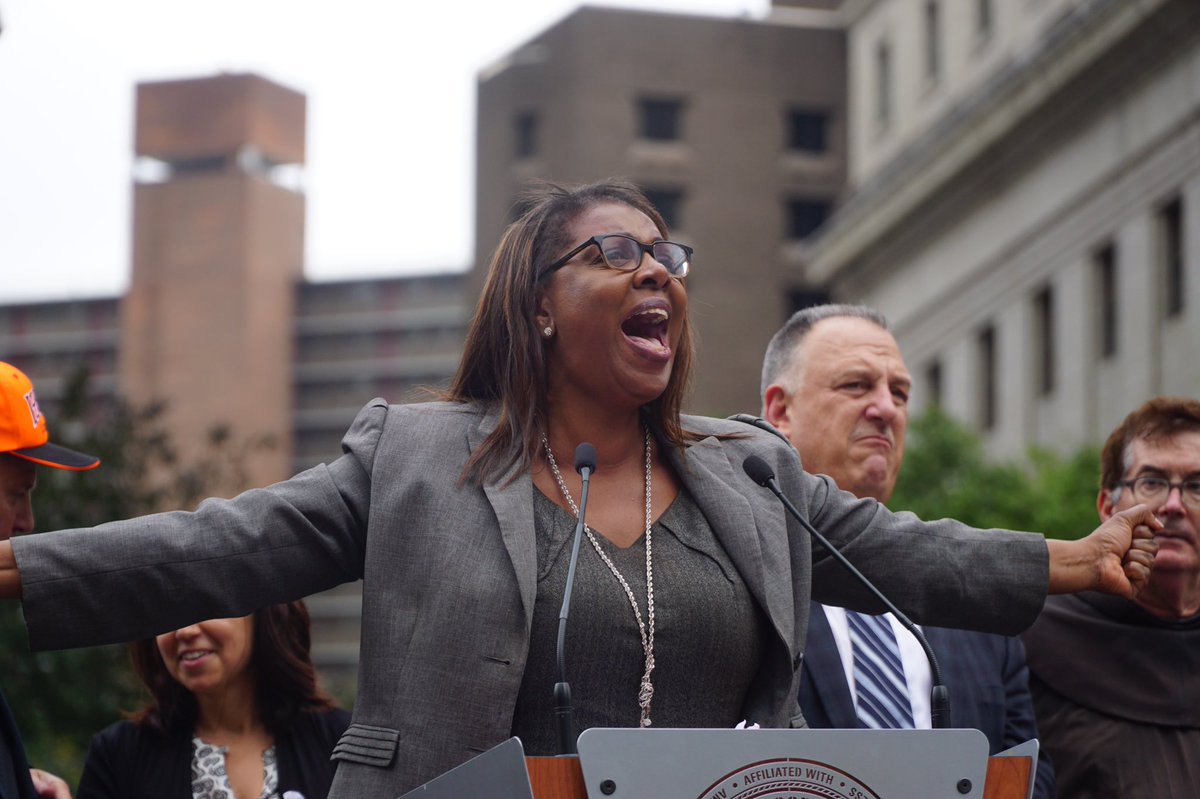 Public Advocate Letitia James (photo: @TeamstersJC16)
---
Public Advocate Letitia James, a Democrat seeking reelection to one of three citywide positions, has agreed to debate her Republican opponent regardless of whether the challenger, J.C. Polanco, meets the fundraising requirements to qualify for an official debate sanctioned and sponsored by the New York City Campaign Finance Board.
James, who easily won in the primary, is well ahead of Polanco, who did not face primary competition, in fundraising and name recognition. Polanco has, however, put forth detailed policy proposals and a rationale for seeking the office, while also challenging James to debate him for the good of the public electoral process. James has decided to pursue the opportunity, despite any risks debating may pose to a heavily-favored incumbent, to take the debate stage.
"The exchange of ideas and information is essential to democracy and good governance," James said in a statement. "I welcome the opportunity to debate and discuss my key accomplishments as Public Advocate and outline my vision for supporting and empowering all New Yorkers."
James has focused her efforts as public advocate on litigation and legislation, suing the city on several occasions and introducing and passing more legislation than her four predecessors, who include Mayor Bill de Blasio.
It is not clear how many debates James will agree to or who will sponsor any that do occur. For public advocate candidates participating in the Campaign Finance Board's public matching program, two formal, televised debates are required for those who meet the criteria, which include both fundraising and spending thresholds. But, James may be the only candidate in the field, which also includes the Green Party's James Lane and others, to qualify for the debates. A campaign spokesperson did not indicate how many debates James would participate in.
Polanco, an attorney and the New York City liaison for the state Assembly minority, has promised to run a positive campaign and debate the role of the office and policy proposals. He has called James "ethical" and expressed his fondness for her as a person. He has also challenged her to debate him even though he is many thousands of dollars short of meeting the legal thresholds for the official, televised debates, which would provide him a much-needed boost in profile.
"As my opponent stated: 'Brooklyn people don't hide,'" James said. "I am proud of my record of standing up for New Yorkers and look forward to a spirited discussion with my Republican opponent on the issues that impact New York."
While James is indeed a Brooklynite, and used to represent part of the borough in the City Council, Polanco is from the Bronx, where he still lives. Though Polanco has pledged a positive campaign, he has critiqued James for not speaking up more forcefully about de Blasio's ethical lapses. Polanco is running on a platform of pushing for changes to the public advocate position itself, perhaps through a city charter revision commission, and a variety of other agenda items. Unlike James, Polanco is an outspoken proponent of expanding charter schools. He's also advocating for allowing qualifying NYCHA residents to purchase their public housing units.
As she seeks a second term, James is especially proud of her legislation, passed through the City Council and signed into law by de Blasio, that bans employers from asking job applicants for their salary history. It is a move aimed at helping reduce the gender pay gap.
In order to qualify for public matching funds from the Campaign Finance Board, a public advocate candidate must raise at least $125,000 from 500 donors living in New York City. When matching funds are dispersed, up to $175 of eligible donations are matched six to one. Public advocate candidates are eligible for up to $2,369,350 in public matching funds for what is deemed a competitive race. Participants have a general election spending cap of $4,357,000.
As of her most recent filing, James had raised a total of $943,854. She had spent about two-thirds of it, leaving her about $325,000 in the bank, and not yet qualified for public matching funds.
Polanco had raised just $21,675. He has explained how much of a challenge fundraising has been given that New York City Republicans have a major registration deficit and most attention for any hope of a citywide victory is given to the mayoral race. Polanco has also said that his opposition to President Donald Trump has hurt him among GOP establishment figures and potential donors.
When informed that James had agreed to debate him, Polanco said in a statement to Gotham Gazette, "I am glad my opponent has taken up my challenge for a spirited debate on the issues. I took on the Herculean challenge so that New Yorkers have choice. I believe we are best served as a democracy when we compete for votes. I look forward to discussing my plans to push for charter school expansion, fixing the MTA train delays, keeping jails out of our neighborhoods, protecting kids from the horrors we have seen at ACS and standing up to a mayor regardless of party."
Part of James' calculation in agreeing to debate may have to do with being granted matching funds. A campaign spokesperson did not reply to a question about the subject.
Earlier this year, the Campaign Finance Board and its debate sponsors scheduled the two televised public advocate general election debates for Monday, October 16 and Saturday October 24.
"The CFB's debate program aims to give New York City voters the opportunity to compare candidates side by side in preparation for Election Day. The law was enacted to ensure that candidates in the public matching funds program debate their opponents, and we are excited that the Public Advocate debates will continue as planned. We will do everything we can to support and promote a vigorous debate," said Katrina Shakarian, public relations officer at the Campaign Finance Board, in a statement to Gotham Gazette.
Note: this article has been updated with a statement from Polanco, a statement from the CFB, and other additional information.
Note: this article has removed incorrect information about Comptroller Stringer being in a similar position to James. Stringer's Republican opponent, Michel Faulkner, has met the fundraising threshold to qualify for a CFB-sanctioned debate.