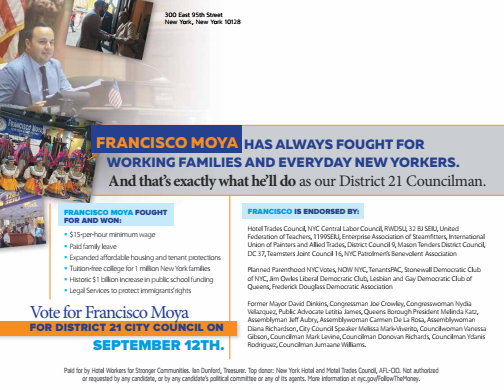 (IE mailer on behalf of Francisco Moya by the hotel workers union)
---
In 2013, independent expenditures by shadowy groups became a dominant talking point around the city's elections that year. Large spending in races up and down the ballot led to legal changes post-election, but candidates that year benefitted from -- and were hurt by -- large sums of campaign money from groups forbidden from coordinating with their campaigns, but with clear stakes in the outcomes of the elections.
In 2013, independent groups tied to big real estate, charter schools, and other special interests spent almost $16 million on the city's elections, with $8 million alone going to the wide open mayor's race and $6 million spent in City Council races.
This year, with new laws in place that increase transparency and a far lower profile election, a far smaller number of independent expenditures, or IEs, have been spent, mostly slipping under the broader radar of political watchers. As of the latest filings with the Campaign Finance Board on September 22, in this year's elections, independent groups have spent $1.2 million on city elections, about 7.5% of what was spent in 2013.
In further contrast to 2013, this year, IEs in City Council races, where some primary races were highly competitive, were higher than IEs in the mayoral primary, where Mayor Bill de Blasio has been seen as a heavy favorite all along, more so since evading an indictment for public corruption in March.
With the city elections now beyond the primaries and into the general election, there are few competitive races or races where independent expenditures may see room to influence an outcome.
Independent spenders file as either in support of a candidate, against a candidate, or for or against on an issue.
In 2013, then-Public Advocate de Blasio benefitted from $642,233 in IEs from various groups in his successful election to the mayoralty. This year, the mayor has benefitted from $61,309 in IEs, all from one funding source: 32BJ SEIU, one of the city's largest unions. Most of this money from 32BJ, which represents building workers, was spent on promoting de Blasio's candidacy in tandem with candidates for other offices, such as campaign literature featuring both the mayor and the particular candidate, often for City Council. The union's total spending on behalf of the mayor alone was just $5,831.
The Transport Workers Union and venture capitalist and consultant Bradley Tusk spent $205,181 in opposition to the mayor through September 22; $71,156 of it by Tusk very early in the cycle when he was bashing the mayor and trying to recruit a strong challenger, a mission he eventually abandoned.
The single largest independent spender in this election cycle through Sept. 22 was Hotel Workers for Stronger Communities, the political arm of the Hotel Trades Council, the hotel and casino workers' union. Through September 22, the group spent $400,976 on six competitive City Council races; all six candidates the group backed were successful on primary day. More than half of that money was spent on behalf of two candidates: incumbent Democrat Laurie Cumbo of District 35, who was the beneficiary of $122,465, and Keith Powers, the winner of a crowded, "open" Council primary in District 4, who was the beneficiary of $110,988. The rest of the spending was on behalf of Carlina Rivera in District 2, Assemblymember Francisco Moya in District 21, Adrienne Adams in District 28, and Alicka Ampry-Samuel in District 41. All four of these candidates won their primaries in "open" seats where the current officeholder is term-limited or, in once case, the seat was already vacant due to the recent corruption conviction of Ruben Wills.
The second largest independent spender this year has been NYCLASS Animal Protection, a major player in 2013 when de Blasio promised to ban horse-drawn carriages around Central Park. Although de Blasio did not fulfill this promise, the group did not spend in opposition to the mayor or spend on behalf of one of his primary opponents this year. Rather, the group, like the hotel union, focused on City Council races, with all six candidates it backed emerging victorious on primary night. The candidates included Cumbo, Moya, and Powers, as well as Justin Brannan from District 43, Helen Rosenthal from District 6, and Paul Vallone from District 19.
Also spending is the Patrolmen's Benevolent Association, the union which represents uniformed police officers. As with the other groups, for the primaries the PBA avoided spending on the mayor's race and focused on the City Council. On behalf of Moya, Mark Gjonaj of District 13, and Peter Koo of District 20, the PBA spent $28,900 each; all three were successful. The PBA also spent $41,628 on behalf of Assemblymember Robert Rodriguez in District 8, who narrowly lost to Diana Ayala. Ayala had the backing of that seat's term-limited incumbent, Council Speaker Melissa Mark-Viverito.
The New York City Central Labor Council's (CLC) PAC has spent a total of $81,540 on two City Council races. Moya benefitted from $32,253 in IEs, while Marvin Holland, who unsuccessfully challenged Bill Perkins in District 9, was the beneficiary of $49,286 in spending.
Planned Parenthood NYC Votes spent $3,500 on behalf of Moya, who defeated convicted domestic abuser Hiram Monserrate, and also spent on behalf of three unsuccessful candidates: $3,500 for Amanda Farias in District 18, $9,000 for Randy Abreu in District 14, and $13,795 for Marjorie Velazquez in District 13.
Among Council candidates, Moya won the race to replace Julissa Ferreras-Copeland, who is not seeking reelection, was the largest beneficiary of IEs in the primaries this year: $195,757 in total. Trailing Moya was Powers, who won the Democratic primary to succeed Dan Garodnick and has benefitted from $163,463 in IEs. In third is Cumbo, who beat back a tough primary challenge from Ede Fox in Brooklyn's District 35; Cumbo benefitted from $146,941 in IEs.
Some of the largest 2013 indepdent spenders -- the Real Estate Board of New York and charter school backers aligned with StudentsFirstNY -- have not been involved in the 2017, yet.
Unopposed in the primary, Republican mayoral nominee Nicole Malliotakis was not the beneficiary of any IEs in the primary as of the September 22 filing date. Neither was independent Bo Dietl. With the mayor's race now into the general election, Malliotakis may be a prime candidate as a beneficiary of IEs going forward, if any GOP-aligned or anti-de Blasio interest decides to spend heading toward November 7.