Ben Max, left, of Gotham Gazette, and Jarrett Murphy, right, of City Limits
---
October 2, 2017 - Max & Murphy with Public Advocate Letitia James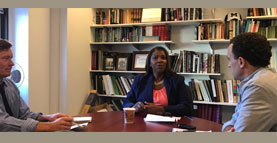 Public Advocate Letitia James, a Democrat seeking reelection this year, joined the podcast to discuss her record of the past four years and what she will focus on in a second term if the voters give her that opportunity. James, the first woman of color to be elected to one of three city-wide positions, says she has focused her time as Public Advocate on "social justice," the driving force of her public service career. James defended her approach to holding Mayor Bill de Blasio accountable, citing evidence where she has disgreed with and criticized the mayor, and explaining that she has taken a measured approach in order to "get more done."
James explained some of what she's most proud of from her term, including advancing universal free school lunch, banning city employers from asking salary history of applicants, and more. As for a second term, she said she wants to focus on affordable housing, property tax reform, "quality infant care," and more. Regarding affordable housing, James said the city and state need to work better together and all involved must think big -- James wants to see a massive building project to add many thousands of new low, moderate, and middle income housing units to the city.
Listen to the full conversation and let us know what you think -- we're on Twitter @TweetBenMax and @jarrettmurphy. You can hear the episode through the embedded audio below or download it wherever you get your podcasts.