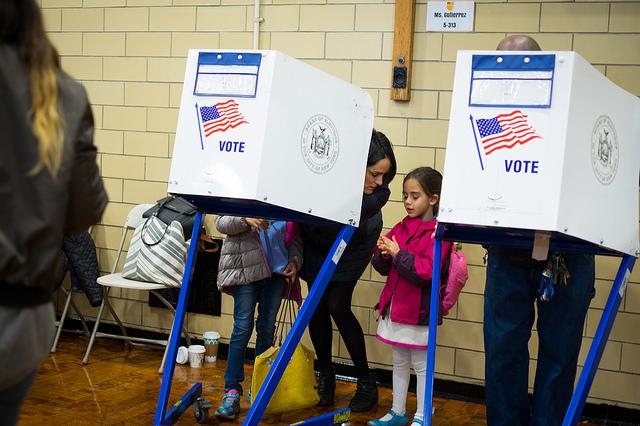 (Edwin J. Torres/Mayor's Office)
---
In order to vote in the city's November 7 general election -- for Mayor, Public Advocate, Comptroller, Borough President City Council, and other offices -- one must register with the Board of Elections by Friday, October 13. For registrations by mail, registration forms must be postmarked by October 13 and received by the BOE by Wednesday, October 18. This is only for New York City residents who are not currently registered to vote.
Since party primaries are over, prospective voters are no longer being held to party registration deadlines and regulations -- New York has a closed primary system, with party-change deadlines far in advance. To vote in November's election, one must simply be registered, with any party or none -- those registered to vote but not with one of about 10 official political parties are called "unaffiliated" voters. They are also at times referred to as "independents" or even "blanks" because of how they leave the party registration section of the form.
It appears that many New Yorkers have registered with the Independence Party thinking that it makes them an "independent" voter, but that is not the case.
Notably, though, Friday, October 13 -- of this year, 2017 -- is also the deadline to change your party registration ahead of next year's 2018 state-level electoral primaries in New York. If you're already registered to vote, you can declare a party or change parties by October 13 and be eligible for voting in Democratic, Republican, or other party primaries next fall.
Turnout on this Election Day is expected to be very low, with Mayor Bill de Blasio appearing likely to trounce his main opponents, Republican Nicole Malliotakis and independent Bo Dietl, as well as other minor candidates, including Reform Party nominee Sal Albanese, Green Party nominee Akeem Browder, and Michael Tolkin, running on his self-created Smart Cities ballot line.
In 2013, the turnout in the general election between de Blasio and Republican Joe Lhota was a meager 24%, the lowest in the city's modern history. The 24% turnout in the general came after the Democratic and Republican primaries clocked in at 22% and 12%, respectively.
In this year's Democratic primary on September 12, 14% of registered Democrats turned out to cast ballots. This is one of the lowest Democratic primary turnouts in the city's history; in 2009, Bill Thompson won the Democratic mayoral primary with turnout of 11%.
This starkly low turnout in the Democratic primary comes in the wake of even lower turnout numbers in last year's primaries for state and federal legislative offices. In the September 2016 state legislative primary, turnout totaled 10%; in June's congressional primary, turnout stood at a measly 8%, according to a report from the City's Board of Elections.
These numbers stood in sharp contrast to the turnout rates for the higher profile presidential contest that year: 35% of registered party members voted in April's presidential primary, and 62% of registered voters in New York City voted in the November general election, with Hillary Clinton versus Donald Trump at the top of the marquee.
As of April 1 in New York City, there were just under 5 million registered voters. Of these, about 3.43 million were Democrats, about 522,600 were Republicans, and about 880,660 were unaffiliated with a party. Many thousands more were spread among the smaller parties, including Green, Reform, Independence, Conservative, and Working Families.
A recent poll for this year's mayoral race from NBC-4 and Marist College shows de Blasio leading the pack with 65% of the vote, followed by Malliotakis at 18% and Dietl at 8%. While there are several weeks to Election Day, competitors must catch fire soon to have a chance to unseat the Democratic incumbent. The first debate -- with de Blasio, Malliotakis and Dietl -- is scheduled for Tuesday, October 10.
New Yorkers can check their registration status here, check registration deadlines here, and see a full list of candidates for all offices in the general election here.