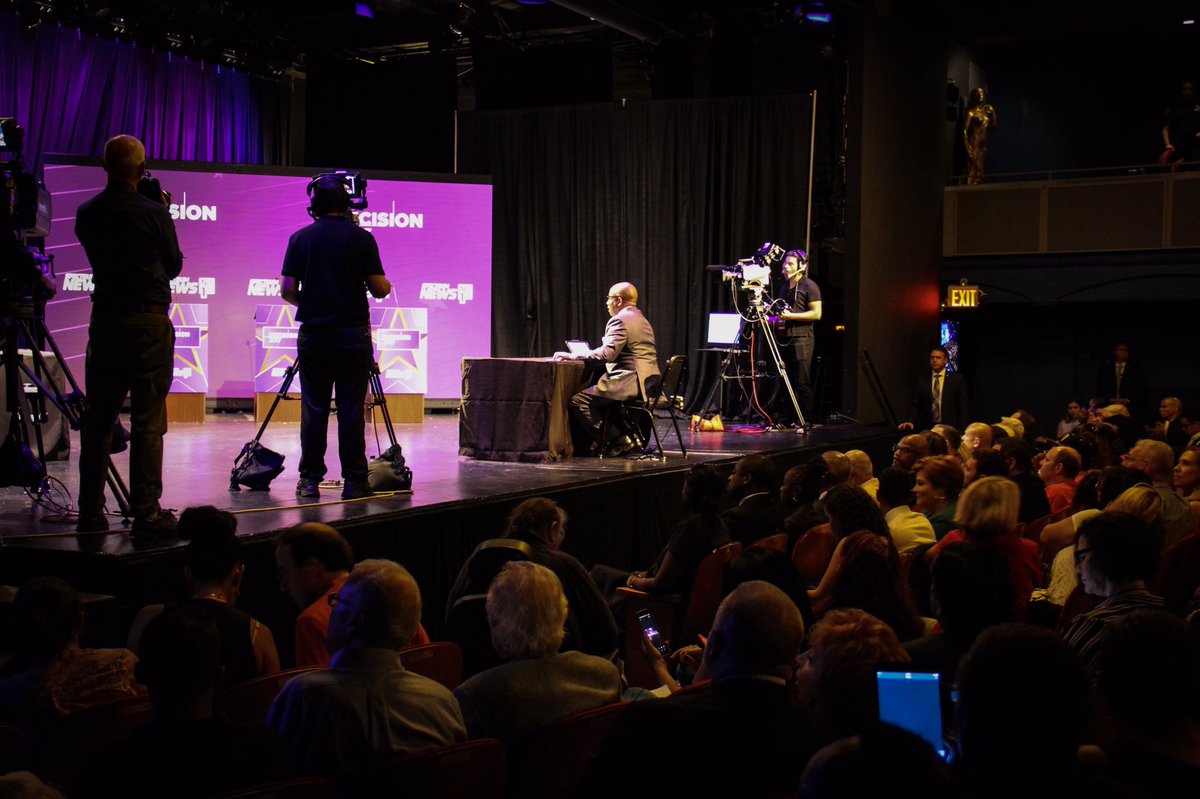 Debate #1 (photo: @NYCVotes)
---
By most accounts, the first general election mayoral debate was at best minimally helpful in providing voters a substantive exchange of ideas among the three candidates on stage, each competing to lead the city of 8.5 million people and an $85 billion budget for the next four years.
Outbursts and interruptions by audience members and candidate Bo Dietl made for a raucous and rowdy atmosphere where the policy positions of Mayor Bill de Blasio, a Democrat seeking reelection, and Nicole Malliotakis, the Republican nominee, were often drowned out, overshadowed, or truncated.
"It was a bit of a circus," said debate panelist and WNYC radio host Brian Lehrer, "the crowd was rowdy, the mayor's opponents aggressive."
Still, there was some intelligence gleaned from the debate, both in terms of the personalities of the candidates and their policy positions. A good deal of substance was present if you were able to listen closely enough or catch the debate a second time, perhaps desensitized to the lack of decorum shown by Dietl and the crowd, where most of those interfering with the discussion on stage were anti-de Blasio -- either Dietl or Malliotakis supporters or there simply to jeer the mayor.
The three candidates -- seven names will be on the November mayoral ballot, but just these three qualified for the first of two official, televised debates -- did have opportunities to discuss issues like affordable housing, criminal justice, homelessness, the city budget, mass transit funding, street congestion, school segregation, and more.
In the aftermath of a debate that left many, including, apparently, moderator and NY1 anchor Errol Louis, exasperated and frustrated, one important question is who will be on stage for the second official debate, scheduled for Wednesday, November 1 at 7 p.m., televised on CBS.
In order to qualify for that contest, known by campaign finance law as the "leading contenders" debate, one of two sets of criteria will be at play. One is simply a fundraising and spending threshold of $1 million each. The other has a much lower financial threshold ($174,225) and includes candidates attaining at least 15% in a public opinion poll that includes all of the candidates on the ballot (there are a few other minor details to it, but those are the broad strokes).
In all likelihood, the first criteria will be used to determine eligibility, which will almost-certainly again limit the field to de Blasio, Malliotakis, and Dietl. However, because Dietl is not a participant in the Campaign Finance Board public matching program, rules state that the lead sponsor, in this case CBS, has discretion whether to invite him or not. Dietl's inclusion, or lack thereof, would have significant impact on the debate, if not the outcome of the vote on November 7.
Neither Dietl nor Malliotakis has hit the $1 million raise and spend thresholds yet, though both are fairly close, and they have until October 27 to do so. Dietl told Gotham Gazette it will not be a problem, in part because he has deep personal resources to help his campaign if needed. Reached for comment about whether CBS plans to invite Dietl, a spokesperson said the station would not weigh in on a hypothetical.
"I think they're going to invite me," Dietl told Gotham Gazette on Wednesday. "I don't think there's too much of a debate without me. There's no entertainment value, I bring out the real facts. CBS knows that, they'll invite me."
Asked if he felt OK with how he had handled himself at the first debate -- during which he spoke almost exclusively in a yell, grunted into his microphone repeatedly, interrupted, and had his mic cut off by Louis -- Dietl indicated no regrets.
"My passion showed," he said on Wednesday. "I feel great. I thought last night went well. A little out of control…You had to get in to say what you want to say."
"It's important for people to see human beings," Dietl said, "rather than robot politicians. I got a lot of my points out. A lot of people saw Bo could be mayor of New York City against a couple of politicians."
Dietl's presence at the first debate -- and his potential presence at the second -- hurts Malliotakis' chances of consolidating the anti-de Blasio vote and narrowing the 40-plus-point gap in the polls. While Dietl argues he has the better chance of the two to defeat de Blasio, Malliotakis appears a more cogent candidate and has her own lead on Dietl in polling.
Asked about the debate and Dietl's presence at a Wednesday press conference in the Bronx, Malliotakis said, "Certainly I would prefer a one-on-one debate with the mayor. I believe that I am the clear alternative to Bill de Blasio being offered in November. I would love the opportunity to debate him one-on-one, and we'll see, maybe November 1 -- I intend to make the threshold to qualify for the CBS debate, and we'll see what happens there."
She said one-on-one with de Blasio would let her better make her case and allow the candidates to drill down on the issues more. "I'm very pleased with the way the debate went," she added, saying she thought she made many of her key points and held the mayor accountable.
Along with Dietl's presence, or that of other mayoral candidates who are suing to get on stage, the other key question about the second debate is the live audience. The crowd at Symphony Space acted more like it was an NFL game than a political debate, leading to at least one ejection and several admonishments from Louis, the moderator.
The venue for the second debate is the smaller CUNY Graduate Center auditorium, and it is not yet clear how CBS and its co-sponsors will handle ticket dissemination. They may filter tickets through sponsor organizations, as well as CUNY faculty and students, and not through the candidate campaigns.
"[W]e are reviewing what happened last night and will do what we can to keep the focus of the Nov. 1 debate on the candidates," the CBS New York spokesperson, Rachel Ferguson, told Gotham Gazette on Wednesday.
When asked for comment on the debate, the Campaign Finance Board gave credit to Louis and his fellow questioners and pointed to crowd behavior.
"A lot of interested voters showed up at last night's debate determined to make their voices heard," said Amy Loprest, Executive Director of the NYC Campaign Finance Board, in a statement to Gotham Gazette. "While it is regrettable that the crowd reduced the amount of time available for questions, the debate moderator and panelists did their very best to ensure the candidates addressed a wide range of issues that directly affect New Yorkers. The [Campaign Finance] Act requires these debates so that all voters can hear directly from the candidates about the issues that matter to them. As a result, the New Yorkers who tuned in to last night's debate are better equipped to cast an informed ballot for the city they want on November 7th."
Asked about the debate at an unrelated Thursday press conference, de Blasio expressed his own dismay, but did not offer any specific prescriptions. "It was not what the people of New York City deserved," de Blasio said. "It was a lost opportunity."
While the mayor's supporters often cheered his answers and chanted "four more years" to drown out boos or jeers from others in the crowd, they appeared to take the approach more reactively, responding to the tone set early on by de Blasio detractors who interrupted the mayor's opening statement and repeatedly heckled during his answers to questions.
Asked about whether Dietl should be invited to the second debate, a spokesperson for the mayor's campaign, Dan Levitan, said in a statement, "Under Mayor de Blasio crime is at record lows, jobs are at record highs, and New York City is building affordable housing at a record pace. We are happy for any opportunity to talk about the Mayor's record and we look forward to debating whoever the CFB and debate sponsors decide to include."
Another candidate, Michael Tolkin, has repeatedly met financial thresholds by giving his own campaign money and has not been invited to debate, either in the Democratic primary, where he came in a distant third to de Blasio and Sal Albanese, or in the general, where he is running on his self-created Smart Cities ballot line.
Albanese, too, is running again in the general, on the Reform Party line. He came in a distant second to de Blasio in the primary, but showed fairly well, at about 15%, given the substantial disadvantages he faced. Despite limited financial resources (Albanese barely qualified for the two primary debates where he faced de Blasio one-on-one), Albanese did poll better than Dietl in one recent general election survey, leading to cries of injustice from Albanese about his exclusion from the debate.
Both Albanese and Tolkin are suing to be included in the debate. Therefore, there's a chance that the second debate, on CBS, could include up to five candidates.
The other two candidates who will be on the November ballot are Akeem Browder of the Green Party and Libertarian candidate Aaron Commey.
As for Dietl, he said he thinks the debate gave new life to his campaign, citing his performance, the overall response, and media interest the day after. Calling the debate "a real turning point," Dietl said, "let's wait and see what the next poll says. I think you'll be surprised."
For her part, Malliotakis also said Wednesday that she believes the race is closer than the polls from Marist College and Quinnipiac University show, citing her campaign's internal polling and the response she gets all over the city. "This is a race," she said.