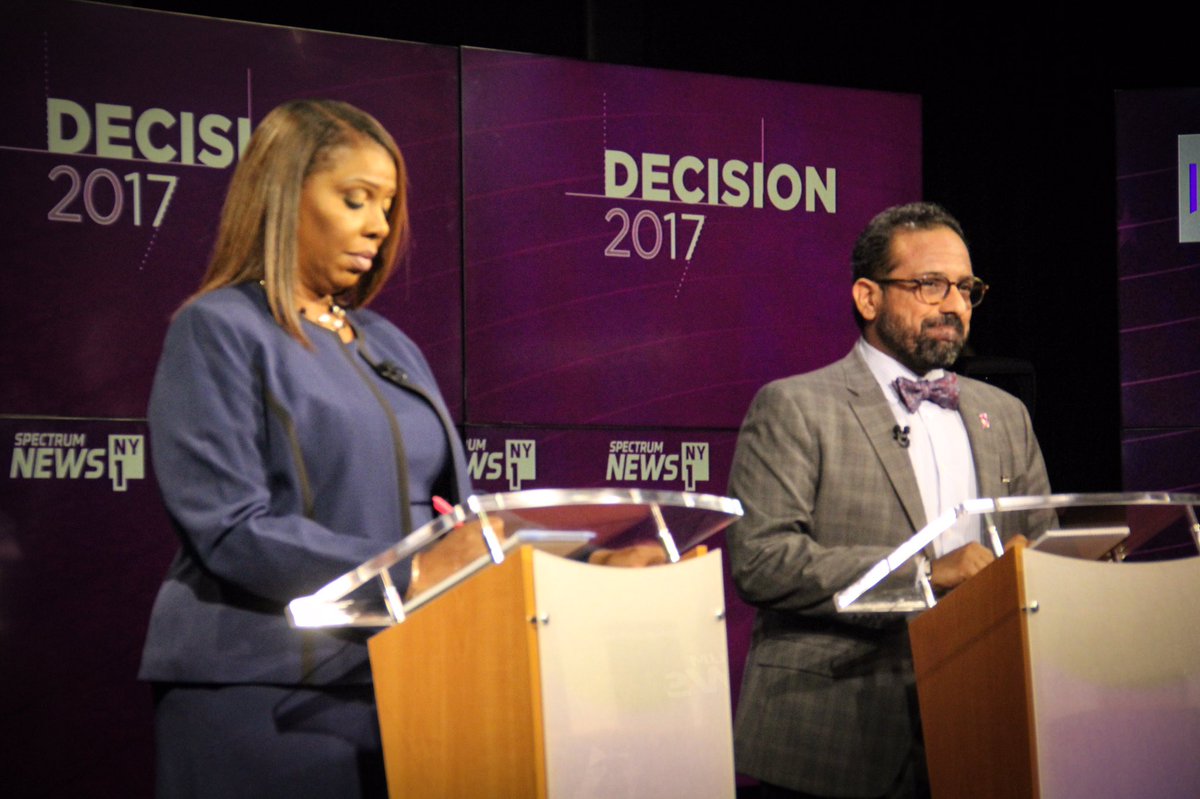 James & Polanco at their debate (photo: @NYCVotes)
---
Public Advocate Letitia James, a Democrat running for reelection, squared off against her Republican opponent, J.C. Polanco, in a friendly yet competitive debate on Monday that highlighted substantive differences, and some shared opinions, between the two candidates on a range of policy issues. Given the race features an incumbent, the debate centered in large part on James' record as public advocate over the last four years, especially her performance in holding the mayoral administration accountable.
Hosted at the CUNY Graduate Center in front of a small, closed audience, the debate was the first and only to be held in the public advocate race leading up to Election Day, November 7. It was held at James' discretion -- she agreed to debate Polanco despite his failure to meet the financial thresholds to qualify for an official Campaign Finance Board-sponsored debate.
The two candidates butted heads, albeit respectfully, through the hurried hour-long debate, articulating sharp contrasting opinions on rent regulations, charter schools, criminal justice issues, and the overarching role of the public advocate's office as an ombudsman for the city. While James touted her record, Polanco referenced his qualifications stemming from his work for the state Assembly minority conference and his past role as president of the city Board of Elections. He called himself a "common sense" Republican.
Early on, Polanco sought to paint James as a too-close ally of Mayor Bill de Blasio who has failed to stand up to the mayor and the progressive-dominated City Council, a pitch that has been at the center of his campaign along with proposals to strengthen the independence of the public advocate's office. Polanco believes the office should have investigative and subpoena powers over city agencies, which would require a city charter revision approved by voters, as well as funding equivalent to the much larger comptroller's office.
James, an experienced litigator, has used her legal skills to inform the core functions of her office. Over the last four years, she said she has worked "to transform the office into a vehicle for social and economic justice for all," claiming to have resolved more than 30,000 constituent complaints and touting the passage of more legislation than all her four predecessors together. She highlighted her signature legislative achievement: a new law that bans employers from asking job candidates their salary histories, which is aimed at closing the gender pay gap.
James has sued the city 11 times, but has been bounced from several cases for lack of standing. James had to defend her approach early on in the debate when asked by moderator and NY1 anchor Errol Louis whether she sought to win those lawsuits or just make headlines by filing suits.
"I make no apologies for standing up for those without a voice," James responded, insisting that she would continue to do so and noting that she is working with members of the City Council on a potential legislative solution to codify her ability to sue the city and its agencies. She also cited several instances where she had been victorious, including a lawsuit to make Department of Education School Leadership Team meetings open to the public and another in favor of seniors who were being denied rent increase exemptions by the city.
Polanco agreed that the public advocate should have broader standing in the right to sue the city administration, but pointed out that James would continue to fail until given the statutory authority. Himself an attorney, Polanco sharply stated that it was obvious that James did not have standing in cases. "You've had over two million minutes in office, I know in my first minute, as soon as I get there, that we have to work very closely on a public education campaign to get this question on the ballot so that cases stop getting thrown out of court," he said.
It was one of the few issues the two candidates agreed on. James has called for subpoena power for the office in the past, which she repeated Monday, and said the mayor "should not hold the purse strings to the office of the public advocate."
Both candidates disagreed with debate moderator Brian Lehrer from WNYC, when he suggested that perhaps the public advocate might be more effective if they represented a different political party than the mayor. James has been a close ally of de Blasio and endorsed him for reelection. "I stand with the mayor when I agree with him, and I oppose him when he's wrong," she said, pointing out instances when she has critiqued his administration, such as when the mayor opposed creating a stand-alone agency for veterans affairs or when she challenged him over the lack of air-conditioned buses for disabled school children.
"I don't think that Tish has been as independent of the mayor as she claims," said Polanco, stressing that he had heard little consternation from James when the mayor and his administration were embroiled in a pay-to-play scandal. "There's a whole myriad of times where I think this public advocate has been very quiet and silent to make sure that the mayor's on her good side and that the voters who are constantly with the mayor are with her in four years." He said he would have no problem "going toe-to-toe with Republicans" if he were in the office.
Neither James nor Polanco supports de Blasio's homelessness-fighting plan that includes opening 90 new shelters while halting the use of hotels and cluster site apartments. Polanco was direct, blaming the mayor's mismanagement for the problem and insisting that new shelters would burden neighborhoods that are already inundated with shelters. "This is gonna just help two people," Polanco said, "One, the mayor because he's gonna get this problem off his back. And two, wealthy developers that are gonna benefit from building these new shelters."
James, on the other hand, delivered a meandering response that delved into the need for "bold leadership" and housing bond legislation to encourage the creation of affordable housing in the city. When NY1's Louis sought more clarity, she said, "I think at this point in time what we really need to do is look for other initiatives in the city of New York to address homelessness...what we really need to do is think bolder and we need to make sure that the two individuals, the governor and the mayor of the city of New York, two individuals with oversized egos, resolve this issue so that we don't have countless numbers of individuals that are homeless this evening."
"So I'm gonna take that as a 'no' on the 90 shelters," Louis noted.
A clear distinction emerged between the two candidates on how they view the public advocate's office as a voice in police accountability. James has been a vocal proponent of criminal justice reform and she recounted her efforts to unseal the grand jury transcripts from the Eric Garner case, touted her support for reforming the grand jury system, for releasing the disciplinary records of officers charged with misconduct, and for advocating for the NYPD's body camera program and shot-spotter technology. She noted that she led the movement for the city's pension funds to divest from gun retailers as well.
"It's really critically important that we be a voice in the criminal justice system," she said. She also said that she is still reviewing the City Council's long-proposed Right to Know Act -- that would require officers to identify themselves during certain street stops and inform people of their right to refuse a search in some instances -- but said she supports its objectives.
Polanco sought yet again to tie James to de Blasio, critiquing the mayor for creating a hostile attitude toward the NYPD and criticizing James for standing with him. "Frankly, this city has gone through an enormous political campaign against police," he said, "including adding all of these layers and layers of actually monitoring their job performance, which really strangles the police from active policing." He did concede that in cases where an officer violates a person's constitutional rights, the release of disciplinary records is warranted.
The candidates had an opportunity to cross-examine each other, which Polanco seized on to question James' support for de Blasio despite his proximity to lobbyists and consultants with clients who had business with the city. "How could you in good conscience endorse the mayor for reelection?" he asked. James deflected, speaking of the larger issue of campaign finance reform and the need to repeal the Supreme Court's Citizens United decision. (Polanco jokingly praised her masterful deflection. "That was good, how you did that," he chuckled.)

James asked Polanco about his position on workers' rights, and whether he would picket with the employees of Spectrum, currently in the seventh month of a strike against their parent employer Charter Communications, which owns NY1. Polanco agreed that labor unions have the right to strike, but said elected officials should stay out of this case, which involves a private union.
Asked about the rent freezes that de Blasio has repeatedly touted as one of his biggest achievements for low-income New Yorkers, Polanco called them a mistake and made a forceful argument against rent regulations and other policies, referencing what he called the city's "army of social engineers" that he said have exacerbated problems. He said the city's policies were disincentivizing landlords who are "hard-working people just like ourselves" and that not all of them are "evil landlords" that should be put on a list, taking a sly dig at the public advocate, whose office famously puts out the "100 Worst Landlords" list every year. "We really have to take a look at the way we're getting involved in engineering the market to create a social outcome," Polanco said, offering a somewhat typical conservative assessment of meddling in the free market.
While James agreed with Polanco that the city needs to reform the system of tax breaks given to luxury developers in exchange for creating affordable housing, she staunchly backed the rent freezes enacted under de Blasio's administration. "I think it's really critically important that we stand up and strike back against market forces and gentrification," she said.
The issue that divided James and Polanco the most was charter schools. Earlier, the debate briefly veered into the issue when Polanco suggested James' opposition to them was because of her partisan affiliation with the mayor. James insisted, "All I want charter schools to do is play by the same rules and to be held accountable and obviously to be accessible to all children in the city of New York." She later criticized charter networks that have zero-tolerance discipline policies and high staff turnover, and that tend to exclude homeless and disabled students. She emphasized instead that the state should live up to the Campaign for Fiscal Equity court ruling and provide sufficient funding to all public schools.
Polanco, a long-time educator, disagreed. "This is not an issue about money, this is an issue about the culture of education in our inner cities," he said. He decried the "ultra-left" city leadership, particularly the City Council, that he said conflates discipline with racism. Polanco promised that as public advocate he would push for a major expansion of charter schools. James said she has been supportive of some charter schools in the past and is a proponent of school choice, but that she maintains her critiques of some charter schools and networks.
There were some moments of levity at the debate, particularly during a lightning round of mostly "yes" or "no" questions near its conclusion. Polanco said that in November he will vote for a constitutional convention while James said it was "too risky." Both were critical of district attorneys being allowed to accept campaign donations from people with business before them. James supports the legalization of small amounts of marijuana while Polanco opposes it. And while James had never voted for a member of the opposite party, Polanco said he had.
"Wanna tell us who?" Louis ventured.
"Tish!" Polanco said, with a wry smile, eliciting laughs from the entire room.
The exchange was perhaps telling of the fact that Democrats have a massive enrollment advantage in the city. Combined with her immense lead in fundraising, James is a heavy favorite to win a second term come November, though Polanco has proven a substantive and thoughtful candidate. Other public advocate candidates who will be on the ballot include Green Party nominee James Lane, Libertarian Devin Balkind, and Conservative Party nominee Michael O'Reilly.
The James-Polanco debate concluded much as it had begun, with James stressing the importance of the checks and balances provided by her office. "You can get work done and be quite effective, but you need to reimagine the office," she said. For Polanco, winning the office itself will be a battle, in a city where there are six registered Democrats to every registered Republican. He readily acknowledged that Monday night. Everyone knows trying to win citywide office as a Republican is an uphill battle, he said, but it's much more challenging than that. "This is climbing Mount Everest in December," he said, "This is tough."