Ben Max, left, of Gotham Gazette, and Jarrett Murphy, right, of City Limits
---
October 18, 2017 - Max & Murphy: Analyzing the Public Advocate and Comptroller Debates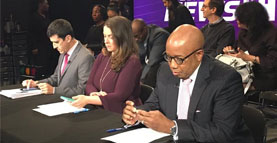 The lone public advocate and comptroller debates of the election cycle occurred on Monday and Tuesday, respectively. Brigid Bergin of WNYC radio (pictured, middle) was one of the panelists asking questions at the comptroller debate between incumbent Democrat Scott Stringer and Republican challenger Michel Faulkner, and she joins this episode of Max & Murphy to recap and analyze that debate and the debate between incumbent Democrat Letitia James and Republican challenger J.C. Polanco in the public advocate race.
Bergin, Max, and Murphy also discussed the state of the mayoral race as we are less than three weeks before Election Day, November 7. The second and final mayoral debate is set for November 1.
Listen to the full conversation and let us know what you think -- we're on Twitter @TweetBenMax and @jarrettmurphy. You can hear the episode through the embedded audio below or download it wherever you get your podcasts.