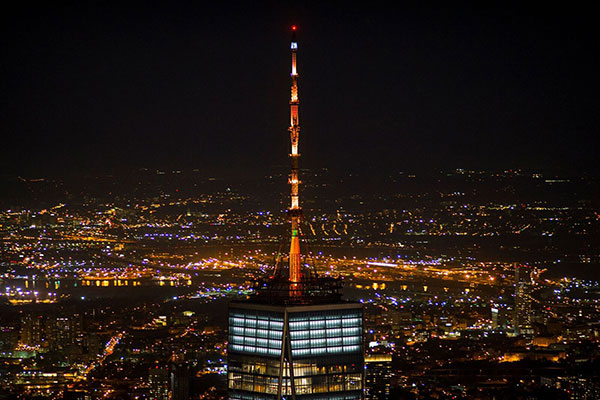 One World Trade Center lit up orange for Amazon (photo via NYC EDC)
---
New York is laying out the red carpet to entice online retail giant Amazon to locate its new corporate headquarters in the state. Governor Andrew Cuomo promised a slew of incentives to support four official proposals from different regions that were submitted to the company on Wednesday, and New York City Mayor Bill de Blasio lit up the city in orange at night as a fawning branding appeal.
New York City's own bid -- which included four possible business districts -- was backed by about 70 elected officials that represent the city, including members of Congress, state Senators and Assembly members, City Council members, borough presidents, and Public Advocate Letitia James. But at least four notable elected officials were conspicuously absent from the letter of support sent by the mayor's office to Amazon CEO Jeff Bezos.
Assembly Speaker Carl Heastie, of the Bronx, City Comptroller Scott Stringer, and City Council Members Corey Johnson and Donovan Richards, both contenders to become the next Speaker of the City Council, did not sign on to the letter.
"No city embodies the American traditions of innovation and creativity quite like New York City," the letter reads. "It has transformed from a Dutch settlement, to the nation's first capital, to a booming industrial center. It became a port of hope for millions of immigrants looking for a better life, and a model for urban revitalization. From Broadway, the Bronx Zoo and the Brooklyn Bridge, to Citi Field and the shores of Staten Island, New York City is a place where history is made every day. Our tradition of reinvention matches yours, and we invite you to join us in writing our next chapters together."
A spokesperson for Stringer declined to comment. Multiple messages and emails sent to spokespeople for Heastie were not returned.
"We're excited about the prospect of new businesses coming to New York City," said Jordan Gibbons, a spokesperson for Council Member Richards, "but before we support the plan, we need more information about job standards and impact on local businesses."
Council Member Johnson wrote in a text that he "didn't sign on to [the] letter because I have concerns about Amazon's labor record but also recognize 50K jobs would be good for the city."
As Johnson noted, Amazon's second headquarters is expected to create 50,000 jobs and bring in roughly $5 billion in investment. One of the proposed areas for Amazon's headquarters, Midtown West, falls in Johnson's Manhattan district. City Council members representing other proposed sites for the headquarters signed on to the letter.
Amazon's announcement and request for proposals triggered a mad dash by dozens of cities across the country to lure the multi-billion-dollar company. To bolster their bids, some cities and states have promised enormous tax breaks while others have pledged infrastructure investments around a potential Amazon campus. Most have hedged their bets on being able to provide the optimum balance of tech talent, affordable and ample real estate, and an appealing quality of life. One municipality in Georgia even went so far as to propose creating an entirely new city named for the online retailer.
Short of naming a new business district after Amazon, New York City's pitch includes all those aspects. Culled from more than two dozen proposals from across the five boroughs, the New York City Economic Development Corporation, in collaboration with the Empire State Development Corporation, decided on four city areas that met Amazon's criteria -- Midtown West, Long Island City, Lower Manhattan, and the Brooklyn Tech Triangle. The city is banking on many factors, including its pool of 2.3 million residents who hold a bachelor's degree and above -- a number higher than the combined comparable workforce of Boston, Philadelphia, San Francisco, Los Angeles and Washington D.C.
The city has 296,000 workers in the tech industry and is growing rapidly in sectors of the economy where Amazon is diversifying, including media, advertising, fashion, and manufacturing.
And the city is already an attractive destination for Amazon, which has a distribution and fulfillment center, corporate offices and retail space in the city with plans to expand in Manhattan. Amazon's website says it has 1,000 employees in New York, plus seasonal additions around the winter holidays.
An EDC spokesperson said the city cast a wide net seeking support for the proposal. "Considering how hard it is to get New Yorkers to agree on anything, the fact that we got so many signatures in such a short time was pretty impressive and overwhelming," the spokesperson said, expressing optimism that New York would outmatch other cities with its bid.
Asked at an unrelated Thursday news conference about his pursuit of Amazon when he has been opposed to Walmart opening in the city, de Blasio called it "apples and oranges." "Amazon, there are some issues that need to be addressed with labor, there's no two ways about it. But, at the same time, this is a company talking about potentially fundamentally changing the economy in New York City. Adding 50,000 jobs is a game-changer. And it's something we need and we need more high-quality jobs for the people of New York City. So we can work on those labor issues and I'm happy to work on those labor issues, but no, I'm convinced that Amazon will be a net gain for New York City, unquestionably."
Responding to Johnson's concerns, the EDC spokesperson said that Amazon's presence in New York would afford the city an opportunity to engage directly with the firm and "work with them to advance our shared values." Pointing out that it was premature to evaluate a deal that hasn't yet been approved, the spokesperson said the city would be able to negotiate down the line to add guarantees to ensure the number of jobs created, salary levels and that jobs go to New Yorkers. "It's pretty clear to us that they want to build the headquarters with the community, not in the community," the spokesperson said.
"It's puzzling, I don't know why you'd want to turn down a shot at 50,000 good-paying jobs," said Jonathan Bowles, executive director of the Center for an Urban Future, when asked why leaders like Stringer, Heastie, and Johnson would not sign on. He conceded that concerns about corporate subsidies are valid, but that the Amazon opportunity is too good to pass up. "It's a big win for New York City if we can get it."