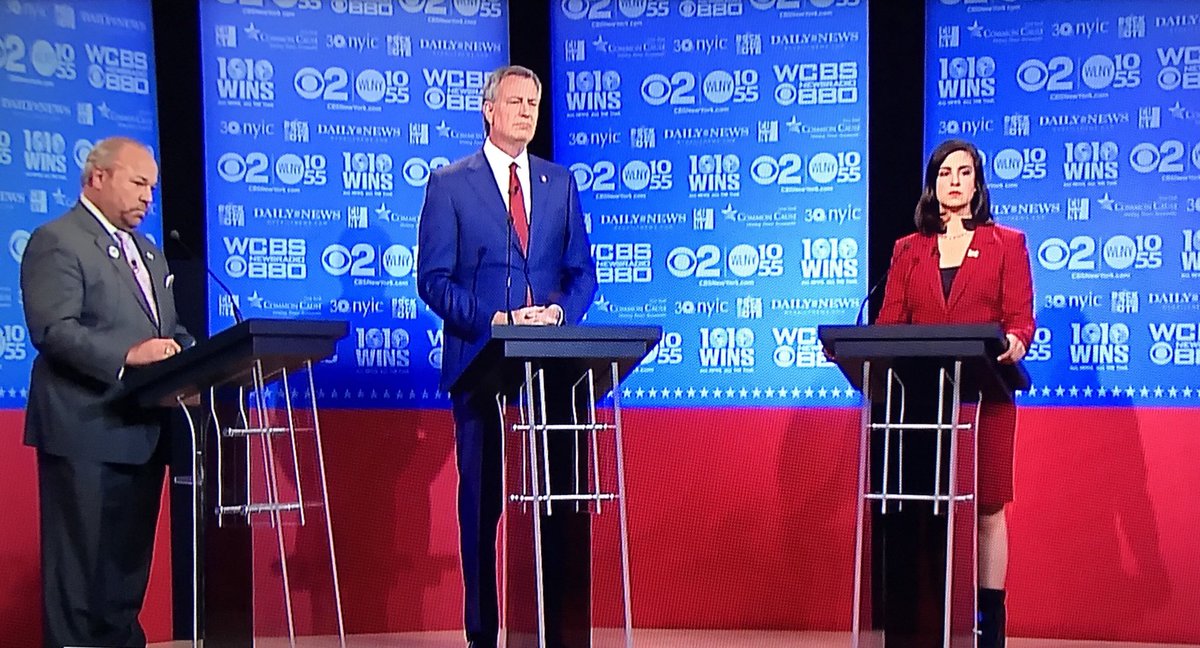 Dietl, de Blasio & Malliotakis on CBS
---
The second and final mayoral debate of the general election, held Wednesday night, was largely a contest between Mayor Bill de Blasio, a Democrat running for a second term, and Assemblymember Nicole Malliotakis, the Republican nominee, as the third candidate on stage, independent Bo Dietl, often struggled to get a word in edgewise.
As the incumbent, de Blasio was put on the spot several times during the hour-long debate -- on public safety, on the city's homelessness crisis, on his ethics record, on his relationship with the press -- and he drew upon tried-and-tested responses that he has given on the campaign trail and throughout much of his time in office. Malliotakis consistently tried to challenge the progressive Democrat, waiting impatiently to criticize his policies as he defended them.
And Dietl, who initially seemed more subdued than past public appearances, returned to form with nonlinear responses to questions and a more frantic pace as the debate grew increasingly frenetic and the three candidates fought to be heard. All three wound up speaking loudly and quickly, on several occasions talking over one another and arguing with the moderator, Maurice DuBois of CBS-2 New York, about opportunities to rebut claims made by others.
The debate, coming just six days before Election Day, November 7, covered some new ground but often saw the three candidates using lines of attack or defense those closely following the lackluster campaign have heard many times. De Blasio, who is heavily favored to win reelection and has large leads in the polls, did not appear to do anything to jeopardize his standing, while any hope Malliotakis had for further consolidating the anti-de Blasio vote was severely undercut by Dietl's presence on stage. CBS exercised its discretion to include Dietl, who has not polled well, but declined to explain its decision when Gotham Gazette inquired.
Hosted at the CUNY Graduate Center in Manhattan, the debate began with a particular focus on the NYPD and anti-terrorism, just one day after a terror attack in lower Manhattan in which a man alleged to have been inspired by ISIS killed eight people and injured numerous others by driving a truck in a bike lane.
De Blasio immediately found himself defending his decision to close down an NYPD surveillance program that targeted Muslim communities and had led to a lawsuit over the racial profiling of Muslims. He insisted that intelligence gathering and improved police-community relationships were the solutions to preventing terrorism, and he touted his creation of a new terror response unit at the NYPD and the hiring of 1,300 more officers to the force. "We change constantly with the times," he told DuBois, who asked why the mayor had not been proactive in preventing the type of attack seen Tuesday by installing more bollards, cement posts that disallow car travel, along the West Side bike route.
Malliotakis and Dietl have both have criticized de Blasio for what they see as his lack of support for the police department. The Assembly member said she would provide more resources to the NYPD to combat terror and said it was it important to not limit the police in their jobs, although she said she does not favor targeting specific groups or religions. She also supported installing traffic bollards where necessary to prevent vehicular terror attacks. "My administration will be proactive, not reactive," she said. De Blasio insisted that he defers to NYPD experts about all matters of security, including anti-terrorism, and touted his two choices of police commissioner.
Dietl, asked if surveillance of Muslims was necessary, categorically said "yes." "Just look at this terrorist. What did he look like? This is something we have to get past. Political correctness cannot be there all the time," he said, adding that the man who committed the truck attack looked like the dictionary picture of a terrorist, referencing the man's long beard in particular. Dietl's insensitive stereotyping appeared in stark contrast to his two opponents, who took much more measured paths.
Asked to explain his qualifications for the daunting job of Mayor of New York City, Dietl recounted his entrepreneurial success as a private detective with a multi-million dollar security business and referenced his time as a member of the NYPD.
Malliotakis said she was proud of her record in the Assembly as a "fighter for taxpayers" who has seen the city's quality of life deteriorate. She threw her typical punches at de Blasio, calling him inept at managing the city and in the pockets of his campaign donors.
The debate was not as instructive in terms of where the candidates would take the city as mayor as it was in relitigating de Blasio's standing after nearly four years at the helm of a city largely doing well, but facing a number of significant challenges.
Numerous times the candidates quibbled, with each other and with DuBois. Malliotakis was asked about her oft-repeated claim that felony sex crimes have increased 25 percent in the city under de Blasio, with DuBois saying the number was only 4 percent and citing the NYPD. She did not concede the point, insisting that her statement was based on NYPD statistics. De Blasio was dubious of Malliotakis' response, and pointed out that major crime has fallen consistently over the last four years, reaching historic lows. "The NYPD takes crime against women very, very seriously, constantly moving resources to address this problem" he responded.
Malliotakis appears to be correct in her assertion on broader sex crimes, while de Blasio is also right about the overall direction of major crimes, such as murder. Rape, the most serious of sex crime, is up slightly over de Blasio's tenure, possibly the statistic DuBois was referring to. The mayor, NYPD officials, and other analysts agree that sex crimes are likely higher because of increased awareness, and encouragement and willingness to report.
The question that put the mayor in the most awkward position, one he has answered several times in the last few days, was about his relationship with Jona Rechnitz, a wealthy campaign donor who is currently a cooperating witness in a federal corruption trial against the former boss of the correction officers union. Rechnitz, who pleaded guilty to fraud himself, has testified that he had regular access to the mayor, which has yet again led to criticism from de Blasio's opponents of a pay-to-pay culture at City Hall.
De Blasio, who again refused to release his phone records to refute Rechnitz's allegations of how regularly they spoke in late 2013 and beyond, repeated the defense he has offered before, insisting that he did not have a close relationship with Rechnitz and that his ties to donors were thoroughly investigated with no charges filed by federal or state prosecutors. "He is a liar, he is a felon. Don't believe anything he says," de Blasio said.
"I think the question is for the public," Malliotakis retorted, "if they want a mayor who looks for that little loophole, the way to skirt the law to get an intended outcome for himself and his friends."
The candidates also argued over gentrification, traffic congestion, property taxes, and homelessness.
Malliotakis said gentrification is beneficial when it raises property values and brings economic activity to neighborhoods, but she decried the displacement of existing residents. She struggled to answer more specific questions about gentrification, but attacked de Blasio for not taking on property tax reform. De Blasio, who promised to tackle the issue if reelected, took to defending his affordable housing policy, the rent freezes his administration pushed two years in a row for rent-regulated tenants, and the implementation of free legal services in housing court for low-income New Yorkers.
On homelessness, de Blasio conceded that his administration failed to adequately address street homelessness as it focused on stemming the increase in the shelter population. He insisted that his administration is moving to end the use of commercial hotels to house homeless individuals and families, a practice that has become widespread and very costly.
Malliotakis said the crisis was a "mismanagement issue," critiquing de Blasio for massively increasing spending on homelessness with little to show for it. She emphasized that she would work with the state to partner on building supportive housing and critiqued the administration's use of hotels as temporary shelters. The mayor noted, in response, that the city is already committed to building thousands of new supportive housing units and slowly ending the use of hotel shelters.
Congestion pricing was one proposal that none of the candidates seemed to support, though de Blasio was the only one to directly say so. He yet again called it a "regressive tax," though that claim has largely been debunked, and pushed his proposal to tax the highest-income New Yorkers to fund MTA subways and buses (on this he name-dropped Senator Bernie Sanders, who endorsed the mayor and the "fair fix" proposal earlier this week). De Blasio did seem to leave space to change his stance after the election, saying that he hadn't seen a plan that he could support. Many New Yorkers are awaiting the expected congestion pricing plan that Governor Andrew Cuomo has empaneled a task force to come up with by January.
Malliotakis said unlike de Blasio, she would work with Cuomo, a Democrat, to fund fixes to mass transit, but did not provide a specific plan that she would implement.
In a brief lightning round near the end, the candidates seemed to find more common ground than could be expected. All three said they are opposed to holding a state constitutional convention, an option that will be presented in a ballot question to voters on Election Day. And none of them were willing to agree to daily press briefings as mayor. De Blasio, who has a famously antagonistic relationship with the press, said, "I'm not gonna have a blanket policy," preferring to communicate with New Yorkers at town halls and through radio and television appearances. Malliotakis did not give a straight answer, pointing to the mayor and saying, "I'm gonna have to spend most of my time cleaning up his mess." Dietl promised to post a deputy mayor in each borough that would hear and relay resident concerns.
In closing, de Blasio reiterated his call to voters that he would build on the successes of his first term, noting early childhood education, neighborhood policing, and affordable housing. "I ask for your help to keep this a city for everyone, to keep this a city that's making progressive change, a city that you know belongs to you," he said.
Malliotakis vowed to stand up for everyday New Yorkers. "I'm fighting for you because you need a lobbyist," Malliotakis said, "you need a voice, you need someone who's gonna put your interests in front of the powerful."
Dietl, who closed out the debate, said the city was "at a crossroads" and that the only choice was between him and the mayor. Looking and pointing directly at de Blasio, he said, "As a detective, I know a criminal when I see one. Mr. Mayor, you're a criminal with your corruption and your pay-for-play."
The election is Tuesday. Along with de Blasio, Malliotakis, and Dietl, the mayoral choices include four other candidates: Sal Albanese, Mike Tolkin, Akeem Browder, and Aaron Commey.