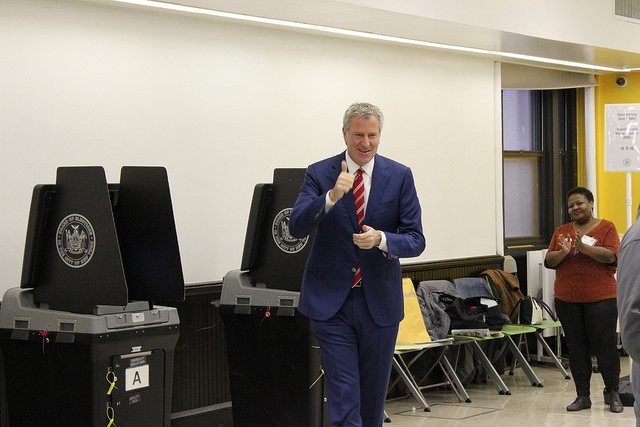 Mayor Bill de Blasio after casting his vote (photo: Samar Khurshid/Gotham Gazette)
---
Mayor Bill de Blasio triumphed over his challengers on Tuesday to become the first Democrat to be reelected mayor of New York City since Ed Koch won a third term in 1985. De Blasio celebrated, promised more progress, and put his win into the context of a larger Democratic wave that took place on Tuesday in other places around the country. De Blasio declared a new goal for a second and final term: making New York City "the fairest big city in America."
With 99.9 percent of precincts reporting, de Blasio had received 726,361 votes, or 66.5 percent, according to unofficial Board of Elections returns. He handily beat his Republican rival Assemblymember Nicole Malliotakis, who received 303,742 votes, or 28 percent. Five other candidates were on the mayoral ballot, with Reform Party candidate Sal Albanese coming in third with 2 percent (22,891 votes).
"This is your city," de Blasio said as he declared victory before 10 p.m., invoking his campaign slogan to hundreds of supporters at the Brooklyn Museum on Tuesday night, as First Lady Chirlane McCray and their son Dante stood by his side.
De Blasio, a progressive who championed policies for low-income and working New Yorkers in his first term, stood emboldened by the result and shot back at the detractors who predicted gloom-and-doom under his administration. "They said things were going in the wrong direction," he said, "Well, they were wrong."
After a largely lackluster mayoral race matched by low turnout, and the power of incumbency on his side, de Blasio easily bested his opponents, who struggled to garner name recognition throughout the campaign and overcome the mayor's significant fundraising advantage. The mayor's campaign employed an expansive ground game and digital strategy, spending more than $8 million by Election Day, eclipsing all his rivals.
De Blasio comfortably carried every borough but Staten Island, Malliotakis' home turf and a Republican bastion in a city where Democratic voters outnumber Republicans six to one.
Touting his "historic" win Tuesday, de Blasio reiterated the measures his administration has taken to make the city more equitable, including implementing universal pre-kindergarten, creating affordable housing, and reducing crime. And, he promised more. "We've got to have a fairer city, we've got to do it soon, we've got to do it fast, we've got to put everything we've got into it," he said. "You saw some important changes in the last four years but you ain't seen nothin yet."
The crowd cheered repeatedly as de Blasio floated his oft-stated ideas to make New York that "fairest big city in America," including a millionaires tax to fund the subways and subsidized MetroCards for low-income New Yorkers; a mansion tax to help create more affordable housing for seniors; and a reformed voting and election system that encourages, instead of burdens, democratic participation. All three would require cooperation from legislators and the governor in Albany, and de Blasio promised he'd apply the pressure in the first month of his second term.
De Blasio also talked about big goals like instituting universal, free preschool for three-year-olds across the city; expanding his affordable housing plan; creating 100,000 good-paying jobs by through city intervention; and outfitting all patrol officers with police body cameras.
Tuesday also marked one year since the election of Donald Trump, and de Blasio did not miss his opportunity to mock the Republican president, a fellow New Yorker, while also promising to hold fast in his opposition to federal policies. "America got a little fairer tonight, America got a little bluer tonight," he said, exhorting the audience to cheer for Democrats who emerged victorious in New Jersey and Virginia as well. "Tonight, New York City sends a message to the White House as well. You can't take on New York values and win, Mr. President."
De Blasio's margin of victory Tuesday seemed to fall short of his vote share in the 2013 general election, when he received 72.1 percent over Republican Joe Lhota's 24 percent. That year de Blasio had not met the challenges of governing a complex and vast city, he had not had to make difficult decisions, solve a homelessness crisis, or figure out how to build new affordable housing.
The relatively sleepy race drew about 1,092,746 voters who cast a ballot for mayor, only about 23 percent of the roughly 4.6 million registered voters in the city, compared to 1,102,400 voters or 24 percent who turned out to vote in the 2013 mayoral race, also a particularly low-turnout election in keeping with a downward trend over decades.
Fellow Democratic elected officials were enthusiastic about the notion of heading into another four years with de Blasio at the city's helm. Public Advocate Letitia James, who resoundingly won reelection on Tuesday, said she looks forward to working with the mayor on addressing the city's affordable housing and homelessness crises in his second term, with bolder and bigger ideas. "That should be our primary focus," she said shortly after casting her vote in Clinton Hill. "For the administration's second term, they should wake up each and every day focusing on how they are going to build more affordable housing for low-, moderate- and middle-income families."
Comptroller Scott Stringer, also reelected Tuesday, simply said he was "excited" about the mayor's second term. Stringer had for some time considered challenging de Blasio this year but chose not to run; he and James are among those expected to run for mayor in 2021 when de Blasio is term-limited.
Earlier in the day, Clinton Hill resident Roslyn Fleming, 63, said she intended to vote for de Blasio and Democrats down the ballot. The mayor, she said, needs another four years to bring his work to fruition. "You know what, he only had four years," she said. "And sometimes when you implement programs, you need another four years to get it through...and I think in the second four years he's gonna do a much better job because he's already kinda laid the groundwork."
Seventeen-year-old Marcel Martinez was too young to vote Tuesday but was thrilled after meeting de Blasio at an afternoon campaign stop near West 72nd Street and Broadway. "I love how he's always kind of involved, he's always around," Martinez said, shortly after the mayor embraced him in a hug, to which he exclaimed, "Oh! You just made my whole day!"