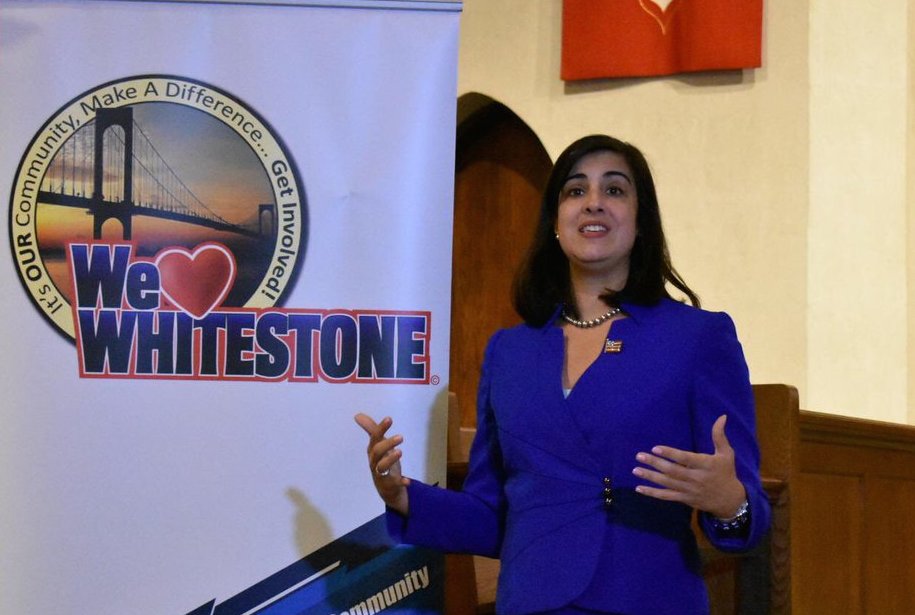 Nicole Malliotakis (photo via @NMalliotakis)
---
Assemblymember Nicole Malliotakis, the Republican nominee for mayor, lost her long-shot bid on Tuesday to the incumbent, Mayor Bill de Blasio, a Democrat.
The election's outcome never seemed to be in doubt, with de Blasio holding significant leads in all the polls, a fundraising advantage, labor support, and the city's overwhelmingly party registration margin. Beyond being in a city where registered Democrats outnumber registered Republicans 6-to-1, Malliotakis also had to contend with her vote for President Trump and her conservative stances on issues such as policing and immigration in a largely liberal city.
De Blasio won about 66% of the vote to Malliotakis' 28%; a handful of other candidates received the remaining 6%.
At the William Vale Hotel in Williamsburg, where Malliotakis held her election night party, the atmosphere was relaxed and the crowd fairly thin. The campaign, and its supporters, knew the moment was coming, it was only a matter of margin.
As returns started to pour in, Malliotakis supporters booed whenever de Blasio's image popped up on the television screen, but otherwise, there was little negativity from the losing campaign, perhaps a sign of Republicans' understanding that their chances in New York City mayoral elections are slim, especially when crime is low and jobs are up.
The room let out a resounding 'boo' as soon as de Blasio was declared the victor by NY1. Malliotakis, who had been at her last campaign stop in Brighton Beach just before the election party, arrived at around 9:45 p.m., surrounded by campaign aides, friends, and family, to give a concession speech.
"We were loud and clear in showing that the status quo must end and that there are many people, thousands of people across this city that deserve to be heard," Malliotakis said.
Malliotakis hit on what had become the central themes of her campaign: the supposedly deteriorating quality of life in the city coupled with increasing unaffordability of both rent and property taxes, and the decline of ethics in City Hall.
Malliotakis also discussed her humble origins as the daughter of immigrants, a theme she repeatedly focused on in her campaign while she largely ignored the potentially historic nature of her candidacy: the chance to become the first female and first Latina mayor of New York.
"Today, I had the opportunity to go out and vote with my parents, who came here not knowing the language, not having any family, not having any friends," she said. "And yet, in one generation, their daughter was running to be Mayor of the City of New York."
"I've traveled the whole world in just these five boroughs," she said. "And it has been the honor of a lifetime."
Malliotakis did not specifically name or congratulate de Blasio, something she told reporters afterward was not intentional, she said she had just been caught up in the moment. The 36-year-old showed herself to be an energetic and intense campaigner who may have a bright future within the New York Republican Party.
The Assembly member, who will be up for reelection next year, earned around 300,000 votes citywide. She won her home borough of Staten Island with 71% of the vote, but did not break 35% in any other borough. Preliminary numbers show that in Queens she received 34% of the vote, in Brooklyn 21.5%, in Manhattan 20%, and in the Bronx just 16.5%.