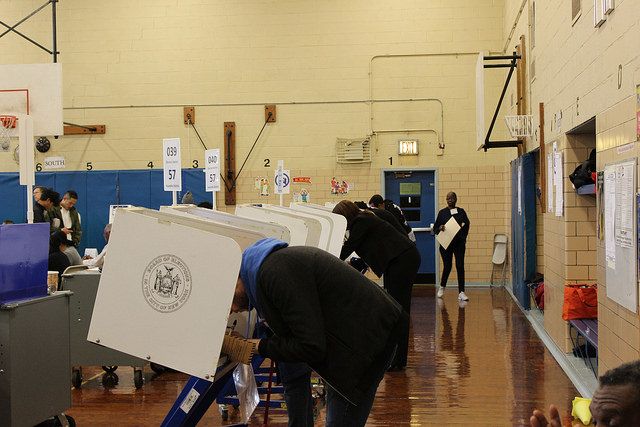 (photo: Samar Khurshid/Gotham Gazette)
---
Mayor Bill de Blasio won reelection on Tuesday, earning about two-thirds of the vote in another low-turnout election -- about 1,070,000 voters cast ballots in the mayoral race. De Blasio's fellow incumbent citywide Democrats, Comptroller Scott Stringer and Public Advocate Letitia James, also won reelection, each with about three-quarters of the vote.
Among the most notable other votes cast in New York this Election Day, the constitutional convention ballot question -- proposal one on the back of the ballot -- was resoundly defeated, with more than 83% voting "no" statewide. Proposition two, which would allow the stripping of pensions from elected officials convicted of corruption, passed, and proposition three, allowing some opening up of preserved upstate land for important infrastructure projects, also passed. All three were statewide referendums, as voters went to the polls across New York, including in some interesting mayoral and county executive contests.
In New York City, though, de Blasio defeated six other candidates on the ballot, receiving about 66% of the vote, with Republican Nicole Malliotakis coming in second, earning about 28% of the vote. The other candidates -- Sal Albanese (Reform), Akeem Browder (Green), Mike Tolkin (Smart Cities), Bo Dietl (Dump the Mayor), and Aaron Commey (Libertarian) -- all finished at 2% or lower. Dietl, who raised and spent over $1 million and was included in both televised debates, got just 1% of the vote.
Stringer's Republican opponent, Michel Faulkner, came in second in the comptroller race with nearly 20% of the vote. Green Party nominee Julia Willebrand and Libertarian Alex Merced came in distant third and fourth, respectively.
James' Republican opponent, J.C. Polanco, came in second in the public advocate race with about 16% of the vote. Michael O'Reilly, the Conservative Party nominee, got about 8%; Green Party nominee James Lane about 2%; and Libertarian Devin Balkind under 1%.
Democrats Eric Gonzalez and Cyrus Vance won their Brooklyn and Manhattan District Attorney races overwhelmingly.
All five borough presidents were easily reelected with at least 75% of the vote: Gale Brewer in Manhattan; Ruben Diaz, Jr. in the Bronx; Eric Adams in Brooklyn; Melinda Katz in Queens -- all Democrats -- and James Oddo, a Republican, on Staten Island.
Assemblymember Brian Kavanagh won a special election to the state Senate, taking the Brooklyn and Manhattan seat vacated by Daniel Squadron earlier this year.
The following City Council results came in on Election Day -- it is worth noting that Council District 30, in Queens, appears headed to a recount after, in a bit of a surprise, incumbent Democrat City Council Member Elizabeth Crowley appers on the verge of losing to Robert Holden, who had lost the Democratic primary to Crowley but ran in the general on several ballot lines, including Republican.
Council District 1: Margaret Chin, a Democrat, will win with about 50% of the vote, with Christopher Marte coming in second with about 37%. This, after Marte lost the Democratic primary to Chin by just over 200 votes.
CD2: Carlina Rivera, Democrat, elected
CD3: Corey Johnson, Democrat, reelected
CD4: Keith Powers, Democrat, elected with 57% of the vote; Republican Rebecca Harary received about 31%; Liberal Party nominee Rachel Honig got 12%.
CD5: Ben Kallos, Democrat, reelected
CD6: Helen Rosenthal, Democrat, reelected
CD7: Mark Levine, Democrat, reelected
CD8: Diana Ayala, Democrat, elected
CD9: Bill Perkins, Democrat, reelected
CD10: Ydanis Rodriguez, Democrat, reelected
CD11: Andrew Cohen, Democrat, reelected
CD12: Andy King, Democrat, reelected
CD13: Mark Gjonaj, Democrat, elected with 49% of the vote; Republican John Cerini received 36%; and Working Families Party nominee Marjorie Velazquez, who did not campaign in the general, received 13%
CD14: Fernando Cabrera, Democrat, reelected
CD15: Ritchie Torres, Democrat, reelected
CD16: Vanessa Gibson, Democrat, reelected
CD17: Rafael Salamanca, Democrat, reelected
CD18: Ruben Diaz, Sr., Democrat, elected
CD19: Paul Vallone, Democrat, reelected with 56% of the vote; Republican Konstantinos Poulidis received 25%; and Reform Party nominee Paul Graziano received 18%
CD20: Peter Koo, Democrat, reelected
CD21: Francisco Moya, Democrat, elected
CD22: Costa Constantinides, Democrat, reelected
CD23: Barry Grodenchik, Democrat, reelected
CD24: Rory Lancman, Democrat, reelected
CD25: Danny Dromm, Democrat, reelected
CD26: Jimmy Van Bramer, Democrat, reelected
CD27: I. Daneek Miller, Democrat, reelected
CD28: Adrienne Adams, Democrat, elected
CD29: Karen Koslowitz, Democrat, reelected
CD30: TBD, either incumbent Elizabeth Crowley (Democrat) or challenger Robert Holden (Republican)
CD31: Donovan Richards, Democrat, reelected
CD32: Eric Ulrich, Republican, reelected with 66% of the vote; Democrat Mike Scala received about 34%
CD33: Stephen Levin, Democrat, reelected
CD34: Antonio Reynoso, Democrat, reelected
CD35: Laurie Cumbo, Democrat, reelected with 68% of the vote; Green Party nominee Jabari Brisport received about 29%
CD36: Robert Cornegy, Jr., Democrat, reelected, reelected
CD37: Rafael Espinal, Democrat, reelected
CD38: Carlos Menchaca, Democrat, reelected
CD39: Brad Lander, Democrat, reelected
CD40: Mathieu Eugene, Democrat, reelected with 60% of the vote; Reform Party nominee Brian Cunningham received about 36%
CD41: Alicka Ampry-Samuel, Democrat, elected
CD42: Inez Barron, Democrat, reelected
CD43: Justin Brannan, Democrat, elected with about 51% of the vote; Republican John Quaglione received about 47%
CD44: Kalman Yeger, Democrat, elected, with 67% of the vote; Yoni Hikind, running on the Our Community line, received about 29%
CD45: Jumaane Williams, Democrat, reelected
CD46: Alan Maisel, Democrat, reelected
CD47: Mark Treyger, Democrat, reelected
CD48: Chaim Deutsch, Democrat, reelected
CD49: Debroah Rose, Democrat, reelected
CD50: Steve Matteo, Republican, reelected
CD51: Joseph Borelli, Republican, reelected