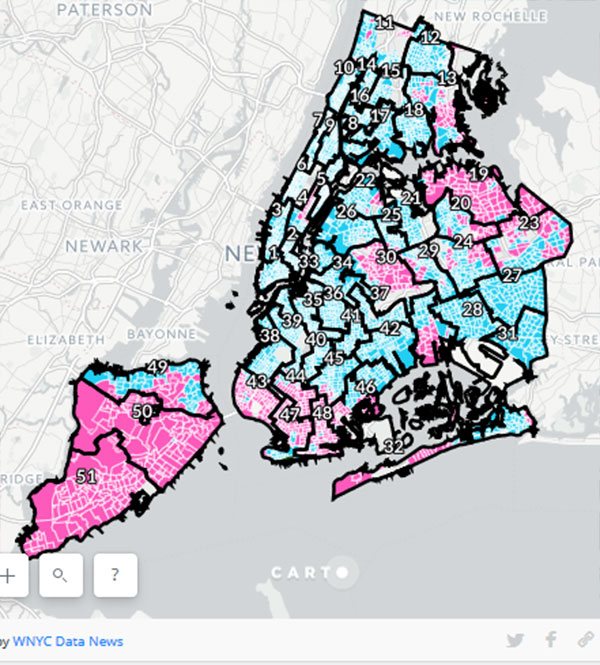 image: WNYC Data News team map of the 2017 mayoral race
---
Mayor Bill de Blasio was reelected for a second term on Tuesday with two-thirds of the vote in a low turnout election that saw only about 22 percent of registered New Yorkers cast a ballot for mayor.
There were few surprises across the five boroughs, and voter behavior was largely consistent with the 2013 mayoral election, in which de Blasio beat Republican Joe Lhota, 73 percent to 24 percent. But in certain enclaves of the city, de Blasio's main challenger, Republican Assemblymember Nicole Malliotakis, built on Lhota's vote share and cut into the mayor's margin of victory. The neighborhood by neighborhood break down of the vote not only tracks similarly to 2013, it also shows racial and ethnic divisions that have been consistent throughout de Blasio's term. Meanwhile, Malliotakis' performance was buoyed by her home borough of Staten Island.
De Blasio received 66.16 percent of the vote, with Malliotakis pulling 27.67 percent, according to unofficial election night returns from the Board of Elections (absentee and affidavit ballots are still being counted). In absolute numbers, more New Yorkers voted on Tuesday -- 1.09 million -- than in 2013, when 1.08 million people cast ballots, which was 26 percent of registered voters at the time.
A glance at the CUNY mapping service electoral maps from 2013 and 2017 show that de Blasio did not manage to either keep or expand on his vote share in several parts of the city. Some neighborhoods in Staten Island that voted for him in 2013 went deep red on Tuesday to back his Republican challenger. Similarly, parts of southern Brooklyn flipped to Republican, as did a section of northeastern Queens. Locales that were already Republican went further that way to varying degrees.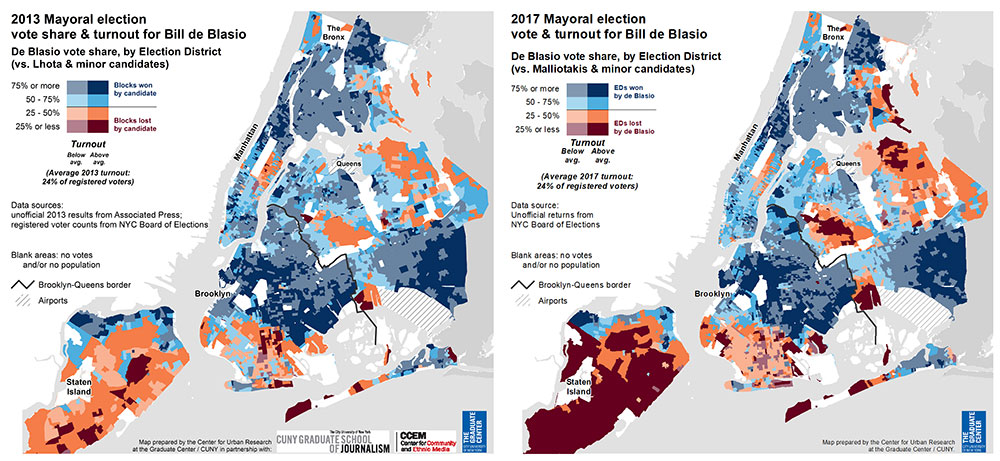 "I think Malliotakis definitely did better in terms of vote share in most places" compared to Lhota, said Steve Romalewski, director of CUNY Graduate Center's mapping service. "The turnout is also higher than average in those areas, compared to the citywide average."
As expected, Malliotakis' strongest performance was on Staten Island, her home borough that she represents in the Assembly along with a sliver of Brooklyn. She won both the 50th and 51st Council districts, which cover the central and southern parts of the island. In the 49th Council district, represented by Debi Rose, a Democrat, de Blasio pulled votes along the northern shore. In total, Malliotakis received more than 67,000 votes on the island, while de Blasio got just over 24,000.
In southern Brooklyn, Malliotakis won more neighborhoods across four Council districts than Lhota did in 2013. "She did better there but voter turnout wasn't that high," Romalewski pointed out. Bay Ridge, Dyker Heights, Bensonhurst, Gravesend, Sheepshead Bay and Midwood all went for Malliotakis. Notably, although Malliotakis carried most of the areas covering City Council District 43, the competitive open seat in that district went to a Democrat, Justin Brannan. Brannan, a progressive who had worked under de Blasio at the Department of Education, distanced himself from the mayor publicly, though aides to de Blasio helped Brannan on the ground.
Other smaller pockets that skewed Republican were Bergen Beach, Mill Basin and some neighborhoods adjacent to Marine Park.
Malliotakis also received significant support in Council District 32 in Queens, represented by Eric Ulrich, a moderate who is one of the three Republicans currently in the City Council. Breezy Point, Rockaway Park, Howard Beach, and Lindenwood chose Malliotakis, while the northern part of the district, including Ozone Park, Woodhaven and Richmond Hill, voted for de Blasio. Ulrich won reelection convincingly against a Democratic opponent.
District 30 in Queens saw the closest City Council race and is yet to be called in one candidate's favor. Incumbent Democrat Elizabeth Crowley may be headed to a loss against challenger Robert Holden, a registered Democrat who lost the primary to Crowley but ran on multiple ballot lines, including Republican and Conservative, in the general. Holden has a 133 vote lead and Crowley has yet to concede the race as other ballots are counted and a potential recount looms. A similar dynamic played out on the mayoral level, with Malliotakis winning most of the district, which covers Glendale, Maspeth, Ridgewood, Woodhaven and Woodside.
Wide swathes of northeastern Queens, including College Point, Whitestone, Bayside and Little Neck, voted for Malliotakis. The neighborhoods fall within Council Member Paul Vallone's constituency, District 19. Yet Vallone, a moderate Democrat, was comfortably reelected.
Malliotakis also made inroads in Schuylerville, south of Pelham Bay Park in the East Bronx, in outgoing Council Member James Vacca's 13th Council District.
Manhattan voted almost entirely for de Blasio, save for swaths of the 4th Council District on the East Side, where Malliotakis won stretches along Museum Mile, and miniscule pockets in the 5th Council District. District 4 was one of the few Council seats with an open race, and one of only a handful with a Republican candidate running an assertive campaign, in which Democrat Keith Powers defeated Republican Rebecca Harary. [See map below from the WNYC radio Data News team]
"I think de Blasio did more than well enough in pretty much all the areas where people supported him in 2013," Romalewski noted. The areas Malliotakis won are those with high percentages of white residents, though de Blasio did well in parts of Brooklyn and Manhattan home to many white, liberal voters. Throughout the 2013 race and the mayor's first term he has polled significantly higher among people of color than white people.
De Blasio did best on Tuesday in neighborhoods such as his home area of Park Slope, as well as in areas of central Brooklyn (Crown Heights, Clinton Hill, East Flatbush, and beyond), southeast Queens, the south and north Bronx, and upper Manhattan. These are the areas where his win was by the largest margins.
"The one thing I was surprised about was turnout," Romalewski said, about the increase in the number of voters, if not the rate of voting. "That's encouraging. It's too early to say if it's a trend but compared to going the other way, it's good." On Wednesday, de Blasio declared a "mandate" from the voters and said that a slight increase in overall turnout was indicative of a backlash against President Donald Trump.
"I don't think you should get too hung up on percentage turnout," Romalewski said, noting that the increase in the number of registered voters is affected by the Board of Election's efforts to maintain the voter rolls and it's hard to decipher truly how many new voters have been added. "I have more faith in looking at total voters as a measure of civic participation."