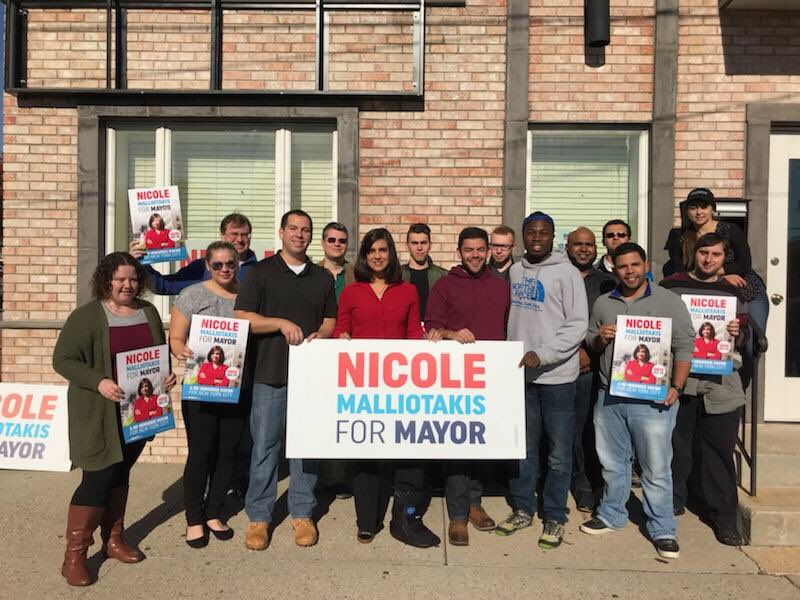 Nicole Malliotakis and company (photo: @NMalliotakis)
---
"I targeted 750,000 votes," said Leticia Remauro, campaign manager for Assemblymember Nicole Malliotakis' mayoral bid, "and broke them up into about 26 Assembly Districts we needed to target."
"To win as a Republican in New York City, you have to win Queens, Staten Island, and the Upper East Side," Remauro told Gotham Gazette in an election post-mortem interview, with the intensity of the campaign still evident.
While some absentee and other ballots are still being counted, Malliotakis, the Republican challenger to incumbent Democrat Bill de Blasio, received just under 304,000 votes, to de Blasio's 726,000 and change. (Malliotakis also appeared on the Conservative and "Dump de Blasio" ballot lines, while the mayor also appeared on the Working Families Party line.)
The campaign did win convincingly in Malliotakis' home borough of Staten Island, she got 74 percent of the vote there, and did very well on the Upper East Side, while Queens was more of a mixed bag, as de Blasio won 64 percent of the vote in the borough.
In the interview, Remauro explained the long odds the Malliotakis campaign faced from the get-go, and what needed to happen for her to pull off the upset that did not transpire. She admitted no mistakes in how the campaign was run -- "I don't think that we could have run a better campaign." -- but did express a few regrets, and she pointed the finger at several causes of the loss.
"The reason de Blasio has been reelected has a lot do with Eric Ulrich," Remauro said, referring to the Republican City Council member from Queens who endorsed Bo Dietl, an independent mayoral candidate who tried to run in the Democratic, then Republican primaries, but was unsuccessful in both efforts and ran on his own ballot line. Dietl raised and spent over $1 million in the race, participated in the two televised debates alongside de Blasio and Malliotakis, was the subject of a good amount of media coverage, and ultimately received 1 percent of the vote (about 10,600 votes).
Other factors Remauro pointed to included Dietl's inclusion in the televised debates ("Bo Dietl turned those debates into an entertainment circus. I believe voters were cheated"); the rain that came down around rush hour on Election Day and she believes led some people to stay home ("Had that rain decided not to let go as people were just coming home from work you would've seen a higher number"); how the news media covered Malliotakis' candidacy and the race in general; and the presence of President Donald Trump atop the Republican Party. "He caused a lot of hurt to a lot of candidates and there's nothing anyone could have done about that," Remauro said of Trump.
When asked about mistakes or things she wishes the campaign had done differently, Remauro said, "I would have liked to have had more money sooner. If I could turn back time it would have been good to get into the race in February, not in May or June, when we really got into it." With more money sooner and thus public matching funds earlier, "get on the air sooner, done more mail than we did, spend earlier."
"A young Assemblywoman from Staten Island running in a 7-to-1 Democrat city" against an incumbent, Remauro explained of the tough odds. "We had Paul Massey who had taken millions out of New York City, real estate money...and we suffered for that," she added, referring to the real estate executive who had been the Republican mayoral frontrunner until Malliotakis got in the race and who dropped out after their first side-by-side debate a few weeks later.
"She had every disadvantage that you could imagine, and she still managed to capture a higher vote total and a higher vote percentage than Joe Lhota," Remauro said, referring to the 2013 Republican mayoral nominee. She also explained that Lhota was more well-known and connected than Malliotakis at the times of their mayoral campaigns, explaining, for example, that he had been a deputy mayor and MTA chair, and that he was well-connected in Manhattan and had been endorsed by former Mayor Rudy Giuliani.
Remauro, who runs The Von Agency, a public relations firm, noted that she has known Malliotakis since the Assembly member was in college, and always thought highly of her.
As for Council Member Ulrich, who at one point flirted with his own mayoral bid, and "fractured" GOP support in Queens, Remauro gave Ulrich credit given that he won his reelection handily, but expressed frustration and confusion about why he continued to back Dietl. Ulrich maintained throughout the campaign that of any candidate in the race, Dietl had the best chance to defeat de Blasio in the general election. "If he had embraced her he could have been working with a Republican mayor," Remauro said of Ulrich and Malliotakis.
Remauro said that support for Massey, then Dietl from some leaders in Queens held Malliotakis' campaign back (Ulrich supported Dietl throughout the campaign). While Remauro said that many district leaders and other GOP officials in Queens were helpful, "we always had to overcome the Dietl factor."
"She was out there repeatedly, but it's difficult to be able to get in deep in a borough unless you have the support from the district leaders in that borough and the people who are organizing in the borough, and that never manifested itself," Remauro said. Not getting Ulrich and a few others on board "was a killer," she added.
She drew a comparison to the Bronx, the most Democratic borough, where the Republican county party had also endorsed Massey in the early going, but then quickly embraced Malliotakis when her path to the Republican nomination became clear. "We took 16 percent in the Bronx versus Lhota's 7 percent," Remauro said. In 2013, Lhota received about 23 percent of the overall vote to de Blasio's 73 percent. Malliotakis received about 28 percent to de Blasio's 66.5 percent.
"It was difficult for us to get into Queens the way we got into the Bronx," Remauro said. She also criticized Dietl's inclusion in the two debates, which was at the discretion of the lead sponsors, first NY1, then CBS.
"It was always my opinion that Bo Dietl and [Reform Party nominee] Sal Albanese would take votes away from Nicole and indeed we saw that on Staten Island and elsewhere," Remauro said.
"Press conference after press conference she put out substantive issues," Remauro said, when asked to elaborate more on comments she made about the media's treatment of Malliotakis' candidacy. She listed mental illness, homelessness, education, school safety, property taxes, illegal conversions. "She held at least two press conferences a week where she presented plans, and reporters had other things on their mind, and would ask questions and ask questions until they landed on an answer they enjoyed, and everyone would write about that."
"Up until that first debate, for whatever reason, she would get at every single press conference a question about the president. Her issues got buried," Remauro said.
"Shame on some of the reporters, because they could have done their homework. She was out there...Too often reporters are becoming commentators and not just being reporters. And that's what I'd say to those who say we didn't have new ideas," Remauro said.
"Nobody in the fourth estate wanted to talk about rape being up," she said, touching on one of Malliotakis' main lines of attack against de Blasio (rape reports are up slightly under de Blasio, which the mayor and NYPD officials have said is likely due to more awareness, encouragement, and willingness to report, something Remauro acknowledged as plausible).
Remauro went on to say that she feels good about the fact that the Malliotakis campaign clearly got de Blasio's attention and pushed him on issues like sex crimes against women, homelessness, and property taxes that he will have to continue to work to address, possibly collaborating with Malliotakis in some way, she said, referring to a phone call the two had on Wednesday. She praised de Blasio as being "a good guy, a nice guy -- he wants to help the city."
Other than a potential Assembly reelection bid in 2018, Remauro did not have anything specific to say in terms of what Malliotakis might do next, but said "the world is her oyster." Malliotakis is "so intelligent, and she has great communication skills -- she can do whatever she wants," Remauro added.
"If anyone can become the Republican mayor in my lifetime, it would be her," she said of Malliotakis. "She has a lot of opportunity ahead of her. Her phone has been ringing."
As for this mayoral bid that just ended, Remauro ultimately noted that Malliotakis "took votes from the mayor...she damaged him."
"What could we have done differently?" she said, "Nothing. We did exactly what we could do."
Note: this article has been corrected to reflect that Joe Lhota does not live in Manhattan, but is well-connected in the borough. Lhota lives in downtown Brooklyn.