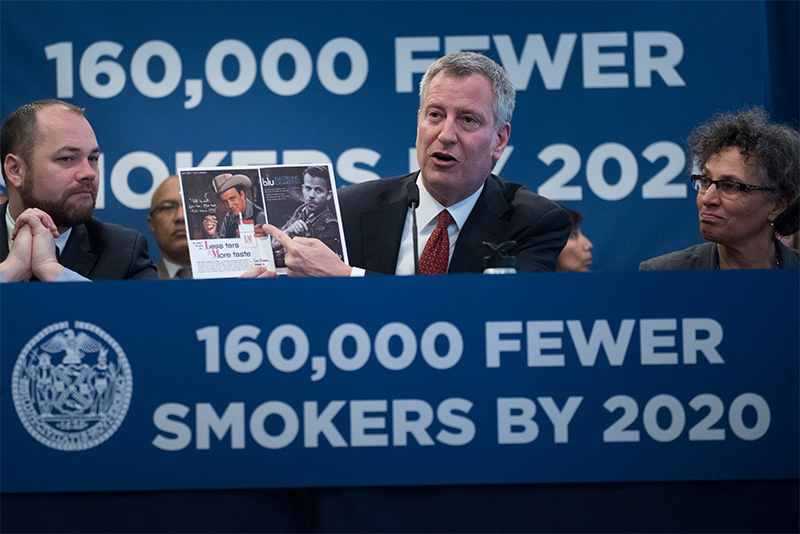 (photo via the Mayor's Office)
---
Following the announcement of a nationwide smoking ban in public housing residences last year, the New York City Housing Authority (NYCHA) has been preparing to implement the controversial federal policy across its more than 320 developments that house approximately half-a-million residents.
"Smoke-Free NYCHA" involves updating resident leases with language that prohibits smoking, running an awareness campaign to inform residents about the new ban as well as the harms of secondhand smoke, and crafting an enforcement plan for repeat offenders. According to the city's health department, NYCHA residents "smoke at higher rates than other New Yorkers, and suffer from higher rates of chronic disease including heart disease, diabetes, and asthma."
Required by the federal government to have a smoke-free policy in place by July 2018, NYCHA has encountered skepticism and criticism from its residents. Moreover, while anti-smoking advocates applaud the new federal policy and NYCHA's efforts to implement it, they worry that Mayor Bill de Blasio's administration will fail to provide the necessary financial resources to support meaningful tobacco cessation efforts across NYCHA campuses.
De Blasio has expressed support for the ban and has backed other anti-smoking measures, including a recent legislative package he signed into law, aimed at reducing smoking in New York City writ large. The mayor has also invested heavily in NYCHA overall, though City Hall has not yet made competely clear what it will do to support implementation of the NYCHA smoking ban, while the Department of Health and Mental Hygiene is working with NYCHA stakeholders to prepare for implementation of the smoking ban.
In late November of 2016, shortly before the end of President Barack Obama's second term, the Department of Housing and Urban Development (HUD) declared that all public housing authorities were required to prohibit smoking within their campuses. "Every child deserves to grow up in a safe, healthy home free from harmful second-hand cigarette smoke," said then HUD Secretary Julian Castro in a press release. "HUD's smoke-free rule is a reflection of our commitment to using housing as a platform to create healthy communities."
Upon learning of the new policy, NYCHA, the largest public housing authority in the United States, began to ready its residents and staff. Given that City Council Member Donovan Richards had previously proposed banning smoking in city-funded housing, and earlier experience regulating smoking in its developments, the agency was not unprepared. "We certainly ramped up our planning and collaboration as soon as we heard the rule was being made final, but we already had a foundation of work before that time," said Andrea Mata, Director of Health Initiatives at NYCHA, in an interview with Gotham Gazette.
She explained that, in 2012, NYCHA began working with the New York City Department of Health (DOH) on a pilot project at 830 Amsterdam, a single building development on the Upper West Side, to create a "resident-led and initiated strategy" to reduce secondhand smoke exposure. After three years, the project culminated with representatives of 85 percent of all units voluntarily signing a pledge to not smoke within the building.
Upon announcement of the federal ban, NYCHA sought to build on the 830 Amsterdam pilot as well as pull from earlier examples of public housing authorities implementing smoking bans within their developments, including those of Philadelphia and Albany.
NYCHA began by reaching out to residents and experts to develop a comprehensive policy. Representatives engaged the Resident Advisory Board, a collection of public housing leaders, conducted community meetings across the city, and are now beginning to brief all local Resident Associations in the five boroughs. They also consulted organizations like the New York University School of Medicine as well as the American Cancer Society for feedback.
In addition to ongoing community engagement, the housing authority is also preparing to update resident leases with language that stipulates adherence to the smoking ban. According to NYCHA's plan for 2018 released mid-October, the agency will begin informing residents of changes to their lease in early 2018, who will then have the opportunity to comment on the new clause. After revisions, they will mail residents an updated lease.
Finally, NYCHA is in the midst of developing an enforcement process to ensure residents comply. "At this point we don't have a final policy that we can share, but we'd imagine that it would have a few points of escalation," explained Sideya Sherman, Executive Vice President for Community Engagement and Partnerships at NYCHA, in an interview with Gotham Gazette.
A policy of "graduated enforcement," it will begin with warnings, then interventions, continuing to escalate until NYCHA staff announces a "commencement of termination of tenancy proceedings," said NYCHA spokesperson Jasmine Blake to Gotham Gazette of the outline of the enforcement plan.
The possibility of eviction for offenders has been a point of contention, as has an alleged lack of information about the smoke-free rule being provided by NYCHA to residents. "I think it's a horrible policy," said Charlene Nimmons, resident of Wyckoff Gardens and president of the Wyckoff Gardens Resident Association from 2003 to 2015, in a phone call. "There's this privileged rule and law being forced down upon public housing residents."
A resident of Fort Greene's Ingersoll Houses also expressed frustration in comments to DNAinfo earlier this year. "How can they kick you out for something that's just like a disease, basically?" said Curtis Flemister. "It's not like you can say, 'I'm just not going to do it if I'm going to get kicked out.'"
"I have not received and have not had any information about it," said Geraldine Lamb, president of the Bronx's Castle Hill Resident Association, in an interview with Gotham Gazette.
When the public housing smoking ban was first proposed, in 2015, de Blasio said that "the goal is a good one," but that there would be "a lot to work through" in terms of implementation. NYCHA Chair and CEO Shola Olatoye has also expressed concern about enforcement, wanting it to be "resident-led" as opposed to involving the NYPD.
On Monday, City Hall spokesperson Melissa Grace said in a statement, "This administration is dedicated to creating healthy living environments for all New Yorkers, and NYCHA and the City Department of Health are working closely with our public housing residents, advocates and the federal government as this ban takes effect."

According to the Department of Health (DOHMH), there is a position within its Center for Health Equity that is dedicated to supporting NYCHA's Health Initiatives Unit. Since the start of this year, NYCHA and DOHMH have spoken with more than 1,200 NYCHA residents at community meetings and other activities, and will continue to engage residents to craft the smoke-free NYCHA policy. The process is being led by an advisory group of NYCHA residents, academics, healthcare practitioners, and representatives of community organizations. The group is drafting a set of priorities to help guide implementation of the ban, according to DOHMH, including principles related to education, cessation support, communication, and enforcement.

In December, DOHMH will be launching new efforts to help NYCHA residents connect to smoking cessation resources and to "help them address the longstanding injustices brought by tobacco companies who target low-income communities and communities of color." According to DOHMH, "NYCHA residents have made their priorities clear: they want to live in smoke-free environments, but the implementation of Smoke-free Public Housing must be resident-led, include resources and support from NYCHA and DOHMH, and focused on celebrating success."

City Council Member Ritchie Torres, who chairs the Council's Committee on Public Housing and grew up in NYCHA, expressed reservations in a Monday interview with Gotham Gazette. "I agree with the sentiment," Torres said of the smoking ban. "I agree with investing in more programs to curb smoking. But, I disagree with a coercive approach."
Torres said that while he may not chair the committee next year when a new class of the City Council is seated and new positions assigned (Torres is running to be the speaker of the Council), "We should have a hearing ahead of implementation."
Despite criticism from residents and skepticism from high-ranking city officials, anti-smoking advocates are impressed with NYCHA's efforts so far. "They are doing a lot," affirmed Michael Davoli, Director of New York Metro Government Relations at the American Cancer Society Cancer Action Network. "They have a concrete plan."
However, Davoli questioned the mayor's and governor's financial commitment to financing the distribution of effective tobacco cessation services to NYCHA residents, like written materials and nicotine replacement therapy (NRTs). "The question is, is the money going to be put into it to really provide NYCHA the resources to provide smoking cessation," said Davoli. "This is an opportunity for the mayor and the governor to really help these people quit once and for all."
When pressed for more information on how much funding the mayor will provide the authority, NYCHA did not provide specifics. "We are working with the Office of the Mayor throughout this process to further support his tobacco and smoking control policies," said Blake.
Although the amount of money City Hall is willing to commit is unclear, the city's current efforts against smoking support NYCHA's. In April of this year, the Health Department launched a media campaign to educate New Yorkers "on the dangers of secondhand smoke at home and encouraging them to make their home smoke-free." The press release announcing the effort says it "is aligned with the recent smoke-free rule passed by the U.S. Department of Housing and Urban Development" that will require NYCHA to go smoke-free.
"We certainly don't have lots of financial resources and so we're leveraging our partners to make sure we're that connecting residents to appropriate services," explained NYCHA's Sherman, possibly in reference to NYCHA's budget woes. "But we certainly are putting our best foot forward to taking a multi-faceted approach to implementing this policy."