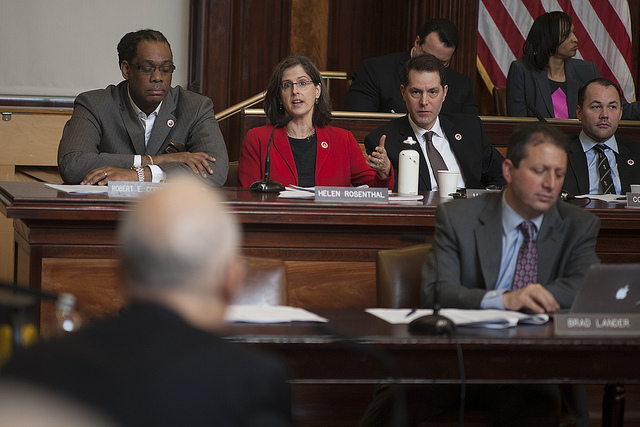 Helen Rosenthal among Speaker hopefuls Cornegy, Levine, Johnson (photo: William Alatriste)
---
The Women's Caucus of the City Council recently interviewed the eight candidates -- all men -- seeking to become the next Speaker of the Council, arguably the second most powerful position in city government. While the Women's Caucus will not be endorsing a speaker candidate ahead of the January vote, according to caucus co-chair Helen Rosenthal, it did secure important commitments from each candidate and the process, which also included a questionnaire, was informative in helping the female members of the next Council class decide who to support.
When inaugurated in January, next Council of 51 members will include only 11 women, a gender imbalance that has been the focus of a good deal of recent attention, in the media and from the Women's Caucus itself, which issued a report detailing the declining number of women in the Council, causes of the trend, and ideas for what to do to reverse it.
According to Council Member Rosenthal, all eight speaker candidates committed to funding through the speaker's office a staff person for the Women's Caucus, something that is currently only afforded to the Black, Latino and Asian Caucus (BLAC). Rosenthal called it "an incredibly important achievement" since it will allow the caucus to be more active in terms of releasing press statements and substantive reports, and more.
The speaker candidates -- Council Members Robert Cornegy, Corey Johnson, Mark Levine, Donovan Richards, Ydanis Rodriguez, Ritchie Torres, Jimmy Van Bramer, and Jumaane Williams -- also committed to ensuring that about half of their leadership team would be women if they are elected speaker, Rosenthal said. In this context "leadership" was defined as the majority leader and deputy leaders that the next speaker names, but Rosenthal said the Women's Caucus also pushed the candidates on committing to strong female representation as chairs of Council committees.
"The speaker candidate interviews went really well," Rosenthal said in an interview. "All of the candidates were extremely engaged in the process."
Rosenthal, a Manhattan Democrat who co-chairs the caucus with Brooklyn Democratic Council Member Laurie Cumbo, who is currently on maternity leave, explained that soon after Election Day, current and incoming members of the Women's Caucus held interviews with each of the eight speaker candidates over the course of two days, with each interview lasting about 15 minutes. The interviews came after the candidates were asked to fill out a questionnaire (see below). Some of the in-person questions were follow-ups from questionnaire answers, while others were asked to all of the candidates.
"We asked questions like 'What's a women's issue?'" Rosenthal said. "It was telling. There were a few people who went right to domestic violence and child care, but the vast majority said 'All issues are women's issues,' and that was revealing."
Rosenthal said that caucus members agreed not to talk in specifics about individual speaker candidates and how they answered questions. (She is backing Levine, who represents a neighboring district, but in the interview she did not discuss that support relative to the Women's Caucus process.)
"What has become clear in this whole exercise is that having a female speaker has somewhat masked over the importance in this loss of women in the Council," Rosenthal said, referring to the fact that the Council has had a female speaker for the past 12 years, with Melissa Mark-Viverito for four and Christine Quinn for the eight before that. Mark-Viverito is term-limited out of office at the end of this year. The number of women in the Council has decreased from 18 elected in 2009 to 11 after this year's elections.
"If you look at what Melissa's done with the staff in the Council -- roughly half of the staff are women," Rosenthal said. "And we wanted to know what [the speaker candidates] would do in terms of leadership positions, committee chair positions, and also staff in the Council."
"We really wanted a clear answer. 'You say you want women on your team, but what are your staffing levels in your own office?' Again, there were actual differences," Rosenthal added, noting that one speaker candidate was caught in an uncomfortable situation due to a lack of women on his current staff.
Returning female members of the Council include Rosenthal and Cumbo, as well as Margaret Chin, Vanessa Gibson, Deborah Rose, Inez Barron, and Karen Koslowitz.
"The new women coming in were in the room," Rosenthal said of incoming Council members who were just elected. She said some of those women -- Council Members-Elect Carlina Rivera, Diana Ayala, Alick Ampry-Samuel, and Adrienne Adams -- were present over the two days of interviews. "The whole dynamic was great," Rosenthal said.
Rosenthal said there were frank discussions about why it is important to have women in the room and asking candidates things like, "What's your vision for amplifying women's voices?"
Heading into the race to be the next speaker, a woman was thought to be the frontrunner, but Council Member Julissa Ferreras-Copeland announced earlier this year that she would not seek reelection and would be moving to Maryland for family reasons.
Asked why there were no other women who sought the speakership, Rosenthal said she couldn't speak for others. "I know why I didn't," she said. "Certainly Julissa did. You would have to ask each woman, and my guess is, it's personal. If there were more women in the Council, you'd see a different outcome."
As for her own decision, Rosenthal said, "It's because to do the job well, I don't think I could manage having a family life and being speaker. That's personal to me. I'm at a stage in my life where any down-time I have, which is very little, I need to be with my family. The thought of having no down-time weighs on me personally. It doesn't mean I'm not ambitious, I certainly am. It doesn't mean I play the traditional woman's role in my family -- my husband and I are equal partners, and he's stepped up during this experience."
Ferreras-Copeland is currently chair of the finance committee, one of the Council's two most powerful committees along with land use. Rosenthal is currently chair of the contracts committee, while Cumbo chairs the women's issues committee, Gibson chairs public safety, Chin chairs aging, Barron chairs the higher education committee, and Koslowitz chairs the state and federal legislative committee. Choices for committee chair positions, especially finance and land use, are often part of the process of selecting the speaker, which is greatly influenced by the Democratic county machines, especially those in Queens and the Bronx.
Asked if she hoped one of the big two committees would be chaired by a woman in the next Council, Rosenthal said, "Sure, I hope both are. Both and majority leader." Does she want one of the two? "No, not necessarily," she said. "I would like to be part of the leadership team."