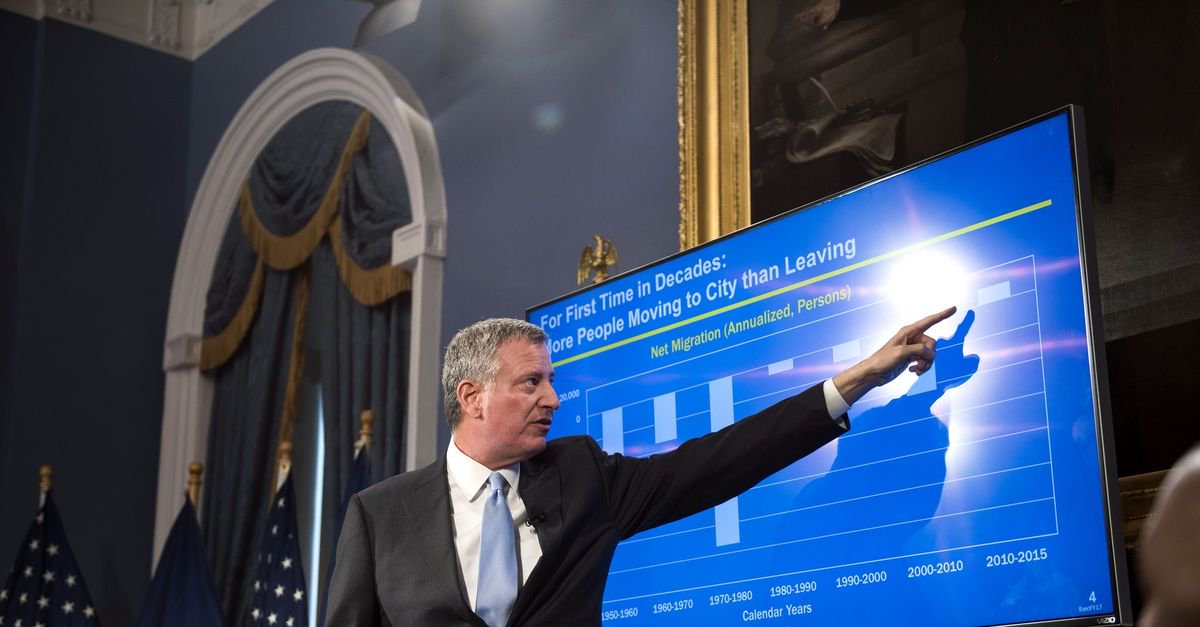 De Blasio during a budget presentation (photo: Mayor's Office)
---
Mayor Bill de Blasio will release the mandated November budget modification on Tuesday, showing minor adjustments to the city's nearly $86 billion budget for the current fiscal year, which runs through the end of June.
Spending for fiscal year 2018 (FY18) will be projected up from the $85.24 billion agreed upon by de Blasio and the City Council in June to $85.99 billion, according to the mayor's office. The increase is largely due to more federal funding coming to the city for recovery from Superstorm Sandy and Homeland Security grants.
Otherwise, the budget adjustment includes a variety of new spending by the city and several areas in which the city is marking additional savings, according to the mayor's office. The city is projecting a $207 million reduction in city tax revenue, mostly in business taxes, while there is a projected increase in property tax revenue that will partially offset those shortfalls. The city budget has grown quickly under de Blasio and other November modifications have included larger increases in spending. The minimal nature of this mid-fiscal year adjustment appears indicative of the level to which de Blasio has funded his programs and priorities and the ongoing questions surrounding federal policies.
The November Plan, as it is known, will not reflect potential federal cuts or the possible effects of federal tax reform plans currently being debated, nor will it show any major new city spending.
"We came into office four years ago promising to bring opportunity to those who had been left without for so long. Today, we're on track to invest more in affordable housing than any administration in decades, we've created an entirely new grade and, bringing police and community together, we've seen the lowest crime rates in history," de Blasio said in a statement. "While we will continue to provide for New Yorkers however we can, we must do so thoughtfully and strategically while the threat of funding cuts from Washington continues to loom."
The plan will show the addition of $47 million in city funds for FY18, largely for agency spending and an increase in pension contributions. The de Blasio administration says that the increases are more than offset by savings related to health care costs, debt service, and agency adjustments. While overall expenditures are projected to increase by $747 million, the FY18 budget remains balanced, as it must.
New spending highlights provided to Gotham Gazette by the mayor's office include $7 million to upgrade the city's 311 system and other major projects supported by the Department of Information Technology and Telecommunications; $4 million for sending supplies and city works to Puerto Rico to assist with hurricane recovery; $4.5 million to develop a construction site safety program; and $10 million for creating the new procurement system, PASSport. There is also $7.5 million to reflect additional costs from new collective bargaining agreements with certain employees at the Department of Environmental Protection.
The modification does not include any significant additional expenditures toward fighting homelessness or any of de Blasio's other major priorities, like expanding pre-school to three-year-olds, closing the Rikers Island jails, or spurring 100,000 good-paying jobs over ten years.
Some of the agency savings outlined in the modification include the Department of Transportation saving $400,000 by using less expensive video cameras and computer analysis contracts for projects where manual traffic surveys are insufficient and the Financial Information Services Agency saving $500,000 due to lower maintenance of new computer equipment, according to the mayor's office.
The November Plan will show $59 million in additional projected spending for FY19. The FY19 budget process will kick into gear in January when the mayor releases his preliminary budget. Hanging over the current and next city budgets are potential changes in state aid to the city and a great deal of uncertainty in terms of federal aid and policy out of Washington D.C. The city budget has grown about 18 percent under de Blasio, up to the nearly $86 billion now projected for this fiscal year, in large part due to increases in the city personnel headcount (thousands more teachers, police officers, and others) and additional programmatic expenditures (including related to homelessness and other social services, where expenditures have increased dramatically).
The budget adjustment does not reflect any federal cuts, as most of what has been proposed in Washington, D.C. has yet to come to fruition. The high-profile threat to city taxpayers that is the proposed reduction of state and local tax (SALT) deductions from federal tax filings is still being debated in Washington and around the country. De Blasio, a recently reelected Democrat, is working to fight the proposed tax reforms, which are being pushed by President Donald Trump and many of his fellow Republicans in Congress. Even if there is significant reform to SALT, it would not cut federal funding to the city. It would, however, put additional financial stress on many city taxpayers, whose overall tax burdens would increase, in some cases significantly. This stress would likely lead to calls for reductions in city and state taxes, which could lead the city to lower taxes under its control and thus have less revenue to spend.
De Blasio's prior November Plan budget modifications were more significant in scope -- his first, in November 2014, showed almost $2 billion in additional planned expenditure, largely having to do with federal Sandy aid, as well as tens of millions of dollars in added spending on de Blasio priorities like NYPD retraining of officers, cutting greenhouse gas emissions, and a rental assistance program for domestic violence survivors.
Upon release of this November Plan, the City Council will review the budget adjustments and is expected to vote them through.