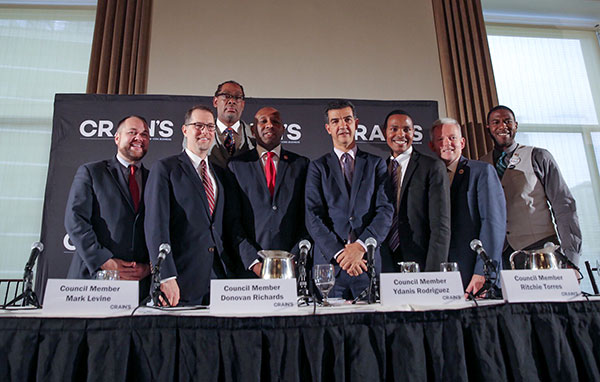 the City Council Speaker candidates at a prior forum (photo: William Alatriste)
---
Seven of the eight candidates vying to become the next Speaker of the New York City Council convened at New York Law School on Monday night for a forum focused on government reform, running the Council, transparency, ethics, voting, and elections.
The candidates made their cases for their leadership prowess, and discussed extending term limits for Council members, greater transparency around lobbying, key questions about campaign finance reform in the city, and much more.
With the city's election season over, all eyes are now turned toward the race for who will replace Melissa Mark-Viverito as Speaker in what is arguably the second most powerful position in city government behind the Mayor. Mark-Viverito is term-limited out of office and eight men, all fellow Democrats, are in the running to replace her. The next Speaker will be chosen by the 51 members of the Council at the first meeting of the next Council class in January, though a great deal of jockeying is already going on, including influential outside forces, and a deal might be struck before the end of the year.

On Tuesday night, the attending candidates were Corey Johnson, Mark Levine, and Ydanis Rodriguez of Manhattan; Donovan Richards and Jimmy Van Bramer of Queens; and Robert Cornegy and Jumaane Williams of Brooklyn. Bronx Council Member Ritchie Torres, also vying for the Speakership, was not in attendance due to a district event. The forum was sponsored by Citizens Union along with other good government groups Reinvent Albany, League of Women Voters of New York City, and NYPIRG. Gotham Gazette editor Ben Max served as moderator.
To start the event the candidates were asked how they think their Council colleagues think of them.
Levine, the first to speak, said that he is an effective member who gets things done, citing his work with Council Member Vanessa Gibson to pass a right-to-counsel in housing court that Mayor Bill de Blasio had initially pushed back against. Richards, after saying his colleagues think he's "beautiful," discussed his even temperament and ability to work with other members. He said he doesn't think his colleagues would have a negative word to say about him.
Rodriguez cited his work on the transportation committee and having been an advocate for immigrants. Johnson said he has been a leader and that the consistent theme of his tenure has been helping marginalized populations such as transgender people and victims of domestic violence. Williams said he hoped his colleagues thought he was honest, and saw himself as an activist who has guided conversations such as for the Community Safety Act. And Cornegy, who initially joked that his colleagues see the 6'10" Council member as "head and shoulders above the rest," discussed his "temperament" and having passed bills through five separate committees.
The candidates were then asked a question they didn't seem to have thought much about: what is the Speaker's role in terms of oversight of how the other 50 members are doing their jobs? The candidates mostly answered by discussing ways in which to empower members. None addressed issues raised by the moderator around what the Speaker should do about a Council member who isn't performing well in terms constituent services or attendance at hearings.
At one point, Rodriguez reiterated his call that all Council members be allowed three four-year terms. In 2008, the City Council voted to temporarily extend term limits for the Mayor, the other citywide positions, and City Council members to three terms. The move was done despite multiple public votes for the two-term limit.
All of the other candidates, save for Richards, agreed with the notion of extending term limits for Council members, permanently going to three terms for the legislative posts, while keeping citywide and borough-wide positions to two four-year terms. Some asserted that it should only be done through a public referendum, though, not simply through legislation. Candidates argued that large turnovers at once, as will happen through the 2021 elections when about three-quarters of the Council will be term-limited out, is bad for the city. (Richards later told The Daily News he also supports the measure.)
"One, I think it's unfair that some of us had a third term and some colleagues didn't," Williams said. "Two, as good government, it doesn't fully make sense that you want us to provide a balance to the mayor, but the entire city government is gonna be up at the same time. Two-thirds of the Council will be up at the same time as the mayor. We have to think about the impact that's gonna have on how we want the government to function."
On the issue of the city Board of Elections, a notoriously dysfunctional organization rife with political patronage and undue allegiance to county parties, the candidates mostly avoided calling for major changes to how BOE commissioners are appointed (there is one Republican and one Democratic commissioner from each borough, nominated by the political party establishments and approved by the City Council). Williams was most clear in acknowledging that the BOE has a patronage problem, and said he would be open to non-partisan appointments to the board.
Williams and Cornegy both praised John Flateau, the Board of Elections Democratic commissioner from their borough of Brooklyn.
Other candidates shifted the conversation away from reforming the board and towards New York's substandard voting laws. Candidates called for early voting and same-day voter registration, avoiding discussion of the makeup of the BOE as they continue to seek support from the same party apparatuses that control current BOE appointments. Johnson veered to an even larger topic, home rule, whereby the state controls numerous major city issues, before disagreeing with the premise of a non-partisan board.
"I do not support non-partisan appointments to the Board of Elections," Johnson said. "I believe that the parties play a particular role in ensuring that we make sure that any party that's dominant at a given time cannot run roughshod over another party. If someone came up with a perfect system of a non-partisan way to handle it, maybe I'd entertain it. I've never heard of that system, I don't know how you take political influence out of politics."
Levine took a similar stance to Johnson, referring to elections as the "ultimate partisan battlefield," not acknowledging that the BOE is supposed to be a fair arbiter and election administrator. Levine said that the partisan nature of the Board of Elections, and its Democratic-Republican balance, ensures parity between the parties and doesn't allow one to dominate.
The candidates further refrained from criticizing county party organizations and particularly the party chairs, who are often seen as deciding the speaker's race in the city. Richards and Van Bramer, both of Queens, praised Queens Democratic Party Chair Joe Crowley, with Van Bramer in particular singling out the congressman for praise.
"In Queens," Van Bramer said, "we are fortunate to have a terrific leader. And I've said that Congressman Crowley would be a great Speaker of the House of Representatives, and I stand by that. Obviously, being a Sunnyside/Woodside guy, we have a lot of local pride in a Woodsider potentially being the Speaker of the House of Representatives."
Rodriguez, who is not a member of the Queens Democratic delegation, also had words of praise for Crowley, who is seen this year as the top "kingmaker" in the speaker process because of his ability to control the votes of many Queens Council members.
"I will be working shoulder to shoulder with County Leader Joe Crowley for immigrants' rights," Rodriguez said. "As a leader nationwide, if I become the speaker he will have an ally, and I know that I will count him as an ally." Rodriguez also said he would be working with Bronx Democratic Leader Marcos Crespo; both Crowley and Crespo are known to run machine-style party organizations within their respective boroughs and together they are seen to control a bloc of speaker votes close to the 25 needed to get a candidate, along with their own singular vote, the majority needed.
None of the candidates acknowledged that part of the deal to crown the next Speaker may include choices of top leadership posts like Majority Leader and chairs of the most powerful Council committees, finance and land use. Given the vote for the next Speaker is still several weeks away, specific discussions of this nature may not have occurred yet, but they are known to have occurred in the past.
All of the candidates argued for greater transparency in lobbying and in general, to some degree. Johnson said that Council members should be required to post their schedules online to allow the public to see who they are meeting with. Van Bramer said that people can get Council members' schedules through Freedom of Information Law requests (FOILs), but acknowledged that it should not necessarily take such an effort.
Opinions about lobbyists themselves varied. Williams joked that he would be Speaker already if he had built a tunnel to allow members to escape from them; meanwhile, Rodriguez said that many lobbyists represent good people and shouldn't be universally panned. Williams and Rodriguez were the only two candidates on the stage who said they have not hired a political consultant for the speaker's race. Other members defended the practice, noting how time-consuming and complicated it has become to run for the post. Levine said it may make sense to examine if there are ways to regulate the speaker's race in the future. When asked, none of the candidates indicated they would need to take any special steps to ensure that their consultants don't have undue influence over them if they become the Speaker.
When it came time for the "lightning round" of quick questions-and-answers, it was clear that there were more substantive differences among the candidates. Though all candidates said that the current $4,950 campaign contribution limit to citywide candidates is good and that ranked-choice voting should be adopted to avoid runoffs, the candidates disagreed other items.
Richards broke with the pack to oppose non-citizen voting in municipal elections, explaining that he had "trepidation" with the Trump administration, possibly a reference to the possibility of federal officials being able to obtain new information about those in the country illegally. The others were all in support of the concept to varying degrees, with some saying it should be restricted to legal permanent residents and others not attaching conditions.
The question that most split the field was the question of whether city elections should take the form of open primaries, which would allow any registered voter to cast a vote in the party primary of their choice. Richards, Rodriguez, and Williams all affirmed their support for open primaries, while Cornegy, Levine, and Van Bramer stated their opposition to the concept. Van Bramer said that partisan primaries are the "good government position," despite many good government groups actively opposing closed partisan primaries. Johnson said that political party affiliation matters, but didn't firmly answer either way.
Members were also split on whether the Council should have fewer committees (there are currently more than 40 issue committees run in the 51-member body). Surprisingly, Rodriguez said that there should be more committees, so that every member could chair one. Johnson, meanwhile, said that some committees should be folded together but others, such as Fire and Criminal Justice Services, should be separated. Williams said that the reason there were so many committees was because of the attached stipends, which were recently eliminated as part of reforms to the Council member position, including salary raises, and called for an increased use of task forces, like on gun violence.
None of the candidates wanted to answer one lightning round question: who would you back for Speaker if you couldn't vote for yourself? Johnson, by luck of the draw, was asked first and took a long pause before attempting a roundabout answer without naming anyone. It soon became clear that none of the seven wanted to answer the question, and the round moved on with some laughter from the crowd and the candidates.
When asked for a single idea on how to make city government more transparent, the candidates all gave different answers.
Richards called for strengthening the Council's investigations and oversight committee to hold agencies more accountable; Rodriguez called for greater transparency in Council discretionary spending; Johnson called for putting the budget online for people to easily find out where money is being spent; Van Bramer called for "gender and race audits" of the Council and city agencies to ensure parity; Williams called for the committee hearing process, and how it's presented to the public, to be reformed; Cornegy called for city contractors to disclose the demographics of their workforce; and Levine called for greater transparency in budget appropriations.
To close the event the candidates were asked how they would seek to improve Council oversight of the mayoral administration. In their remarks, each candidate answered the question while also mixing in something of a closing argument for their candidacy. Several candidates offered a number of specific reforms they want to push if elected Speaker.
All candidates advocated for a stronger, independent Council, with Williams stating that the lack of any use of a veto in de Blasio's term may mean the Council hasn't pushed the envelope enough. Cornegy said that the Council hadn't exercised its strength given by the dissolution of the Board of Estimate, and that budget issues would continue to be an issue in that regard. Richards once again called for strengthening the oversight committee, while Johnson called for increasing the Council's central budget to be more in line with city agencies. Levine said the Council should delve into budget issues beyond the marquee items, Van Bramer said the Council should utilize its subpoena power, and Rodriguez pledged to maintain the body's independence but work with the mayor when possible.
Full video of the forum:
Note: Gotham Gazette is an independent publication of Citizens Union Foundation, sister organization of Citizens Union.