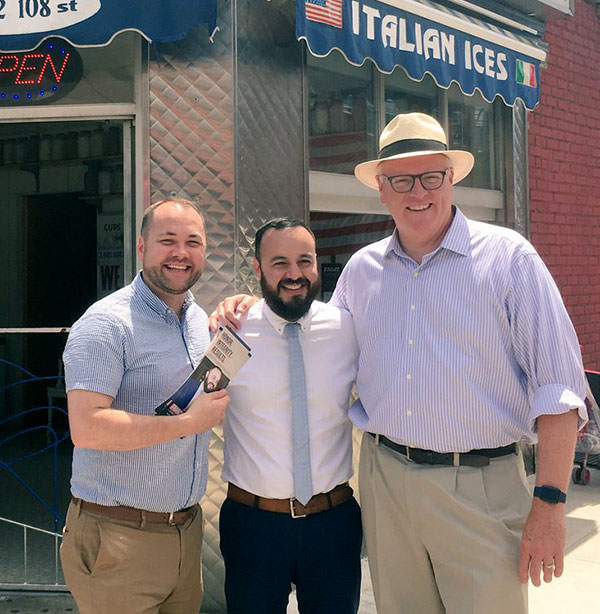 Corey Johnson, Francisco Moya, Joe Crowley (photo via @CoreyinNYC)
---
The eight City Council members, all Democrats, who are competing to lead the 51-member legislative body as speaker for the next four years must convince numerous constituencies of their viability, including some combination of county party leaders, labor unions, the mayor, and other influential politicos. But, when the new Council class convenes in January, the vote will come down to the 51 Council members, and they are not without agency. The speaker candidates, all men, have for months been seeking to curry favor with their colleagues, employing a variety of methods. One such tactic is to donate campaign funds to current and incoming members of the City Council.
All eight candidates -- Council Members Corey Johnson, Mark Levine, Ydanis Rodriguez, Robert Cornegy Jr., Ritchie Torres, Donovan Richards, Jumaane Williams, and Jimmy Van Bramer -- have made large political contributions from their reelection campaigns, according to an analysis of campaign finance filings by the New York City Campaign Finance Board at Gotham Gazette's request, though the amounts to vary widely.
Numbers reflect disclosures filed through November 7, the day of general election and the most recent filing deadline. The next deadline is Monday, December 4.
The speaker candidates used money from their campaign accounts to spend on a variety of political causes, but most of their political giving went to other members running for reelection or Council candidates running to replace term-limited members.
Council Member Johnson's lobbying largesse far outpaces the rest of the members, with $126,300 in political contributions, of which $84,875 went to other current or incoming members. Johnson, who has been aggressively campaigning for the Council's top spot long before others jumped into the fray, also gave to local Democratic clubs and Democratic county organizations. He made the maximum allowable contribution of $2,750 to 26 candidates (including Council Member Elizabeth Crowley, who was unsuccessful in her reelection bid).
Levine, who along with Johnson and Cornegy is seen as a frontrunner in the race, has been second with $84,185 in political contributions, including $69,375 to his colleagues.
Most of the recipients of campaign cash from the speaker candidates has overlapped.
In third place is Rodriguez, whose political contributions to colleagues were $52,750, out of a total $57,761 spent from his campaign account on political donations.
The rest of the members spent far less to build support and help colleagues. Torres only gave $35,000 out of $59,117 in political contributions. Richards contributed $31,500 out of $37,465. Cornegy's donations were only $27,500, Van Bramer's were $24,675 and Williams gave just $13,000.
In total, there were 42 Council candidates from across the city who received a political contribution from another candidate, including both sitting Council members and those running for open seats. Among the 42 were a few who were unsuccessful as well as 11 new incoming members of the City Council.
The biggest beneficiary of the political giving was Adrienne Adams, a Democrat who was elected to the District 28 seat in Queens, which was empty following the expulsion of Council Member Ruben Wills after his conviction on corruption charges. Adams received $26,750 from Council colleagues, of which $18,000 was from seven speaker candidates. Cornegy was the only one who did not donate to her. Adams could not be reached for comment. In her run she had the backing of the Queens Democratic Party machine, which is seen as the most influential county party in the speaker race, with Rep. Joe Crowley at its head.
Justin Brannan, another Democrat who won the District 43 seat in Bay Ridge, collectively received $12,250 from five speaker candidates. "Having been a staffer in the Council and a Democratic organizer for many years, throughout my primary and general elections, I was grateful to have the support of many of the members I now look forward to calling colleagues and one of which we will elect as our leader," Brannan said in a statement. "Personally, I'm looking for a speaker who will empower the members and consider the many diverse voices that make up the body." He did not say who he would vote for.
As Brannan indicated, it's not unusual for Council Members to bolster Council staffers' bids for City Council. This was the case for Carlina Rivera, the former legislative director to outgoing Council Member Rosie Mendez. Rivera won Mendez's Council District 2 seat in Manhattan. In a statement, Rivera said she was "thankful" for the support from Council members, who gave her $14,483 in total. All but $150 came from speaker candidates, but Rivera insisted that would not affect her vote. She declined to indicate which speaker candidate she may be leaning towards. "My decision on the next Speaker will be made like any other -- with careful consideration of each candidate's record and policies," she said. "It won't be easy given the strength of each candidate, but I look forward to casting my vote based on these merits."
Even as the speaker candidates' political giving is tallied, some have helped raise money for their colleagues without raising it directly or bundling it as an intermediary. Some also raised money for or donated to Mayor de Blasio's reelection bid, even as they attempt to sell their colleagues and others on promises of standing up to the mayor as the next speaker. Speaker candidates, to varying degrees, also went to campaign with members and candidates in their districts. Johnson and Levine were the most active in this respect, too, helping candidates to collect ballot petition signatures, knock on doors, and greet voters.
In Midtown Manhattan's District 4, Keith Powers was elected to the seat being vacated by term-limited Council Member Dan Garodnick. Powers received the maximum $2,750 contribution from five speaker candidates. "I've known all the candidates for more than a few years," said the former lobbyist who ran on a good government platform, in a phone interview, "and I've worked with them and I think they know I'll be a good addition to the City Council. I think that's why they supported me."
The donations are not considerations in the race for speaker, Powers said, insisting he does not have a preferred candidate yet. "I think for everybody, it's about the person's ability to lead the Council, to keep the Council independent of the mayor," he said. "I think [Council members] choose a speaker based on what's best for their district and the issues they work on, and someone who shares their values."