Ben Max, left, of Gotham Gazette, and Jarrett Murphy, right, of City Limits
---
December 5, 2017 - Max & Murphy podcast: City Council Member Elizabeth Crowley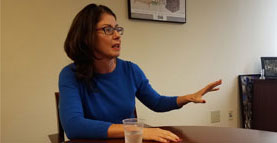 City Council Member Elizabeth Crowley was elected in 2008, the first woman and first Democrat to represent her Queens district. She's chaired the Council's Fire and Criminal Justice Committee, holding hearings on Rikers Island jails and much more, including a hearing on closing Rikers jails that occurred just one day before taping the podcast with Max & Murphy. In November, Crowley was defeated in her reelection bid by 137 votes. Her loss, to Robert Holden, shocked many people and means one fewer woman on the City Council come January, when just 11 of the 51 seats will be occupied by women.
On the podcast Crowley discussed her work in the Council, the effort to close the Rikers jails, her election loss, working to see more women elected to the City Council, and her future.
Listen to the full conversation and let us know what you think -- we're on Twitter @TweetBenMax and @jarrettmurphy and guest @ElizCrowleyNYC. You can listen to the episode through the embedded audio below or download the episode wherever you get your podcasts.