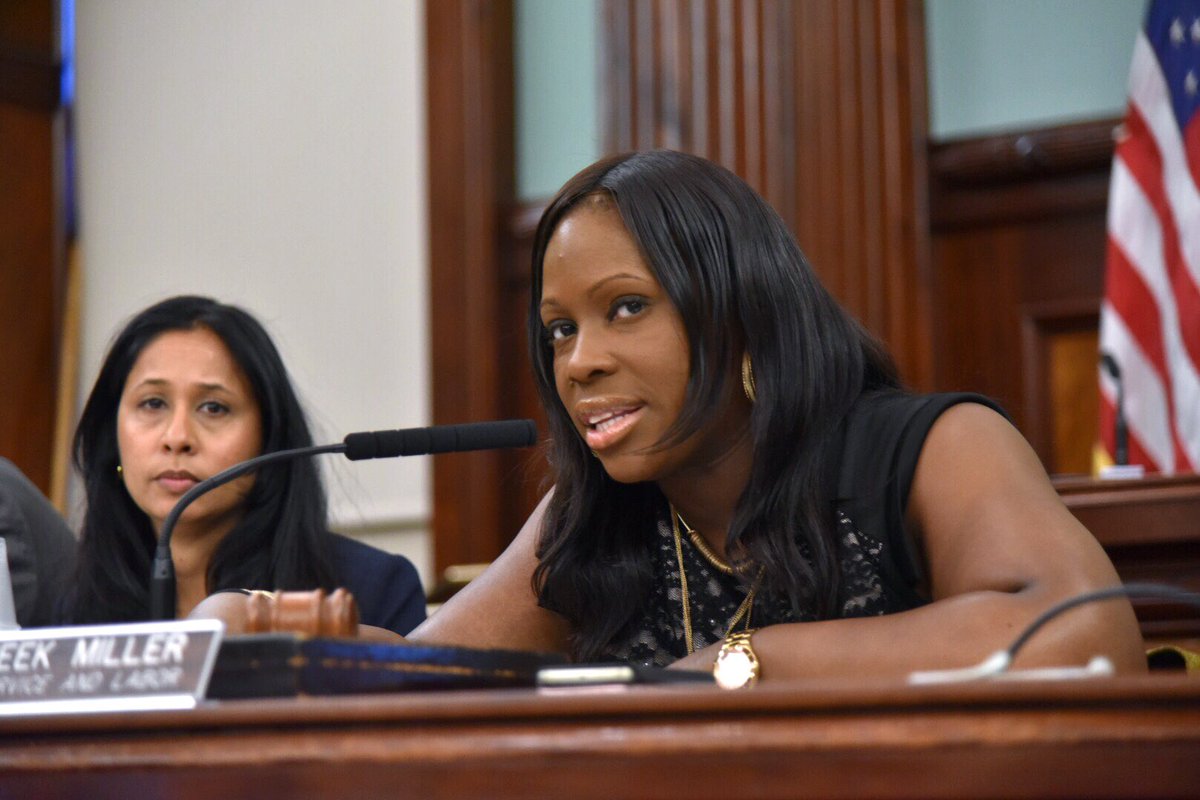 Council Member Vanessa Gibson (photo: John McCarten/City Council)
---
A City Council bill that creates an alternative to the state's "disorderly conduct" statute, and mandates lower punishment for the infraction, became law on Friday along with numerous other bills relating to protecting undocumented immigrant New Yorkers. The bill, sponsored by City Council Member Vanessa Gibson, chair of the public safety committee, also adds another plank to the Council's broad agendas of criminal justice reform and immigrant protections.
The new city law prohibits "disorderly behavior" much in the same way the existing state law currently does -- for incidents involving public altercations, unreasonable noise, obscene gestures in public, obstruction of traffic and other similar offenses -- but it provides for a maximum sentence of five days in prison or a $200 fine, and also includes a civil (as opposed to criminal) penalty option in the form of a $75 fine.
Under the state law, in which punishment can reach up to 15 days in prison or a $250 fine, there were roughly 54,000 convictions in 2016 in New York City criminal courts.
The rationale behind the new city law is simple, but controversial: lowering punishment can prevent the involvement of federal Immigration and Customs Enforcement (ICE) agents, which is often triggered when undocumented immigrants interact or are pulled into the criminal justice system. A punishment longer than five days can also make immigrants ineligible for the Deferred Action for Childhood Arrivals (DACA) protections.
"It's an option for district attorneys, for judges and for police to use in instances of disorderly conduct, and obviously for non-violent and low-level cases," said Council Member Gibson, in a phone interview on Monday, during which she warned of dangers undocumented immigrants face from an openly hostile federal administration.
Since before he took office, Donald Trump has been aggressively attacking undocumented immigrants with rhetoric, and, under his presidency federal immigration authorities have followed through with action, stepping up their enforcement efforts. They have taken particular aim at so-called "sanctuary cities" such as New York, which are home to massive populations of undocumented immigrants and relatively friendly local laws.
The New York City Council has responded to the federal administration in kind, by passing a slew of measures aimed at limiting cooperation with ICE and protecting the city's immigrant population. "We did it so it wouldn't propel a negative consequence," Gibson said of her bill. "We wanted to give DAs additional tools to employ. For us, while it applies to everyone, there's obviously a very intentional focus on immigrants."
In April, then-Acting Brooklyn District Attorney Eric Gonzalez (who has since been elected to the position) announced that his office would try to avoid prosecution strategies that could result in deportation proceedings for immigrants. "I am committed to equal and fair justice for all Brooklyn residents – citizens, lawful residents and undocumented immigrants alike," he said in a statement accompanying the announcement. "Now more than ever, we must ensure that a conviction, especially for a minor offense, does not lead to unintended and severe consequences like deportation, which can be unfair, tear families apart and destabilize our communities and businesses."
As Gibson noted, the Council has moved to reduce penalties and create civil fines for numerous low-level offenses, most significantly through the Criminal Justice Reform Act passed last year. Those efforts have taken on increased importance under Trump. In the last few months, ICE agents have begun to stake out courthouses to nab immigrants showing up to court appearances, even in cases involving nonviolent crimes.
Initial data has shown drastic reductions in criminal court summonses issued under the offenses that were included in the Criminal Justice Reform Act. Between when the act took effect on June 13 and October 1, 2017, there were 4,370 criminal summonses issued under those offenses, compared to 55,224 in the same period in 2016. The NYPD issued 26,154 civil summonses for the covered offenses.
Gibson said her bill was just another part of that larger agenda to ensure "proportional penalties" that match the crimes committed. The efforts don't necessarily mean an easing of enforcement or so-called broken windows policing of low-level crimes in an effort to prevent larger ones, but it relates to how violations like disorderly conduct are classified and punished. "It falls in line with work we've done on criminal justice reform," she said. "It's absolutely critical. In light of the current climate, it's really important for the City Council to advance progressive legislation that protects all New Yorkers, regardless of immigration status."
Murad Awawdeh, vice president of advocacy at the New York Immigration Coalition, said the organization was glad to see the Council take proactive measures to protect immigrants from the "nexus of the criminal justice system and the immigration system," which can often endanger their status in the country.
"By lowering the maximum punishment for this offense, the city is ensuring that immigrants aren't unnecessarily detained or possibly deported," he said of the new disorderly conduct law. "I think it's timely and also long overdue."