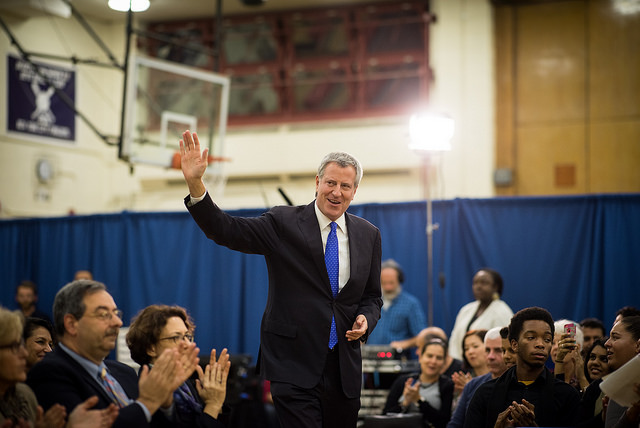 Mayor de Blasio (photo: Edwin J. Torres/Mayor's Office)
---
In the two weeks leading up to Election Day, November 7, Mayor Bill de Blasio raised about $485,653 for his reelection campaign, and spent $1.65 million in winning a second term by a wide margin, according to the latest disclosures filed with the New York City Campaign Finance Board. The disclosures cover the five-week period from October 24 to November 30, and show that on and after Election Day, de Blasio raised another $82,461 and spent an additional $312,795.
Despite having little competition in the Democratic primary and being widely expected to prevail in the general, de Blasio spent a total of $10.1 million over the course of the campaign, having raised $6.55 million in campaign contributions and receiving another $3.5 million in public funds from the CFB under the city's matching funds program that matches eligible small-dollar donations at a 6-to-1 ratio. De Blasio's campaign account has just $84,154 left in cash. The mayor is ineligible to run again in 2021.
The most significant expenditures in the two-week period prior to Election Day went to a major advertising blitz by de Blasio's campaign. The campaign paid three consulting firms for both television and digital ads. About $1 million went to AKPD Message and Media, a firm that includes among its partners John Del Cecato, a close outside advisor to the mayor who was one of the five people designated "agents of the city" to shield their communications with the mayor. AKPD also received another $47,843 payment on Election Day itself. The campaign also paid $283,824 to Revolution Messaging, the firm that worked on Senator Bernie Sanders' presidential campaign, and about $143,450 to Hamilton Campaign Network, a separate campaign consulting arm of the prominent lobbying firm the MirRam Group.
After de Blasio was successfully re-elected, with about two-thirds of the vote, the campaign's expenditure went expectedly to winding down operations, with most of the payments going to consultants and campaign workers.
Although the mayor was heading into Election Day with a massive fundraising advantage, supporters continued to generously donate to his campaign. Of the $485,653 he received in the two-week lead-up period from 670 contributions, there were 51 maxed-out donations of $4,950 totalling $242,550 from a broad range of sources. There are some prominent names on the list. For instance, Howard and Steven Rubenstein of Rubenstein Communications, a public relations giant in the city, and Bryn Mooser, a humanitarian and documentary filmmaker.
The mayor even raised $45,088 on Election Day itself, including seven max donations equalling $34,650. Two of those donations came from employees of Munoz and Company, a San Antonio-based creative agency, and one from a political action fund affiliated with NYSUT, the influential state teachers union.
The giving continued in the weeks after de Blasio won, as his campaign received another $37,373, including six contributions of the maximum amount, of which two contributions were from the international and local chapters of the AFSCME, the largest public service employee union in the country. De Blasio is serving his second and final term in office but he can utilize leftover campaign funds in numerous ways, either to pay outstanding campaign bills or to donate to other city and state campaigns. He could also transfer the money to a state campaign account should he consider a run for statewide office. Campaign spokesperson Dan Levitan said in an email that the money would go to "routine windup expenses and post-election audit expenses."
After each election, the CFB audits all campaigns for violations of campaign finance law, closely scrutinizing those who participate in the public matching funds program. These audits can sometimes take years to conclude. In December 2016, the Board fined de Blasio's 2013 campaign nearly $48,000 for numerous violations. The largest penalty of $21,159 was for making $160,888 in impermissible post-election expenditures to 13 vendors. Of those expenditures, the campaign had paid $116,250 to the consulting firm Hilltop Public Solutions, run by de Blasio's 2013 campaign manager Bill Hyers. (The 2017 campaign paid Hilltop just over $20,000 on Election Day and another $22,000 on November 16.)
Assembly Member Nicole Malliotakis, de Blasio's Republican opponent, had coffers that were less plentiful. By the end of the race, she had spent about $3.7 million. Malliotakis' fundraising was hampered by relative lack of name recognition and her late entry into the race. She managed to raise about $1.19 million and got about $2.5 million in public funds. She has a little more than $42,000 in her campaign account as of this filing.
The next and final filing of the current cycle is due January 16.