Ben Max, left, of Gotham Gazette, and Jarrett Murphy, right, of City Limits
---
December 7, 2017 - Max & Murphy: NYCHA CEO Shola Olatoye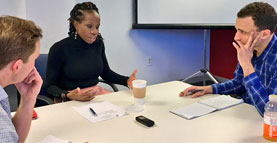 NYCHA Chair and CEO Shola Olatoye has been at the center of a firestorm lately related to the public housing authority's lapses in lead paint inspections, violating federal and city laws, filing faulty documentation, and not telling NYCHA residents and the public about the years-long gaps as soon as leadership discovered them.
Olatoye faced hours of questioning at a City Council oversight hearing on Tuesday, then joined the podcast on Thursday for some follow-up and other questions about the lead paint situation and more. Olatoye discusses whether she and NYCHA need to regain residents' trust, whether she offered Mayor Bill de Blasio her resignation, and where the conversation around NYCHA -- home to more than 400,000 New Yorkers -- needs to go next.
Listen to the full conversation and let us know what you think -- we're on Twitter @TweetBenMax and @jarrettmurphy and guest @SholaOlatoye of @NYCHA. You can listen to the episode through the embedded audio below or download the episode wherever you get your podcasts.