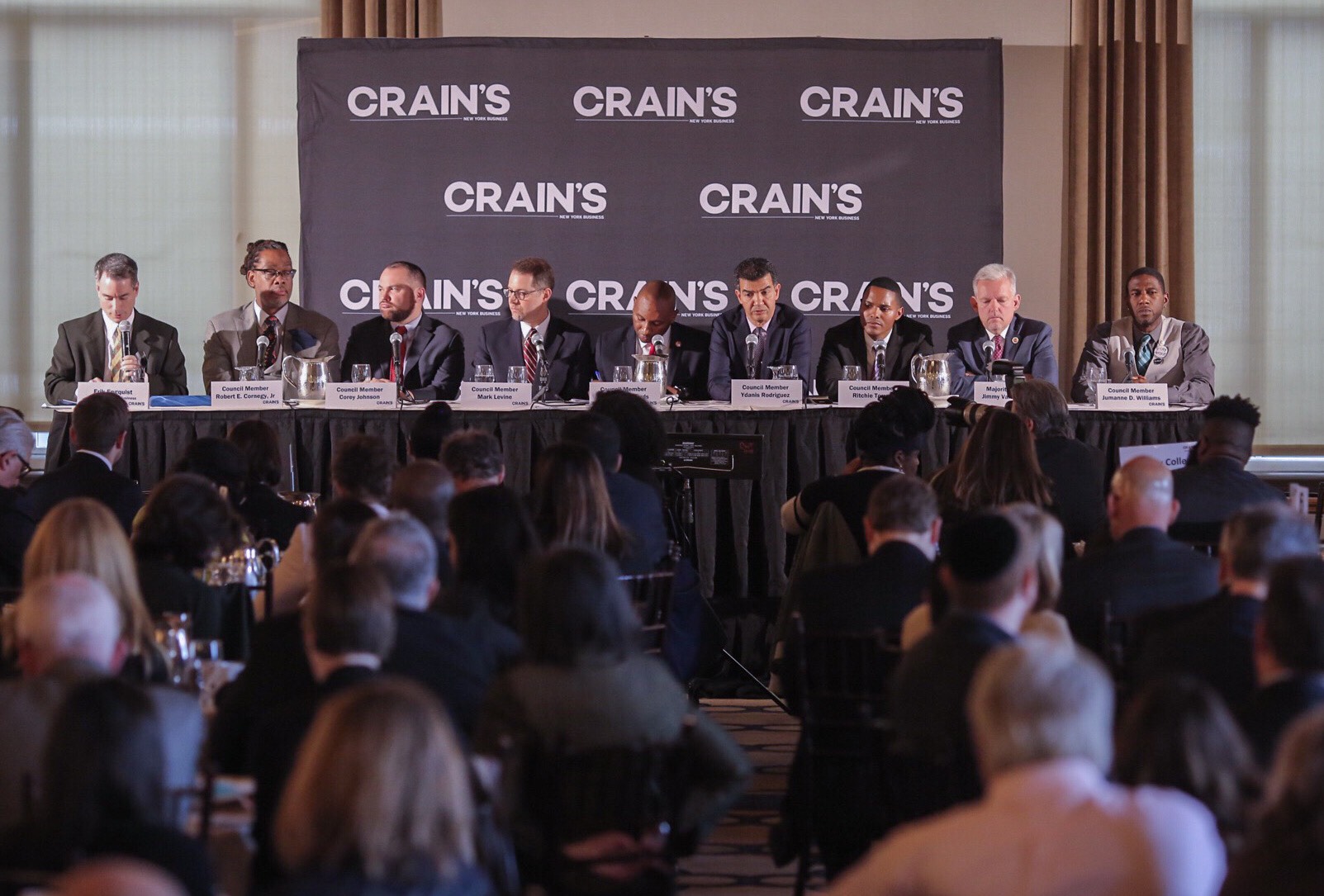 City Council Speaker candidates (photo: William Alatriste)
---
The eight men running to become the next speaker of the City Council are all Democrats who were re-elected in November to serve a final term in the body. None of them faced a strong challenger in their respective races, either in the primaries, which are largely determinative of overall results, or in the November 7 general election. Nevertheless, a few of the candidates raised significant campaign cash and spent it just as liberally as if they were running competitive races. As Gotham Gazette has reported, several of the speaker candidates have donated heavily from their campaign accounts to those of other City Council members and candidates, in apparent effort to win favor ahead of the speaker vote, which will occur in January.
Among the eight candidates, a few are seen as frontrunners in the race -- Council Members Robert Cornegy Jr., Corey Johnson, Mark Levine and, to a lesser degree, Ritchie Torres -- though it is a notoriously nebulous contest with shifting dynamics. Labor unions may buoy the chances of certain members while county allegiances may supersede that support. Mayor Bill de Blasio's role remains to be determined. The other candidates -- Ydanis Rodriguez, Jimmy Van Bramer, Donovan Richards and Jumaane Williams -- are considered less likely to emerge victorious, though one or more may have an outside path to the throne.
This week, the candidates had to final a new campaign finance report, with activity between October 24 and November 30. It is the last filing before the speaker vote, which is likely to occur January 3.
When it comes to campaign fundraising and spending, Johnson remains at the top of the list. His run for speaker began two years ago and the Manhattan Democrat even eschewed the Campaign Finance Board's public matching funds program, which would have limited his expenditures. He has also been the most prolific donor to other members who ran for reelection and fresh faces that will be joining the Council come January.
Johnson raised $505,818 over the race and spent $374,707, the latest campaign disclosures show. He has $131,111 left to spend on future races or charitable donations or supporting other electoral candidates. Of his total fundraising, $209,000 came from 76 contributions of $2,750, the maximum allowable in a City Council race. A total of $73,600 came from political action committees, while a slew of his largest donations came from individuals in the real estate, hotel, and nightlife industries. Some top donors include Barry Diller, the billionaire IAC and Expedia chairman; former Ralph Lauren Corporation CEO John Mehas; and Tony award-winning producer Daryl Roth. Much of Johnson's spending, $126,300 to be exact, took the form of political contributions, and he spent only about $22,750 with campaign consulting firm Metropolitan Public Strategies.
Levine, another Manhattan Democrat who also did not participate in the public funds program, raised $439,110 over the course of the election cycle. But Levine's expenditure of $405,802 outpaced the fundraising leader, Johnson, and left just $33,308 in campaign funds at his disposal. There were 45 donors who gave Levine the maximum contribution, for a total of $118,250. He received $86,825 in total from PACs. Among his top donors were employees of real estate firms, law practices, property management companies, and at least one hedge fund. He counts George and Marian Klein of the Park Tower Group among those who gave the highest possible donation.
Levine has been seen as the candidate perhaps most favored by the mayor, which has raised concerns about whether he can be a sufficiently independent leader, and led him to focus many of his public remarks on leading an strongly independent Council. He retained the services of Pitta Bishop & Del Giorno LLP, an influential lobbying firm, to handle his strategy in running for speaker. He has spent $58,200 on campaign consultants, including Kirtzman Strategies and RKM Strategic Consulting, and another $84,985 on political contributions.
Cornegy Jr., the only candidate who isn't a member of the Council's progressive caucus, was once viewed as an unlikely next speaker, having done little to cultivate a viable candidacy, spending little money or time helping others campaign, and having a low-key presence at the Council. But with the backing of the Brooklyn county party apparatus and, more recently, support from prominent voices that can influence the race, including U.S. Rep. Hakeem Jeffries, he is seen as having better chances of prevailing. Cornegy did participate in the CFB's public funds program, which meant he had to abide by a strict spending limit of $182,000 for each of the primary and general elections. He ended up raising a total of $184,730, and spent all but $1,722. He received $71,500 from maxed-out donations, and political action committees contributed a total of $40,650 to his reelection. Billionaire supermarket magnate John Catsimatidis donated to Cornegy's campaign, as did Soly and David Bawabeh, prominent real estate developers in the city. Campaign consultations accounted for $67,450 in Cornegy's campaign spending, most of which went to Mercury Public Affairs, a well-known consulting firm. He also doled out $35,750 in political contributions.
Torres, a Bronx Democrat and the youngest candidate in the race for speaker, raised $264,819 this election cycle, but he was also a public funds participant and ended up spending $108,851 for his reelection. He has $155,968 in cash on hand. His campaign got $69,400 from PACs and he received less than a dozen maxed-out donations, including one from Council Member Johnson's campaign.
Torres' prospects depend largely on support from the Bronx county machine, which will likely negotiate with the Queens county establishment to determine how plum Council committee chair positions are distributed. U.S. Rep. Joe Crowley, who chairs the Queens Democrats, is expected to play an outsize role in the entire process this year. The two counties were sidelined in 2014 when the Council's newly empowered progressive caucus, influential labor unions, de Blasio, and Brooklyn Democratic County chair Frank Seddio collaborated to anoint Melissa Mark-Viverito as speaker.
Queens Council Member Van Bramer, another public funds non-participant, raised $539,560 and spent $278,587, for a balance of $260,973. He received 68 contributions of the max $2,750, equalling $170,500 of his total fundraising. About $66,000 of his total came from PAC donations. Van Bramer has attempted to make public and private overtures to Crowley but is not expected to receive the county backing. Currently majority leader of the Council, Van Bramer could wind up with another top leadership or committee post.
Richards, whose district spans parts of Brooklyn and Queens, participated in the public funds program and raised $171,598, including $39,700 from PACs, and spent $150,948. He has only $20,650 left in his account. Richards is seen as having long odds in the race but was for a time expected to be the mayor's preferred candidate after Council Member Julissa Ferreras-Copeland announced she would not be running for reelection. She was widely regarded as a strong contender for the speakership and her exit from the Council left the speaker race dominated by men.
Rodriguez was a public funds participant but he had two primary opponents, explaining his expenditure of $242,365 from his total fundraising of $255,423. He has $13,058 in his campaign account. He received $45,175 in PAC money.
Williams, who some say could be a potential primary opponent to Governor Andrew Cuomo next year, or a lieutenant governor candidate as part of a ticket, opted out of the public funds program and raised $226,784 for his reelection to the Council, including $66,100 in PAC donations. He also had a non-competitive primary but he spent nearly all of his campaign cash, leaving just $660 in his account.
The next and final campaign finance disclosures are due January 16.