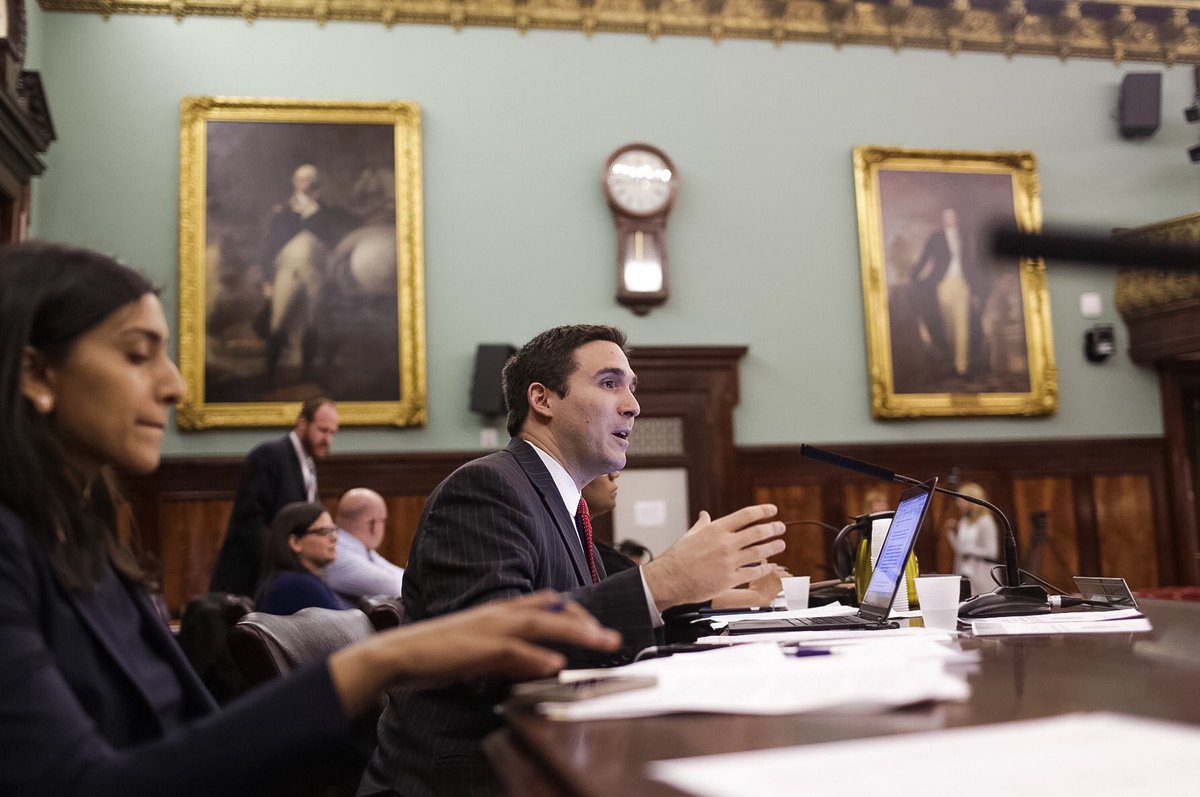 Council Member Ben Kallos (photo via @NYCCouncil)
---
Ahead of the September 12 primary, mayoral candidate Sal Albanese seemingly had the Reform Party ballot line locked up. It meant that Albanese would be on the general election ballot even if he lost the Democratic primary to Mayor Bill de Blasio. At the last minute, however, Republican candidate Nicole Malliotakis and independent candidate Bo Dietl attempted to snatch the Reform nomination from Albanese through an "opportunity to ballot," which had effectively opened up the Reform line to write-in candidates. Albanese would prevail with 53 percent of the vote, but the spectacle raised major concerns for elections officials. Had all of the candidates failed to reach the 40 percent mark, it would've automatically triggered a laborious and costly citywide runoff election between the top two vote-getters.
New York City "dodged a bullet" in avoiding a runoff election, said Douglas Kellner, Democratic co-chair of the New York State Board of Elections, at a Wednesday oversight hearing of the City Council's Committee on Governmental Operations. Kellner, who was there to give his assessment of the recent municipal elections and other matters, briefed the committee members on steps the Council could take to improve election management.
"The first is something that is really in your lap, and that is dealing with the runoff primary election," he said, calling on the Council to quickly implement instant runoff voting in which voters get to rank multiple candidates in order of preference. For the three citywide positions of Mayor, Public Advocate, and Comptroller, New York City's charter instead provides for a runoff to be held two weeks after a primary, burdening local election administrators and costing millions of dollars. Most recently, an expensive runoff infamously occured in the 2013 Democratic primary for public advocate, with the primary costing more than the annual budget for the office.
Urgent action is necessary, Kellner said, since a significant amount of time can go into updating election equipment and planning for the next election cycle. Moving soon, four years out from the next city election, would also prevent individuals and parties from predicting, and gaming, the effects on the election system, he said.
"Now, you dodged a bullet...but, that problem hasn't gone away," Kellner said, insisting that there was no significant benefit from a full runoff. "And if you're not gonna do anything, then it's your fault," he joked. "But it's not realistic to make the decision two or three years down the road." The 2021 elections, when all three citywide posts will be open due to term limits, are expected to be especially competitive in the Democratic primaries.
Council Member Ben Kallos, the chair of the committee, is himself "incredibly supportive" of instant runoffs, he said Wednesday. "I believe that a certain elected official...in the city is opposing that legislation," he said wryly, referring to Mayor de Blasio, who opposed instant runoff voting when he was public advocate. "While I here in the Council am willing to do so, I believe we still need to get the mayor to sign it," Kallos added.
All of the eight candidates to become the next City Council Speaker recently said that they support moving to instant runoff voting, often called ranked-choice voting.
Kellner, who also floated the option of a charter amendment petition, which would go to the voters, said if the city failed to implement runoff voting, then it should abolish runoff elections entirely. "The city was lucky this last year that they didn't have to spend the money on a runoff election," he said. "And imagine what the reaction would've been if the city had to spend millions of dollars to hold a runoff election for one of the small parties, where they might've been spending as much as $30,000 per vote in order to administer a runoff election for one of the smaller parties. And that's how the statute is set up now and it's a crazy statute."
Indeed, in the 2013 race to replace de Blasio as public advocate, Democrats Letitia James and Daniel Squadron went to a runoff election that was estimated to cost around $13 million. Both Squadron and James, the eventual winner of the race, came out in favor of instant runoff voting.
"I think that that is a worthy conversation that needs to be had and we certainly would need to make some adjustments," said New York City Board of Election Executive Director Michael Ryan, at Wednesday's hearing. Ryan noted that the potential runoff for the Reform Party, which holds open primaries, would be open to approximately 800,000 unaffiliated voters and the 261 New Yorkers registered with the party itself as of November 1. "It would've been a full citywide runoff," he said, "and considering the paucity of actual enrollees in the Reform Party, its very easy to field candidates when you need such a small number of signatures and then open the Board up to significant elections responsibilities and a potential runoff."
He said the Board had plans in place to hold the election, and pointed out the multiple hurdles they would face. Between primary day and the day of the runoff, there were multiple religious holidays, and the UN General Assembly was convening, where President Donald Trump was scheduled to speak. "So to say we dodged a bullet is an understatement," he said.