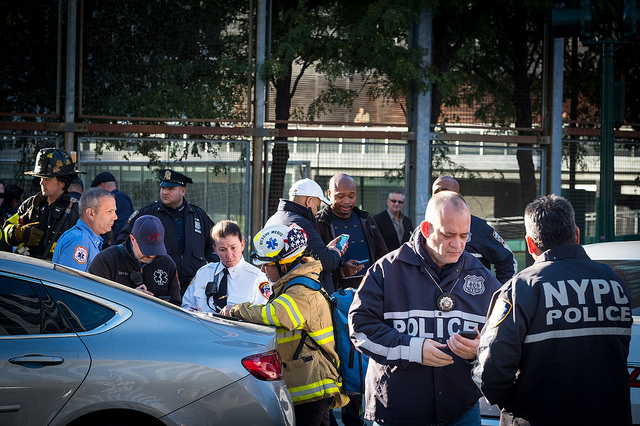 photo via The Mayor's Office
---
In September, the City Council called a hearing to scrutinize the New York Police Department's response in cases involving "emotionally disturbed persons" (EDPs). There had been six instances in the previous 11 months where a mentally ill New Yorker had been killed by police officers. Council Members demanded to know why, and sought ways to prevent those deaths in the future, and NYPD officials gave what answers they could with the information at hand.
On Tuesday, Council Member Andrew Cohen, a Bronx Democrat, will introduce three bills to fill the void in data regarding the NYPD's interactions with EDPs. Cohen wants to further inform the department's training protocols for officers, he said, as the NYPD continues its to refine its training practices toward de-escalation under Mayor Bill de Blasio.
In the aftermath of deaths of mentally ill people in interactions with police, the de Blasio administration and the NYPD have emphasized the rollout, slow going though it may be, of Crisis Intervention Training (CIT), which was first introduced in 2015. The training is meant to help officer deescalate situations involving EDPs without using force. By the time of the September hearing, officials estimated that fewer than 6,400 officers in the 34,000-member police force had received the new training.
Cohen's legislative efforts seeks to examine the effectiveness of the training by tabulating data on its results. One bill would mandate that the NYPD produce quarterly reports on incidents involving EDPs including the number of calls in which dispatchers were aware of the involvement of an EDP; the number of calls where a CIT officer was dispatched, the number of use-of-force incidents involving EDPs, the number of calls involving EDPs in which the specially-trained Emergency Service Unit was dispatched; arrests of EDPs categorized by age, race and gender; and the number of incidents where EDPs are transported to a hospital or mental health facility instead of being arrested. More data, Cohen insisted, would help the Council conduct better oversight and appraise the program.
"The bills themselves are basically trying to make sure that for EDPs, emotionally-disturbed people, who have interactions with the police, we're trying to get better data on those interactions," Cohen said in a phone interview. "There have been a few high-profile, tragic cases. I think there are many, many cases that are handled appropriately...but there's not enough data."
At the September hearing, NYPD Deputy Commissioner for Collaborative Policing Susan Herman estimated that the department receives roughly 150,000 EDP calls every year, and that approximately 1 percent, or 15,000 calls, involved use of force.
A second bill being introduced by Cohen would require the NYPD to issue incident reports on encounters with EDPs, similar to reports currently issued involving domestic violence situations. These could then inform officers should they return to a particular residence from where an EDP was arrested or taken to a health facility. The third bill requires the city Department of Health and Mental Hygiene to follow up with an EDP within five days of an incident.
"It's about trying to make sure there's good follow up," Cohen said, noting that officers with access to a history of domestic violence incidents at a particular location are better prepared when responding in repeat instances. "And we think that a similar type of set up could be profoundly useful in dealing with EDPs. So that's essentially the package of bills, trying to make sure the police are not walking in blind to an EDP situation, trying to get better data."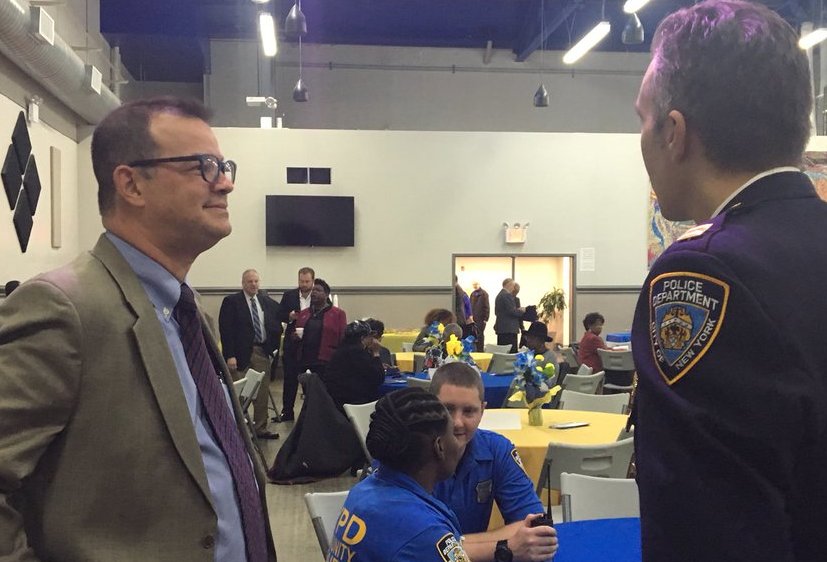 Cohen (pictured) also noted that Tuesday was perhaps his last chance to introduce the bills as chair of the Council's Committee on Mental Health, Developmental Disabilities, Alcoholism, Substance Abuse, and Disability Services. This week marks the end of the current four-year session of the City Council with dozens of bills being voted through on Tuesday, the last full meeting of the legislative body. Cohen said he doesn't know who will be the chair of the mental health committee when the new speaker is named on January 3 and then assigns leadership and committee posts, adding that the bills represented a "distillation" of work that has been ongoing and he wanted to make sure to get them introduced while he was still chair.
Since the bills would be pending from a returning member, they are more likely to be prioritized, he said, acknowledging that he was open to chairing another committee if given the chance in his last term in the Council. "Bills for returning members are sort of being queued up so that they'll be ready to hit the ground. So that's why I wanted to get this in," he explained.
The Council member does not expect opposition to his bills from the de Blasio administration or NYPD brass and unions, which often oppose legislative interference in NYPD functioning. "Obviously we haven't tried to negotiate the bills yet, but I think that they're common sense pieces of legislation," Cohen said. "Again, the data may show that 99 percent of the incidents are handled appropriately, where people are getting the help they need when they need it, that the police are playing a very useful vital role, or the data may show something else. I don't know."
Prior to and at the September hearing, there have been calls to ensure that social workers are more regularly on the front lines of responses to EDPs, thought he NYPD CIT program does aim to bridge that gap, so that officers are better able to talk people through crisis situations.
He insisted he was not attempting to regulate police activity, simply to mandate reporting of it. "So I suspect that they will be open to it," he added. "I mean, nobody wants to see tragedy, and most of all an officer. An officer forewarned is forearmed. Knowing what they're going into, that this is an EDP situation, that information alone could very possibly save lives."
"I don't envision this as being something adversarial with the NYPD," Cohen concluded. "I think that if they have data, they would probably be willing to share it."