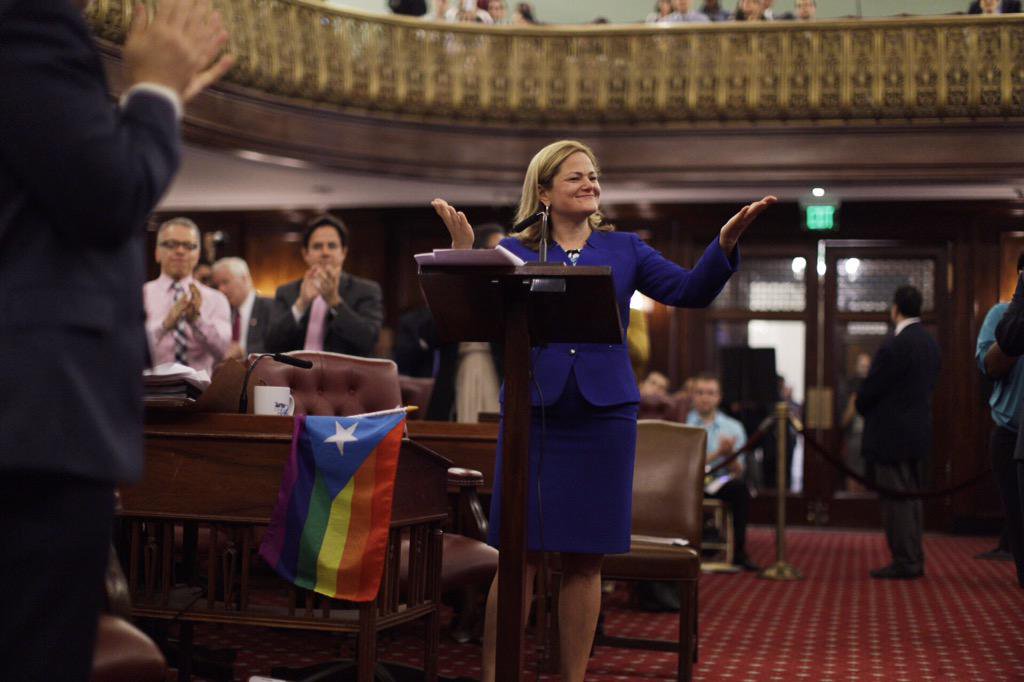 Council Speaker Melisasa Mark-Viverito (photo: William Alatriste, June 2015)
---
The New York City Council concluded its four-year term on Tuesday with a marathon legislative blitz, passing 38 new bills at its last full-body meeting. The Council has seen more new legislation passed in the last four years than any other Council class seated before it, with a total of 714 bills approved (in comparison, the final full-body meeting under the previous speaker, Christine Quinn, the Council passed 29 bills in December, 2013).
Under the leadership of outgoing Speaker Melissa Mark-Viverito, the Council has taken an active, interventionist approach and has approved sweeping legislation to benefit the city's most vulnerable and poorest populations. Broad packages of criminal justice reforms, immigrant protections, tenant and consumer rights laws have been enacted alongside more pedantic concerns, dominated by a progressive caucus that has driven large parts of the Council's policy priorities.
The Council has made civil penalties for low-level offenses in order to prevent criminal records in as many instances as possible, and provided free legal services for low-income tenants in housing court. It created a municipal identification program with an eye toward benefitting undocumented immigrants. It passed new land use regulations to mandate the creation of affordable housing when the city grants more density to a developer, among many more policies that have reshaped the city's landscape.
Tuesday's agenda carried much of the same. The 38 bills included two significant, and controversial, police reform bills, collectively called the Right to Know Act. One of the two bills saw an unusually high number of "no" votes for a body that has not brought legislation to the floor that has been voted down (nor has the Council had a bill it passed vetoed by Mayor Bill de Blasio).
The Council on Tuesday also made technical changes to the city's Human Rights Law, mandated that the Department of Education publish an annual report on students in temporary housing, and required the Department of Small Business Services to create a resource guide for subcontractors. Bills dealing with traffic violations, renewable energy use, noise complaints, and a census of vacant city properties were also approved, among others.
"We turned a speaker-driven institution into one where members have had a real say in things," said Mark-Viverito from the Council floor, triumphantly touting her record as speaker and recounting her career. "Even when we didn't always agree, we always listened."
What was at times a celebratory occasion, however, had a number of tense and bittersweet moments. Whoops and applause did ring out to the full chamber, as Mark-Viverito spoke for the last time from the floor, thanking her colleagues who applauded her in return. But the members also faced the necessity of bidding her farewell, along with 10 other outgoing members who are either term-limited or stepping down. "I don't have regrets," Mark-Viverito told her Council cohort, emphasizing the productive legislative session that she led. "And we should all be proud of that because we're making the city a better city for all New Yorkers, for every single New Yorker who oftentimes feels invisible or feels disrespected or disenfranchised."
The perfunctory congratulations and backpatting would only last so long. In a legislative body known for few disagreements in the last four years, one particular bill on the agenda, Intro. 182 sponsored by Council Member Ritchie Torres as part of the Right to Know Act, led to one of the most concerted debates and eventually the most divided vote the body has seen in this four-year session.
The bill, which passed 27-20 with three abstentions, requires NYPD officers in certain types of street encounters to proactively identify themselves and to provide a business card listing their rank and command. Last-minute changes to the bill prompted consternation from police reform advocates, who felt it had been watered down at the behest of the NYPD and urged members to oppose it, while vehemently criticizing Torres. The final version did not include the most common street stops or any car stops.
Many of Torres' colleagues praised his efforts to negotiate the bill and came to his defense, while others subsequently criticized the final product that was voted on. Numerous Council members, including Brad Lander, Jumaane Williams, Donovan Richards, and Robert Cornegy, as well as many other Council members of color who had been sponsors of the bill, pulled their support. (The companion legislation, Intro. 541 sponsored by Council Member Antonio Reynoso, which requires police officers to obtain consent to conduct a search where there is no probably cause, passed 37-13.)
At one point, Williams spoke beyond his allotted time against Torres' bill and his microphone was cut off as Speaker Mark-Viverito urged the body to move on. Council Member Rosie Mendez, who was next to speak, offered to yield her two minutes to Williams but Public Advocate Letitia James, overseeing the proceedings, denied the request saying the Council rules did not allow it. A frustrated Williams continued to talk before relenting. "It's a sham and it's a shame," he said.
When it was finally his opportunity to speak, Torres, who faced much of the advocates' wrath, staunchly defended the final legislation he put forward. "It is historic, it is unprecedented, it is real reform in the truest sense of the word," he said, seeking to dispel what he said was disinformation from advocates about the effects of the bill, insisting that it lays a strong foundation for progress and preempting what he believes will be a more conservative Council come January. "I stand by what I have chosen to do, even if it means standing alone," he said, "even if it means straining and severing political relationships, even if it means I am no longer beloved in progressive circles, even if it means I have no future in progressive politics."