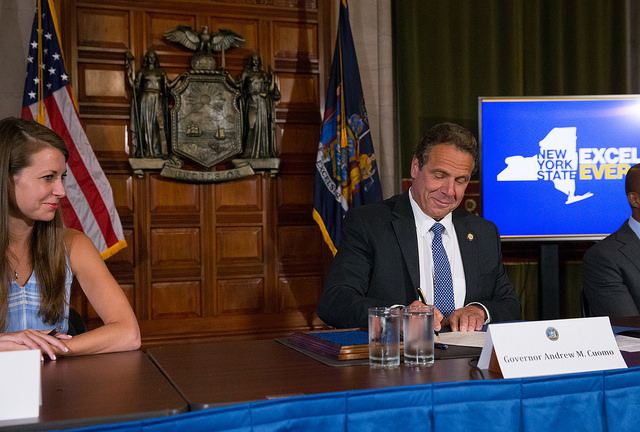 Gov. Cuomo signing (photo: Philip Kamrass/ Office of Governor Andrew M. Cuomo)
---
A state bill to enhance New York City's ability to award discretionary contracts to minority- and women-owned businesses (M/WBEs), which was passed by both houses of the state Legislature in June, was delivered to Governor Andrew Cuomo's desk on December 19.
The bill, which received unanimous support in the state Senate and passed the Assembly with a vote of 115-15, would allow the city to spend up to $150,000 on M/WBE contracts for small projects, without requiring a competitive bidding process that can be costly and time-consuming for applicants, often hindering M/WBEs, which tend to be smaller. Currently, the city is only allowed to give out discretionary contracts worth a maximum of $20,000 to small businesses and M/WBEs, while the state has a threshold of $200,000 for its government contracting.
The legislation also lets the city consider a firm's status as an M/WBE in "best value procurement," which involves assessing factors other than the price of a contract bid. For instance, it prioritizes firms with a good history of complying with labor laws and a positive record of worker health and safety.
"The governor and the state have shown a desire to have a robust M/WBE program," said Jonnel Doris, director of the Mayor's Office Of M/WBEs, in a phone interview. "The state has tools in their toolbelt that they're using to advance the M/WBE program and the city does not have those same tools."
The governor has 10 days (excluding Sundays) to sign or veto it from when the bill was sent to him -- making for a deadline of midnight on Saturday, December 30. If he does not take any action, the bill automatically becomes law. A spokesperson for the governor's office said the bill is under review.
The bill would help the city get parity with the state, Doris explained. "We know it's a transformative bill for us," he said, noting that the city spent $109 million in fiscal year 2016 on contracts under the $20,000 discretionary threshold. Had the threshold been $150,000, Doris said, the value of contracts in that same period would've been $257 million. "That's a 140 percent increase in opportunities that could've gone to M/WBEs, so again, it's transformative and it's real, and the M/WBE community has been asking for this change."
In September 2016, after significant pressure and criticism, Mayor Bill de Blasio committed to increasing the city's contract awards to M/WBEs to at least 30 percent of all city contract dollars by 2021. Just one month later, Comptroller Scott Stringer provided another in a string of criticisms of the administration on this issue, giving it a "D+" grade on its record with M/WBEs, noting that the city spent only 4.8 percent of it's $15.3 billion contract budget on M/WBEs.
The administration later pushed back against Stringer's report, insisting that he should have evaluated the number of contracts awarded to M/WBEs rather than making a comparison with the total contract dollars paid out in a year, which includes payments for contracts awarded by the previous administration. The administration insists that the city is on track to meet its goal in 2021. According to Raul Contreras, a spokesperson for the Mayor's Office of M/WBEs, the city spent $1 billion with M/WBEs in fiscal year 2017, or about 11.4 percent of city contract dollars awarded in the year ending June 30.
Although the state bill had failed in the state Legislature before, Doris is optimistic that this year's overwhelming votes will ensure that Cuomo will sign the bill into law.
"The M/WBE program is an economic development program, it's a jobs program, it's a community improvement and advancement program," Doris said. "That's what it truly is, because when you bring business opportunities to communities, the communities thrive."
State Senator Marisol Alcantara, a member of the Independent Democratic Conference from Manhattan, sponsored the bill in the Senate. "My team is still in conversation with the Governor's team about the bill, and are urging him to sign it," said Alcantara, in a statement to Gotham Gazette. Assemblymember Alicia Hyndman, a Queens Democrat, sponsored the companion legislation in the other chamber. "By raising the limit on discretionary contracts from $20,000 to $150,000, the state can give M/WBE's the tools to effectively compete for contracts that were historically denied to them and transform the lives of hundreds of small business owners," Alcantara said.